October 21, 2019
Accenture Expands Innovation Hub in Chicago, Adds New Industry X.0 Studio to Accelerate Smart, Connected Products and Services Development for Clients

CHICAGO; Oct. 21, 2019 – Accenture (NYSE: ACN) has expanded its Chicago Innovation Hub with a new Industry X.0 studio to help clients accelerate the development of new smart connected products and services from months to weeks. The new studio provides a uniquely equipped environment that fuses design, software engineering, hardware engineering and industry expertise. It is located in the mHUB, the nation's largest and fastest-growing physical product innovation center.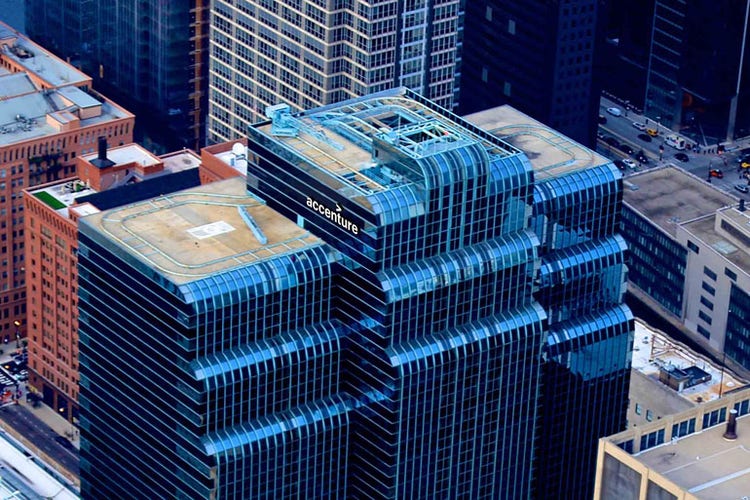 Accenture Tower in Chicago

--- "Our clients, who are leaders in virtually every industry, are under tremendous pressure to continuously innovate," said Pallavi Verma, senior managing director at Accenture, who leads its business in the Midwest U.S. "The new Industry X.0 studio, which we call a 'Forge,' is part of our ongoing investment in Chicago and our efforts to bring continuous innovation to our clients, helping them reimagine their futures and solve their biggest challenges."

Forges are part of Accenture's Industry X.0 practice, which helps organizations apply advanced digital technologies to reinvent products, services and business models, from design and engineering, to manufacturing and support, to supply chain management and logistics.

"No organization today can afford to work 12 to 18 months on an innovation as practiced traditionally," said Craig McNeil, who leads Accenture's Industry X.0 practice in North America. "At a Forge, we practice speed to value, meaning we can collapse the innovation timeline to five to six weeks. This is because design, software, hardware and industry professionals – many of which came to us through acquisitions, like Nytec, Pillar Technology and Mindtribe – all work at the same table. A Forge lets them tap the entire stack of equipment and methods needed to take ideas from sketch to final product."

Accenture currently operates Industry X.0 Forges in Columbus, Ohio; Ann Arbor, Michigan; Des Moines, Iowa; and Jefferson, Iowa. Additional Forges are planned to open across the United States and in Asia in the coming 12 months.

The opening of the Forge builds upon Accenture's continued growth in Chicago. In July 2019, the company announced it will increase the footprint of its Chicago Innovation Hub located in the 500 West Madison building – which was renamed the Accenture Tower – and add 600 highly-skilled tech jobs and significantly grow its apprentice program.

"Chicago is a manufacturing powerhouse and at our new Forge, we will help our clients create product innovations at speed and at scale," said Jim Coleman, senior managing director at Accenture, who leads its business in Chicago. "By calling mHUB our home, we're able to tap into their state-of-the-art facilities and vibrant, entrepreneurial mindset, which is critical in today's business environment."

mHUB CEO and Co-Founder Haven Allen added, "Accenture's Industry X.0 is a key partner for us as we continue to build an ecosystem around physical product innovation and leverage the power of entrepreneurship to solve problems in manufacturing. We look forward to working hand-in-hand with them to drive industry 4.0 right here in the Midwest."

The Innovation Hub in Chicago is part of a network of 11 Accenture Innovation Hubs in North America, with other locations in Atlanta; Boston; Columbus, Ohio; metro Detroit; Houston; New York; San Francisco; Seattle; Toronto; and metro Washington, D.C. These hubs are connected to more than 100 Accenture locations around the globe to seamlessly bring the best of the company's global investments and insights to its clients on the ground in North America.

Accenture in the United States
Accenture is a leading professional services company, providing a broad range of services and solutions in strategy, consulting, digital, technology and operations. Serving 95 of the Fortune 100 and more than 70 percent of the Fortune 500, Accenture employs an innovation-led approach to help clients imagine and invent their future. Accenture is consistently recognized as a Fortune Blue Ribbon Company and, with an unwavering commitment to inclusion and diversity, appears regularly on Fortune's 100 Best Companies to Work For and DiversityInc's Top 50 Companies for Diversity lists. The company has more than 50,000 people and operations in 42 cities in the United States. Visit us at www.accenture.com/US.

About Industry X.0
Accenture Industry X.0 helps businesses master the digital reinvention of industry when they use advanced digital technologies to transform core operations and unlock new revenue streams and business models. We support every aspect of our clients' multi-phase transformation including workforce, customer experience, R&D, engineering, manufacturing, business support and ecosystems. Visit www.accenture.com.

# # #

Contacts:

Tina Janczura
Accenture
+1 312 719 5608
tina.janczura@accenture.com

Jens Derksen
Accenture Industry X.0
+49 175 57 61393
jens.derksen@accenture.com

Copyright © 2019 Accenture. All rights reserved. Accenture, its logo, and New Applied Now are trademarks of Accenture.