November 07, 2019
Accenture Expands Cybersecurity Capabilities with Network of "Cyber Ranges" to Help Industrial Companies Simulate and Respond to Cyberattacks


Accenture will also open new Cyber Fusion Center in Houston for industrial control systems

NEW YORK; Nov. 7, 2019 – Accenture (NYSE: ACN) has expanded its cybersecurity capabilities with the opening of three "cyber ranges" to help industrial companies — including those in the oil and gas, chemicals, utilities and manufacturing industries — practice their response to cyberattacks across their most critical assets.
The cyber ranges are controlled, interactive and hyper-realistic environments for cybersecurity training and software development used to assess network and other technical vulnerabilities of industrial control systems (ICS). These systems are commonly used to automate processes in critical infrastructure industries such as utilities, petrochemicals, oil and gas, and industrial manufacturing.

Featuring live-fire, multi-vendor capabilities, the three cyber ranges are located in:
Houston, Texas ‒ Housed within one of the company's innovation hubs, this cyber range focuses on the oil and gas industry, from upstream exploration, midstream into downstream refining and retail.
Washington, D.C. ‒ Focused on the utilities industry from electric transmission to distribution, this cyber range is in Accenture's Cyber Fusion Center in Washington, D.C.
Essen, Germany ‒ This cyber range, in one of the company's Industry X.0 Innovation Centers, is dedicated to the utilities and chemicals industries focused on electric distribution networks and chemical plants.
"We tailor security solutions to our clients' industries and help them build resilience across their entire value chains," said Jim Guinn II, who leads Accenture's cybersecurity business for the energy, utilities, chemicals and mining industries. "Our ICS cyber ranges are designed to help pressure-test and improve the security posture of organizations so they can innovate safely and grow their businesses with confidence."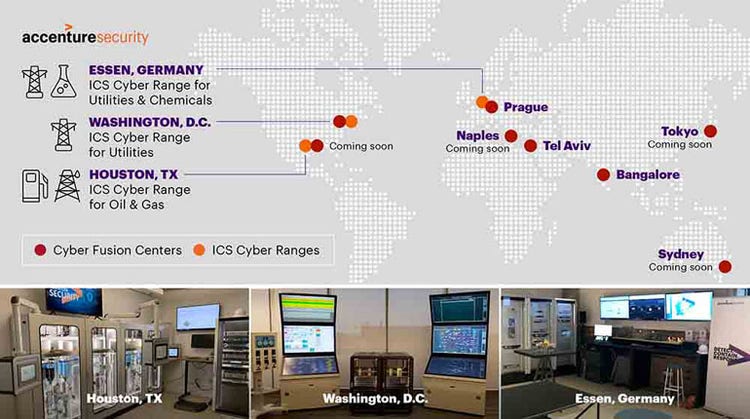 Accenture is also in the construction stage of its first ICS Cyber Fusion Center opening early next year to help clients better protect their industrial networks, including field level and plant assets. Located in Accenture's Innovation Hub in the heart of Houston's business district, the new ICS Cyber Fusion Center will bring together world-class threat intelligence and vulnerability assessment services leveraging a dedicated team of ICS and industry security analysts. The center will be part of Accenture's global network of Cyber Fusion Centers, joining others in Washington, D.C.; Bangalore, India; Prague; Tel Aviv, Israel; and Tokyo.
Accenture expands #cybersecurity capabilities with a global network of cyber ranges to help industrial companies simulate and respond to cyberattacks #ICS #OTsecurity


"The energy industry has the largest installed base of industrial control systems around the world, and the cyber risk has never been greater," said Luis Luque, ICS cybersecurity global lead at Accenture Security. "Securing and defending these large and complex industrial systems requires not only improving processes and tools, but also adopting cybersecurity practices for operational maintenance and resilience programs. With the expansion of our ICS cybersecurity capabilities, we can deliver the most comprehensive security solutions tailored across the ICS environment, delivered by people who understand the zero-loss time imperative our industry expects."

About Accenture
Accenture is a leading global professional services company, providing a broad range of services and solutions in strategy, consulting, digital, technology and operations. Combining unmatched experience and specialized skills across more than 40 industries and all business functions — underpinned by the world's largest delivery network — Accenture works at the intersection of business and technology to help clients improve their performance and create sustainable value for their stakeholders. With 492,000 people serving clients in more than 120 countries, Accenture drives innovation to improve the way the world works and lives. Visit us at www.accenture.com.

Accenture Security helps organizations build resilience from the inside out, so they can confidently focus on innovation and growth. Leveraging its global network of cybersecurity labs, deep industry understanding across client value chains and services that span the security lifecycle, Accenture protects organizations' valuable assets, end-to-end. With services that include strategy and risk management, cyber defense, digital identity, application security and managed security, Accenture enables businesses around the world to defend against known sophisticated threats, and the unknown. Follow us @AccentureSecure on Twitter or visit us at www.accenture.com/security.
# # #


Contact:

Alison Geib
Accenture
+1 703 947 4404
alison.geib@accenture.com

Denise Berard
Accenture
+1 617 488 3611
denise.berard@accenture.com

Guy Cantwell
Accenture
+1 281 900 9089
guy.cantwell@accenture.com

Copyright © 2019 Accenture. All rights reserved. Accenture and its logo are trademarks of Accenture. The information in this press release is general in nature and does not consider the specific needs of your IT ecosystem and network, which may vary and require unique action. As such, all information is provided on an "as-is" basis without representation or warranty, and the reader is responsible for determining whether to follow any of the suggestions, recommendations or potential mitigations at their own discretion. Accenture accepts no liability for any action or failure to act in response to the information contained or referenced in this press release or the mentioned report.