March 04, 2019
Accenture Captures Numerous Regional SAP® Partner Excellence Awards Based on Outstanding Contributions to Driving Enterprise Transformation


Six SAP® Partner Excellence Awards that focus on key elements of the intelligent enterprise

NEW YORK; March 4, 2019 – Accenture (NYSE: ACN) received six 2019 SAP® Partner Excellence Awards, presented to top alliance partners that have that have made outstanding regional contributions to driving companies' digital transformation. Accenture's accolades for this year include:
SAP Asia Pacific and Japan (APJ) Partner Excellence Award for SAP® Leonardo
SAP APJ Partner Excellence Award for SAP S/4HANA® Digital Transformation
SAP Latin America and Caribbean Partner Excellence Award 2019 Top Influencer
SAP Middle and Eastern Europe (MEE) Partner Excellence Award for Service Partner of the Year
SAP Europe, Middle East and Africa (EMEA) & MEE Partner Excellence Award for High-Growth Contribution
SAP EMEA & MEE Partner Excellence Award for Overall Contribution
For market leading sourcing and procurement operating models and business processes, Accenture also received two awards from SAP® Ariba®:
SAP Ariba Partner of the Year 2019 in EMEA South region
SAP Ariba Partner of the Year 2019 in North America
These awards are given to alliance partners that excelled in contributions to customers served jointly by Accenture and SAP Ariba over the past year. Accenture also won SAP Ariba Partner of the Year in EMEA South in 2018.

"Accenture is pleased to receive six SAP Partner Excellence Awards that recognize leadership across numerous areas of SAP solutions and intelligent technologies, including SAP S/4HANA and SAP Leonardo," said Christophe Mouille, senior managing director and lead for Accenture's Global SAP Business Group. "The incredible number of SAP awards that we've won this year is a testament to how we help our clients transform their business and apply intelligence to fuel growth, as well as our collaboration and alignment with SAP at all levels around the intelligent enterprise."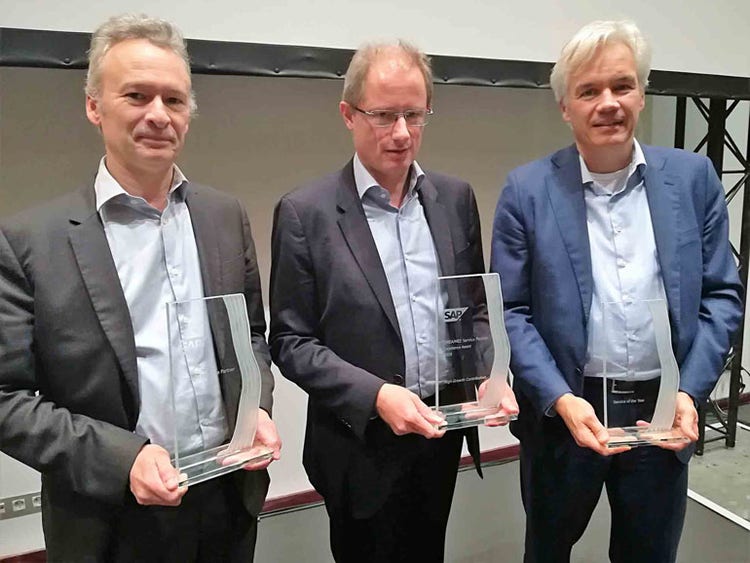 Accenture executives accept three SAP Partner Excellence Awards at the
SAP Field Kick Off Meeting (FKOM) for Europe

The SAP APJ Partner Excellence Award for SAP S/4HANA® Digital Transformation was presented to Accenture after years of unprecedented collaboration on SAP S/4HANA and new industry solutions. Accenture recently announced that it is co-developing an SAP® S/4HANA Cloud® solution designed to help oil and gas companies significantly cut operational costs and create new revenue opportunities.

The SAP Leonardo regional award validates Accenture's successful innovation with clients by orchestrating the power of SAP Leonardo and intelligent technologies to help drive new business value. In October 2018, Accenture announced that its myConcerto platform uses SAP Leonardo intelligent technologies and SAP Cloud Platform to accelerate time-to-value.

Additionally, Accenture won several SAP Market Unit awards in North America, including Partner of the Year for both the Southwest Market and West Market (won by Intrigo, now part of Accenture) and North America Digital Supply Chain Partner of the Year (won by Intrigo, now part of Accenture).

Awards were presented by SAP to the top-performing SAP alliance partners in different regions. Recipients of this year's awards have been – in collaboration with SAP – helping customers adopt innovation easily, gain results rapidly, grow sustainably and run more simply with SAP solutions. Nominations for the SAP Partner Excellence Awards were based on internal SAP sales data. A steering committee composed of SAP representatives determined winning partners in each category according to numerous criteria such as sales achievement and performance. Awards were presented in a variety of categories, including overall sales, innovation, technology, services and solution-specific areas.

About Accenture
Accenture is a leading global professional services company, providing a broad range of services and solutions in strategy, consulting, digital, technology and operations. Combining unmatched experience and specialized skills across more than 40 industries and all business functions — underpinned by the world's largest delivery network — Accenture works at the intersection of business and technology to help clients improve their performance and create sustainable value for their stakeholders. With 469,000 people serving clients in more than 120 countries, Accenture drives innovation to improve the way the world works and lives. Visit us at www.accenture.com
# # #


Contact:

Julie Bennink
Accenture
+1 312 693 7301
julie.l.bennink@accenture.com

Copyright © 2019 Accenture. All rights reserved. Accenture and its logo are trademarks of Accenture.