January 29, 2018
The Future Belongs to Organizations with Intelligent Operations, According to New Research from HfS and Accenture


Intelligent Operations key to keeping pace with customer expectations and driving superior business outcomes

NEW YORK; Jan. 29, 2018 – Organizations that leverage Intelligent Operations to make decisions and act in real-time will be best placed to thrive in the future, according to a new report from HfS Research and Accenture (NYSE: ACN).
Based on survey research of 460 respondents across the globe, the report found that organizations which harness the combination of innovative talent, diverse data, and applied intelligence will be in the best position to overcome digital disruption and utilize data-driven insights to drive superior business outcomes and enhance the customer experience.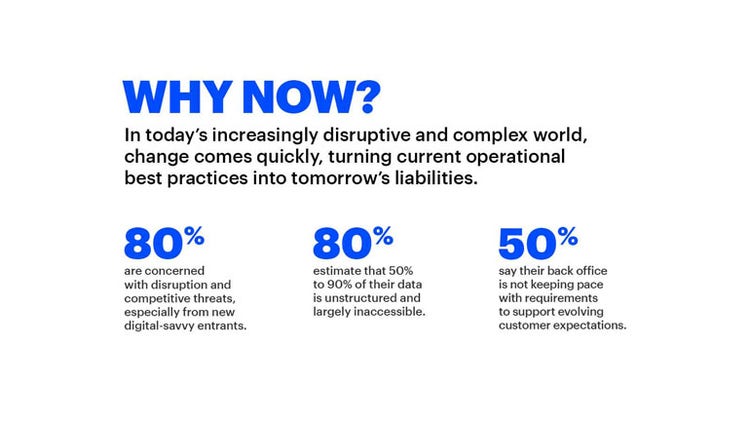 Accenture and HfS Research release top research findings of latest global survey on
"The Future Belongs to Intelligent Operations"
The move to Intelligent Operations is fast becoming a make-or-break proposition for organizations, with 80 percent surveyed saying they are concerned with disruption and competitive threats, especially from new digitally savvy entrants.

The report reveals that most organizations are currently unable to make data-driven decisions due to a paucity of skills and technology to process data: in nearly 80 percent of respondent organizations, 50 percent to 90 percent of data is reported as unstructured and largely inaccessible.

Half of the organizations surveyed also say their back office is not keeping pace with front office requirements to support digital capabilities and meet evolving customer expectations.

"To win in today's market and ensure future viability, it is essential that organizations capture value quickly, change direction at pace, and shape and deliver new products and services. Organization also need to maximize the use of 'always on' intelligence to sense, predict and act on changing customer and market developments," said Debbie Polishook, group chief executive, Accenture Operations.

"Our research suggests technology alone is not a magic bullet. To successfully transform their operations, organizations must take a holistic approach that integrates business process and industry expertise, human ingenuity, and intelligent technologies. This enables the agility, flexibility and responsiveness needed to drive superior decision-making, business outcomes and customer experiences. It's about responding swiftly to change and how to steer a new course with confidence," Polishook added.

When it comes to digital disruption, 42 percent of executives report that they see more opportunities than threats now compared with two years ago. A robust customer experience strategy is identified as the most significant driver of operational agility.

"Breaking down the silos between the front and back office is now essential to delivering a modern customer experience. More than half of survey respondents state that it takes months or even years for their business functions to make changes to evolving business needs", said Phil Fersht, CEO and chief analyst at HfS Research. "The market leaders of the future will be businesses that operate on a OneOffice™ model: an intelligent, single office characterized by seamless processes and digital capabilities centered on creating, enabling and supporting the customer experience."

The research suggests the future belongs to organizations with Intelligent Operations that enable them to have a 360-degree view of their operations enabling quicker, insight-led decision making. The five essential components of Intelligent Operations identified by the research include:
Innovative talent. The talent of the future will need to bring creative problem solving in addition to digital expertise. Organizations will need a more agile human resources function and a recruiting approach that heavily leverages an open talent marketplace.
Data-driven backbone. Organizations need to capitalize on the explosion of structured and unstructured data from multiple sources to gain new insights for the innovative talent to use in order to achieve stronger outcomes.
Applied intelligence. Using integrated automation, analytics, and AI-based solutions, organizations need innovative talent who can understand the business problem and then apply the right combination of tools to find the answer.
Leveraging the power of the cloud. The cloud will enable the plug-and-play digital services with better integration of diverse data, can scale up and down, and help organizations move toward an as-a-service environment.
Smart partnership ecosystem. Organizations of the future will develop symbiotic relationships with start-ups, academia, technology providers and platform players to achieve their goals.
The research is based on the responses of 460 participants from Accenture enterprise clients involved in buying decisions related to technology and services. The respondents were all director level or above; working for organizations with more than $3 billion global annual revenue and spanning diverse geographic locations, including North America, Europe, Latin America and Asia Pacific.

About HfS Research
HfS' mission is to provide visionary insight into the major innovations impacting business operations: automation, artificial intelligence, blockchain, digital business models and smart analytics.

HfS focuses on the future of operations across key industries. HfS helps to shape the strategies of enterprise customers to develop operational backbones to stay competitive and partner with capable services providers, technology suppliers, and third-party advisors. Visit us at www.hfsresearch.com for more information.

About Accenture
Accenture is a leading global professional services company, providing a broad range of services and solutions in strategy, consulting, digital, technology and operations. Combining unmatched experience and specialized skills across more than 40 industries and all business functions – underpinned by the world's largest delivery network – Accenture works at the intersection of business and technology to help clients improve their performance and create sustainable value for their stakeholders. With more than 435,000 people serving clients in more than 120 countries, Accenture drives innovation to improve the way the world works and lives. Visit us at www.accenture.com.

# # #

Contact:

Mylissa Tsai
Accenture
+1 917 452 9729
mylissa.tsai@accenture.com

Copyright © 2018 Accenture. All rights reserved. Accenture, its logo, and High Performance Delivered are trademarks of Accenture.