September 11, 2018
Seven Percent of Chinese Companies Have Outperformed Peers by Digitizing their Operations to Transform Their Businesses, According to New Accenture Research


Unlocking new growth requires excelling at both intelligent operations and digital innovation

BEIJING; Sept. 11, 2018 – A small minority of Chinese companies are leading their industries and achieving higher profits by digitizing their operations and innovation processes to transform their businesses and unlock new growth opportunities, according to new research by Accenture (NYSE: ACN).
The report, the China Digital Transformation Index, revealed that seven percent of Chinese companies have become what Accenture refers to as "Rotation Champions" by generating more than half of their revenues from new businesses started in the last three years. This at a time when traditional growth efforts are too partial and fragmented to make a real impact in digitally contested industries.

The report found that Rotation Champions' efforts have led to stronger financial performance. Rotation Champions substantially outperformed their industry peers, achieving, on average, a 14.3 percent three-year compound annual revenue growth rate, 5.5 times greater than the rest (2.6 percent). They also secured a sales margin of 12.7 percent, compared to 5.2 percent for the others.

The Digital Transformation Index was developed to gauge companies' digital proficiency across two critical capability sets – building intelligent operations and driving digital innovation. Rotation Champions scored an average of 66 out of 100 against the two capabilities, compared to the average score of 37. These companies, which stood out in their levels of intelligent operation and digital innovation, were able to venture into previously unexplored markets while driving profound transformation of their current businesses.

The report is based on a study of 450 Chinese companies across eight industry sectors in collaboration with the China Service Alliance for the Integration of Information and Industrialization (CSAIII). The Rotation Champions are spread across all eight industries surveyed, with automotive and consumer electronics sectors seeing the most champions among the industries studied.

"We are proud to join hands with CSAIII to launch the Digital Transformation Index and offer more quantitative analysis, systematic strategies and evaluation tools for digital transformation of industries in China. The Rotation Champions are well ahead of the rest, signifying that there's a gap when it comes to how companies are investing in digital capabilities," said Wei Zhu, chairman of Accenture Greater China. "To close the gap, companies should invest in and deploy digital technologies at scale and at speed, and they must seek to create an agile organization with an innovation culture that will allow them to monetize new ideas."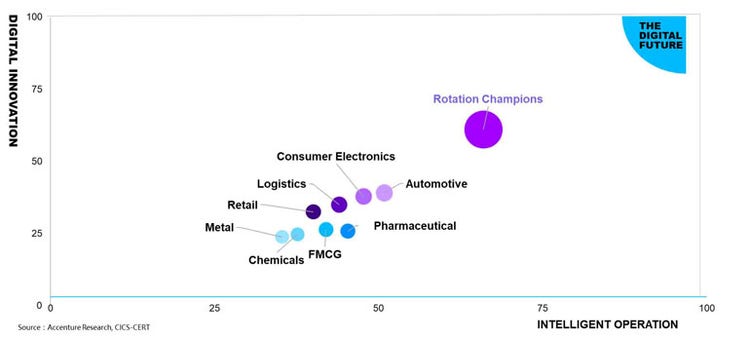 According to the report, these leading companies succeeded in enhancing their digital capabilities by developing seamless digital and physical customer experiences, adopting smart manufacturing and creating intelligent functions on the operations side. At the same time, they drove digital innovation through product and service creation and established digital ventures to accelerate the creation of digital business models.

The report recommends a set of actions for Chinese companies to close the gap with the Rotation Champions:
Establish top-down ownership: Drive the digital transformation agenda with senior executives who have organization-wide influence. A dedicated digital transformation taskforce will also ensure effective implementation. Fifty-eight percent of the Rotation Champions said that their C-level executives are responsible for driving digital transformation initiatives, higher than the 42 percent cited by other companies.
Build hyper relevance: Become customer-centric by continually sensing and addressing the changing needs of your customers (e.g. affordability, social connections and quality of experiences). Inform digital transformation with customer insights in order to become a hyper relevant brand. Leading companies trump competitors through constant service improvements based on sophisticated customer analytics.
Embrace ecosystems: Bring the best innovation to customers by harnessing the power of a carefully managed ecosystem of external partnerships. Create an open-source Research & Development innovation communities.
Improve data fluency: Build a solid supply chain of data by mastering leading-edge technologies, such as cloud solutions, enhanced data infrastructure, improved data connectivity, and advanced AI algorithms. These data-driven improvements can enable business innovation at an unprecedented level and scale.
Create an agile organism: Evolving workforces (specialized, flexible, augmented and adaptive) can help transform a static organization into the agile one. This change can help companies gain a competitive advantage in the digital age. Companies also need to assess employees' performance and evaluate their competence through data visibility.
The research and full Chinese report can be accessed here.

About Accenture Digital Transformation Index
The Accenture Digital Transformation Index is a cross-industry framework to assess a company's digital maturity across four layers of scoring system in two dimensions. The research surveyed 450 Chinese enterprises from eight industries including automotive, consumer electronics, logistics, retail, pharmaceutical, fast moving consumer goods, chemicals and metal.

About Accenture
Accenture is a leading global professional services company, providing a broad range of services and solutions in strategy, consulting, digital, technology and operations. Combining unmatched experience and specialized skills across more than 40 industries and all business functions – underpinned by the world's largest delivery network – Accenture works at the intersection of business and technology to help clients improve their performance and create sustainable value for their stakeholders. With 449,000 people serving clients in more than 120 countries, Accenture drives innovation to improve the way the world works and lives. Visit us at www.accenture.com.

# # #

Contact:

Minjie Zha
Accenture
+86 13564382350
minjie.zha@accenture.com