June 20, 2018
Rothco, Part of Accenture Interactive, Scoops Three Cannes Lions for 'JFK Unsilenced' at the 2018 International Festival of Creativity


Creative agency swept Radio & Audio Lions with artificial intelligence-powered campaign that allowed JFK to speak once more

CANNES, France; June 20, 2018 – At the 2018 Cannes Radio & Audio Lions awards ceremony Tuesday evening, Accenture (NYSE: ACN)-owned Rothco, part of Accenture Interactive, took home three Cannes Lions trophies for its artificial intelligence (AI)-led campaign
'JFK Unsilenced'
for The Times / News UK & Ireland. The campaign used specialized AI technology to create the speech the 35th US president was meant to make in Dallas on the day he was assassinated – The Dallas Trade Mart speech.
The campaign picked up nods in three categories:
Gold: Innovation in Radio and Audio – Use of Audio Technology
Silver: Sector: Media/Entertainment
Bronze: Excellence in Radio and Audio – Sound Design
The campaign's breakthrough audio technique has been adopted by companies around the world to help ALS sufferers rediscover their voice.

Alan Kelly, executive creative director at Rothco, commented: "We're thrilled to have this work recognized by the Lions jury at the most famous creativity festival in the world. Fifty-five years later, through advanced sound technology, JFK's unspoken speech captivates a new generation. It was ahead of its time, addressing topics such as freedom, power, wisdom and restraint. We're proud of our effort to use creativity and technology to deliver profound human impact."
Over 8 weeks, Rothco (with help from their partners at The Times / News UK & Ireland and CereProc), reviewed 831 JFK speeches and interviews and, through an intricate process of sound engineering, the world was able to hear The Dallas Trade Mart speech -- delivered in JFK's voice, for the first time.

Added Patrick Hickey, CEO of Rothco: "Winning a Gold at the Cannes Lions puts you among the world's elite, and I believe our best work is still ahead of us. I'd like to thank our team and our partners at The Times / News UK & Ireland for their contributions to making history and bringing the voice of one of the world's most beloved orators to a new generation."

Launched this spring, the 'JFK Unsilenced' film generated more than 4.5K registrations to The Times & The Sunday Times, as well as a 51 million Twitter reach and one billion media impressions globally. Many of The Times' competitors covered the campaign, including The Guardian, Daily Mail, The Sun, The Daily Mirror, The New York Post, The Washington Post, The Independent, The Evening Standard, plus many more.

Last night's wins mark the first-ever Gold and Silver Lions for Accenture Interactive, which has been strategically bolstering its creative capabilities, as part of its end-to-end customer experience offering.

"We're delighted that the Lions judges have again recognized our contributions as part of the new fabric of the industry," said Anatoly Roytman, head of Europe, Africa, Middle East, Latin America – Accenture Interactive. "Our new breed of agency model – which melds creativity with business consulting and technology -- is coming to life in the service of delivering breakthrough customer experiences. We look forward to celebrating many more across the Accenture Interactive family."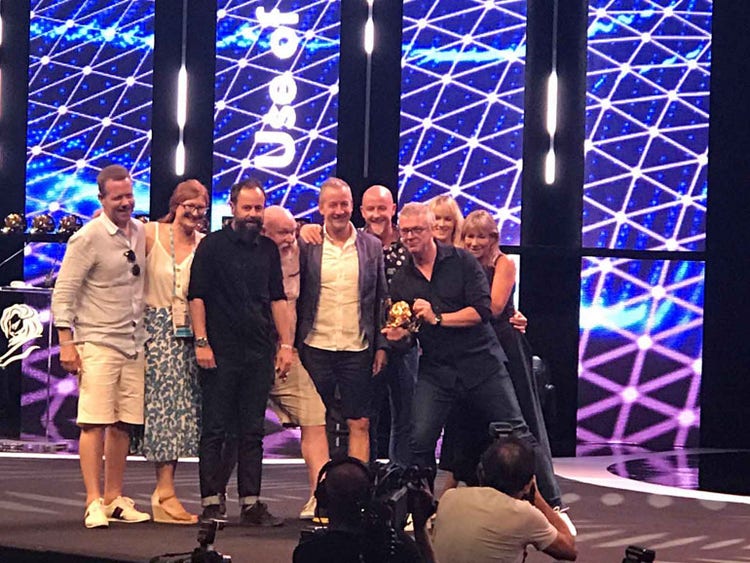 The Rothco team takes the stage during Tuesday evening's Cannes Radio & Audio Lions ceremony for its celebrated 'JFK Unsilenced' campaign

The Lions are the latest industry accolades for 'JFK Unsilenced.' Last month, Rothco became the first Irish agency to win Gold Pencils at the One Show in New York City; and, in April, the campaign garnered three coveted D&AD Pencils in London.

Celebrating creativity since 1954, the Cannes Lions Festival of Creativity is considered the most prestigious international advertising and creativity showcase. Its 65th annual festival drew more than 32,000 award entries from all over the world.

Note to Media:
YouTube: https://youtu.be/PvbdnTIzM4Q
Download video & image files:
https://wetransfer.com/downloads/2facecee478e051af7e1c8ece4d796f920180620083848/b78268

About Rothco
Over the past 23 years, Rothco has risen to become a leading creative agency in Ireland. But they have always been driven by a global ambition. To this end, they have produced campaigns that have run in 23 markets, for brands such as Heineken, Aon, Unilever, AIB, Hailo/MyTaxi, Rory McIlroy Inc., Kodak and Tesco.

Their work has been globally recognised with awards from Cannes Lions, D&AD, Clio Sports, New York Festivals, EPICA, The Marketing Society (UK), The Webbies, The Mashies, MIDAS, ICAD, The FAB Awards, IMC's, the Sharks Awards and the coveted AdFx Grand Prix.

In early 2018 they shook hands on an acquisition deal with Accenture Interactive, giving their ambitions an exciting new edge. For more information, visit:
or follow them @rothco.

About Accenture
Accenture is a leading global professional services company, providing a broad range of services and solutions in strategy, consulting, digital, technology and operations. Combining unmatched experience and specialized skills across more than 40 industries and all business functions – underpinned by the world's largest delivery network – Accenture works at the intersection of business and technology to help clients improve their performance and create sustainable value for their stakeholders. With approximately 442,000 people serving clients in more than 120 countries, Accenture drives innovation to improve the way the world works and lives. Visit us at www.accenture.com.

Accenture Interactive helps the world's leading brands transform their customer experiences across the entire customer journey. Through our connected offerings in design, marketing, content and commerce, we create new ways to win in today's experience-led economy. Accenture Interactive is ranked the world's largest digital agency in the latest Ad Age Agency Report. To learn more, follow us @AccentureSong and visit www.accentureinteractive.com.
# # #


Contacts:

David LaBar
Accenture Interactive
+1 646 456 4505
david.labar@accenture.com

Jill Byrne
Rothco
+353 87 241 9218
jillb@rothco.ie

Copyright © 2018 Accenture. All rights reserved. Accenture, its logo, and High Performance Delivered are trademarks of Accenture.