February 14, 2018
Rapidly Advancing Technology Is Fueling Intelligent Enterprises but Requires a Fundamental Shift in Leadership, According to Accenture Technology Vision 2018


Adopting artificial intelligence for growth and positive social impact means forming new partnerships with customers and business partners

NEW YORK; Feb. 14, 2018 – Rapid advances in artificial intelligence (AI) and other technologies are accelerating the creation of intelligent enterprises and enabling companies to integrate themselves into people's lives, according to Accenture Technology Vision 2018, the annual technology report from Accenture (NYSE: ACN) that predicts key technology trends likely to disrupt business over the next three years. However, capitalizing on growth opportunities while also having a positive impact on society requires a new era of leadership that prioritizes trust and greater responsibility.
This year's report, "Intelligent Enterprise Unleashed: Redefine Your Company Based on the Company You Keep," highlights how rapid advancements in technologies – including artificial intelligence (AI), advanced analytics and the cloud – are enabling companies to not just create innovative products and services, but change the way people work and live. This, in turn, is changing companies' relationships with their customers and business partners.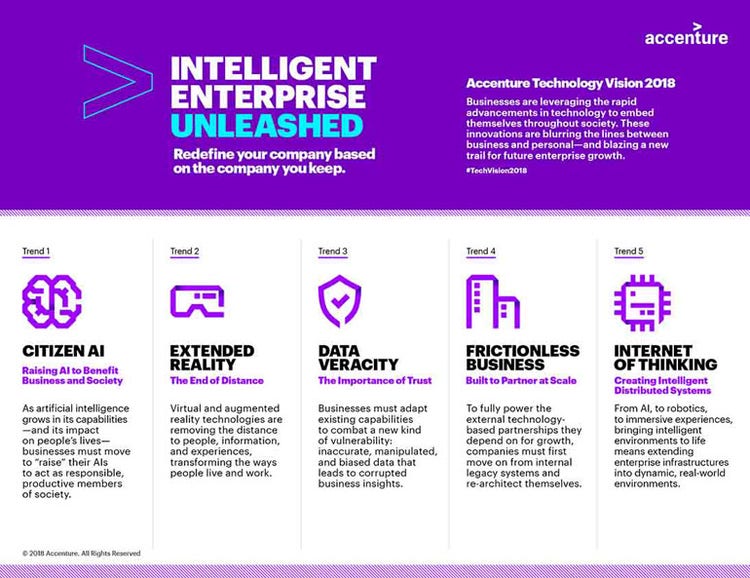 Accenture Technology Vision 2018: Intelligent Enterprise Unleashed – Five Emerging Trends
As part of the Technology Vision, Accenture surveyed more than 6,300 business and IT executives worldwide. More than four in five respondents (84 percent) agree that through technology, companies are weaving themselves seamlessly into the fabric of how people live today.

For example, Amazon – through not only its tremendous online presence but also its Echo device and AI assistant Alexa – has integrated itself into people's everyday lives to such an extent that developers are building dedicated Amazon lockers into new apartment complexes and people are granting the company physical access to their homes via its smart lock system to let couriers make deliveries when no one is around.

"Technology is now firmly embedded throughout our everyday lives and is reshaping large parts of society," said Paul Daugherty, Accenture's chief technology & innovation officer. "Just as cities developed around ports and then railroads, or people rebuilt their lives around electricity, the world today is reimagining itself around digital innovation – and, by extension, the companies that provide those services. This requires a new type of relationship, built on trust and the sharing of large amounts of personal information."

The report notes that this latest technological transformation is unique in that for the first time the change is a two-way street; people aren't just using companies' products and services, but feeding information and access back to them. This level of "integrated innovation" and degree of trust requires a deeper relationship – a true partnership based not only on a company's products, but also its goals and values. And with this two-way partnership come new responsibilities – to consumers, business partners and society at large — requiring leadership and commitment from the top.

Savvy organizations understand that these new societal expectations can be transformed into an enterprise strength. They're using their increased interactions to build partnerships with customers, employees, government and the public. And this extends beyond the consumer or retail arena.

Tesla, for instance, is partnering with governments to accelerate the development of guidelines needed for autonomous vehicles. And Siemens, by offering its MindSphere operating system for internet of things that can be used for various types of assets such as manufacturing devices, smart grid components or power generation equipment, is creating new partnerships and embedding itself into its business partners' architectures.

The Technology Vision identifies five emerging technology trends that companies must address if they are to build the partnerships needed to succeed in today's digital economy:
Citizen AI: Raising AI to Benefit Business and Society. As artificial intelligence (AI) grows in its capabilities, so does its impact on people's lives. Businesses looking to capitalize on AI's potential must acknowledge this impact, "raising" AI to act as responsible representatives of their business.
Extended Reality: The End of Distance. Virtual and augmented reality technologies are transforming the ways people live and work by removing the distance to people, information and experiences.
Data Veracity: The Importance of Trust. By transforming themselves to run on data, businesses now face a new kind of vulnerability: inaccurate, manipulated and biased data that leads to corrupted business insights and skewed decisions. To address this challenge, companies must follow a dual mandate to maximize veracity and minimize incentives for data manipulation.
Frictionless Business: Built to Partner at Scale. Businesses depend on technology-based partnerships for growth, but their own legacy systems aren't designed to support partnerships at scale. To fully power the connected Intelligent Enterprise, companies must first re-design themselves.
Internet of Thinking: Creating Intelligent Distributed Systems. Businesses are making big bets on intelligent environments via robotics, AI and immersive experiences, but bringing these intelligent environments to life will require not only adding key skills and workforce capabilities, but also modernizing current enterprise technology infrastructures.
"Through these new partnerships with customers, employees and business collaborators, companies are building greater trust and further integrating themselves into society, becoming more indispensable and fueling their own growth," Daugherty said.

For nearly 18 years, Accenture has taken a systematic look across the enterprise landscape to identify emerging technology trends that hold the greatest potential to disrupt businesses and industries. For more information on this year's report, visit www.accenture.com/technologyvision or follow the conversation on Twitter with #TechVision2018.

About the Methodology
The Accenture Technology Vision is developed annually by the Accenture Labs and Accenture Research. For the 2018 report, the research process included gathering input from the Technology Vision External Advisory Board, a group comprising more than two dozen experienced individuals from the public and private sectors, academia, venture capital firms and entrepreneurial companies. In addition, the Technology Vision team conducted interviews with technology luminaries and industry experts, as well as with nearly 100 Accenture business leaders. In parallel, Accenture Research conducted a global online survey of more than 6,300 business and IT executives across 25 countries and 18 industries to capture insights into the adoption of emerging technologies. The survey helped identify the key issues and priorities for technology adoption and investment. Respondents were mostly C-level executives and directors, with some functional and line-of-business leads, at companies with annual revenues of at least US$500 million, with most having annual revenues greater than US$6 billion.

About Accenture
Accenture is a leading global professional services company, providing a broad range of services and solutions in strategy, consulting, digital, technology and operations. Combining unmatched experience and specialized skills across more than 40 industries and all business functions – underpinned by the world's largest delivery network – Accenture works at the intersection of business and technology to help clients improve their performance and create sustainable value for their stakeholders. With more than 435,000 people serving clients in more than 120 countries, Accenture drives innovation to improve the way the world works and lives. Visit us at www.accenture.com.

# # #

Contact:

Hannah Unkefer
Accenture
+1 415 537 4848
hannah.m.unkefer@accenture.com

Copyright © 2018 Accenture. All rights reserved. Accenture, its logo, and High Performance Delivered are trademarks of Accenture.