March 15, 2018
Potential Benefits of Artificial Intelligence Outweigh Citizen Concerns about Responsible Use by Government, Accenture Survey Shows


Public-sector employees embrace government use of AI at a higher rate than other citizens

ARLINGTON, Va.; March 15, 2018 – Citizens are willing to try new artificial intelligence (AI) tools for government services despite their concerns about government use of the technology, according to results of an Accenture (NYSE: ACN) multi-country survey.
The survey of more than 6,000 citizens from the United States, Australia, the United Kingdom, Singapore, France and Germany found that more than half (54 percent) of citizens said they are willing to use AI services delivered by government, with even more expressing willingness when presented with the potential benefits derived from AI.

For instance, three-quarters (74 percent) of respondents said they would be willing to use AI if it would increase pension or retirement income (such as by improving their personal investment strategy and/or pension scheme), and two-thirds (66 percent) said they would use a chatbot if it would guarantee faster processing of a tax refund or social service benefits.

At the same time, however, the findings highlight citizens' concerns about the use of AI by governments, with two-thirds (66 percent) of respondents indicating a lack of confidence in government's ethical and responsible use of AI. Specifically, only one-third (34 percent) said they're "confident/very confident" that government would be ethical and responsible in its use of AI; fewer than one in three (29 percent) said they are "not at all confident" in government using AI ethically and responsibly, and slightly more than one-third (37 percent) said they are neutral on the point.

The survey also determined that regardless of where they lived, citizens have concerns about the use of AI in government, including in areas of job security and personal data security. For instance, approximately four in 10 respondents (42 percent) said they think AI takes jobs away from people, and only about one in six (17 percent) believe that AI can better protect their personal information and reduce their chances of getting hacked.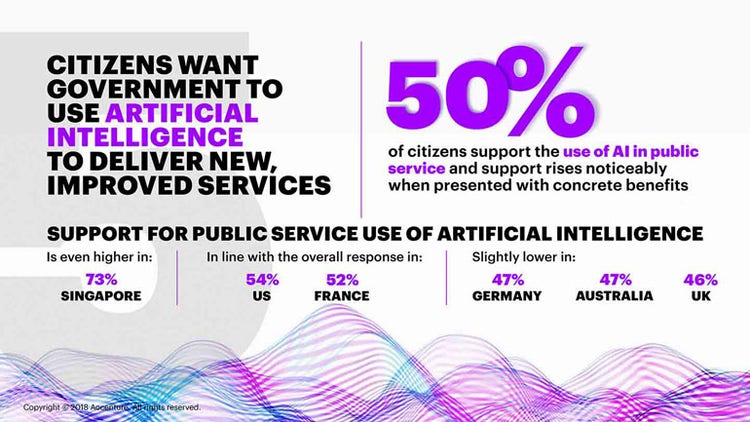 The survey found that one of the biggest communications challenges for government officials implementing AI projects is explaining AI's benefits to citizens. For instance, one-third (32 percent) of all survey respondents reported not understanding AI's potential benefits well enough to judge whether government should use the technology.

"Citizens are willing to embrace AI-driven solutions that improve the delivery of government services, but they want ­to be sure that government is taking a leading role in ensuring the safe and ethical use of AI," said Carl Ward, who leads AI programs for Accenture's Health & Public Service practice. "These findings should be a wake-up call for government leaders to prioritize effective communications regarding the benefits of AI-related technology in delivering government services that are secure, smart and fast — while also promoting its proper and ethical use."

The survey findings also highlight differences between citizens who work in the public sector and other citizens regarding their views on AI and government, with public-sector respondents being more positive overall. For instance, public-sector respondents were more likely than other respondents to say they are willing to use AI services delivered by government (63 percent vs. 51 percent) and more likely to say they are confident or very confident that government would use AI in an ethical and responsible manner (46 percent vs. 31 percent). At the same time, public-sector respondents were less likely to say they don't understand AI's potential benefits well enough to judge whether government should use the technology (26 percent vs. 33 percent).

Public-sector respondents were also more likely than other respondents to say they would be comfortable using a chatbot to interact with a government agency (56 percent vs. 38 percent) — and twice as likely to say they believe that using AI such as digital assistants or chatbots for government services is a more secure way to protect personal information (46 percent vs. 23 percent).

"New categories of digital jobs are emerging that result in improved government services for citizens, and citizens want government personnel to explain how AI can improve the delivery of public services," Ward said. "Public-sector employees will be a critical component to bridging that gap between advancing AI and engaging with citizens to address concerns while also explaining the benefits. AI job coaches for government personnel could provide the required skills and training necessary to ensure that staff can explain the benefits of AI government tools and how they can change citizen experiences for the better."

Methodology
Accenture surveyed 6,000 citizens aged 18 or older in the United States, Australia, the United Kingdom, Singapore, France and Germany to assess opinions about a variety of public service issues and topics. The survey was conducted online between October and November 2017. Approximately one-fifth (21 percent) of the respondents identified as currently working in the public sector. Results for the full global sample are statistically significant with a confidence level of 95% and a margin of error of +/- 1.6%.

About Accenture
Accenture is a leading global professional services company, providing a broad range of services and solutions in strategy, consulting, digital, technology and operations. Combining unmatched experience and specialized skills across more than 40 industries and all business functions – underpinned by the world's largest delivery network – Accenture works at the intersection of business and technology to help clients improve their performance and create sustainable value for their stakeholders. With more than 435,000 people serving clients in more than 120 countries, Accenture drives innovation to improve the way the world works and lives. Visit us at www.accenture.com.

# # #

Contact:

Joanne Veto
Accenture
+1 703 947 2590
+1 703 963 4212 (mobile)
joanne.m.veto@accenture.com
@JoanneVeto