July 17, 2018
Overwhelmed by Data, Aerospace and Defense Executives Embrace Digital Threads and Digital Twins, Accenture Research Finds

FARNBOROUGH, England; July 17, 2018 – Nearly three-quarters (74 percent) of aerospace and defense executives surveyed feel overwhelmed by the amount of available data from products and services and will increasingly use digital threads and digital twins over the next three years to help overcome this challenge, according to findings of an (NYSE: ACN) Accenture Research study released today.
A digital twin is a virtual representation of a physical object – such as a three-dimensional model of an aircraft engine – often used for prototyping, testing and simulation of design manufacture, and serviceability to gain efficiencies in product development. A digital thread is an extension of the digital twin into a product's lifecycle from concept through design, engineering, supply chain, manufacturing and the aftermarket, tying real-life data and analytics to the virtual world to develop better products and services. Use of these innovative technologies can streamline data flows and enhance manufacturing productivity and reliability.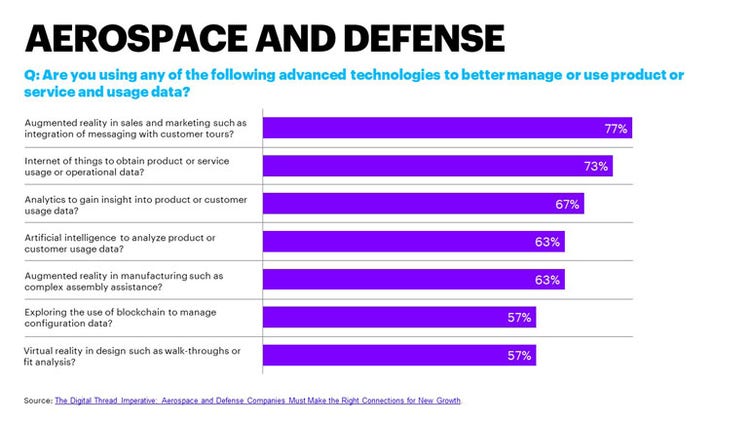 All of the executives surveyed said they plan to use digital thread and digital twin technologies within three years to manage supplier and partner content as well as intellectual-property management. In this same time period, nearly half (47 percent) expect to see a singular, all-encompassing digital thread/digital twin across the ecosystem that serves their customers, with slightly fewer (43 percent) expecting a coordinated digital twin/digital thread by major functionality and/or supplier/partner.

In addition, nearly all (96 percent) of the executives said they are using or evaluating digital twin technologies, with more than half (53 percent) using them for both existing and new products and services, and 43 percent using the technologies for new products and services only. The top business outcomes companies are seeking by deploying digital threads are faster time to market and identifying operational cost savings.

"The growing and complementary use of digital threads and digital twins in aerospace and defense is moving in lock-step with the industry's pursuit of data veracity and corporate-wide digital transformations," said John Schmidt, managing director for Accenture's Aerospace and Defense practice. "These technologies can help companies leverage data to generate more-valuable insights, improve decision making and reduce manufacturing costs."

The Accenture Research report also reveals use of other advanced technologies to better manage or use product or service and usage data:
77 percent use augmented reality in sales and marketing, such as integration of messaging with customer tours;
63 percent use artificial intelligence to analyze product or customer usage data;
57 percent use virtual reality in design such as walk-throughs or fit analysis; and
57 percent are exploring use of blockchain to manage configuration data.
These survey results are analyzed in a full report titled "The Digital Thread Imperative: Aerospace and Defense Companies Must Make the Right Connections for New Growth."

Methodology
The Accenture Digital Thread Research consisted of a global online survey of communications, high-tech, and aerospace and defense executives in North America, Europe and Asia Pacific aimed at better understanding how these companies are evolving in their use of lifecycle management technologies such as blockchains, digital threads and digital twins. The survey polled 150 executives – including 30 from the aerospace and defense industry – from Global 2000 companies spanning nine countries: Canada, China, France, Germany, Italy, Japan, South Korea, the United Kingdom and the United States.

About Accenture
Accenture is a leading global professional services company, providing a broad range of services and solutions in strategy, consulting, digital, technology and operations. Combining unmatched experience and specialized skills across more than 40 industries and all business functions – underpinned by the world's largest delivery network – Accenture works at the intersection of business and technology to help clients improve their performance and create sustainable value for their stakeholders. With 449,000 people serving clients in more than 120 countries, Accenture drives innovation to improve the way the world works and lives. Visit us at www.accenture.com.

# # #

Contact:

Charles Hartley
Accenture
+1 973 590 9920
charles.hartley@accenture.com