January 08, 2018
Nanowear Named Innovation Champion of the Accenture HealthTech Innovation Challenge


Program helps to harness the industry's $7 billion in startup funding fueled by open innovation

SAN FRANCISCO ; Jan. 8, 2018 – Nanowear has been named the Innovation Champion of the Accenture (NYSE: ACN) HealthTech Innovation Challenge, which pairs leading-edge startups with prominent health and life sciences organizations to develop innovative technology solutions that improve the way people access and manage healthcare.
Nanowear, based out of New York City, received the award for its congestive heart failure (CHF) monitoring device called SimpleSense. It is a non-invasive undergarment solution worn by patients of a CHF-related hospitalization event which captures and transmits CHF data to a cloud-based environment, providing access and updates to medical professionals for assessment of patient health and progress. The award was presented Jan. 8 at the StartUp Health Festival during the 36th annual J.P. Morgan Healthcare Conference in San Francisco.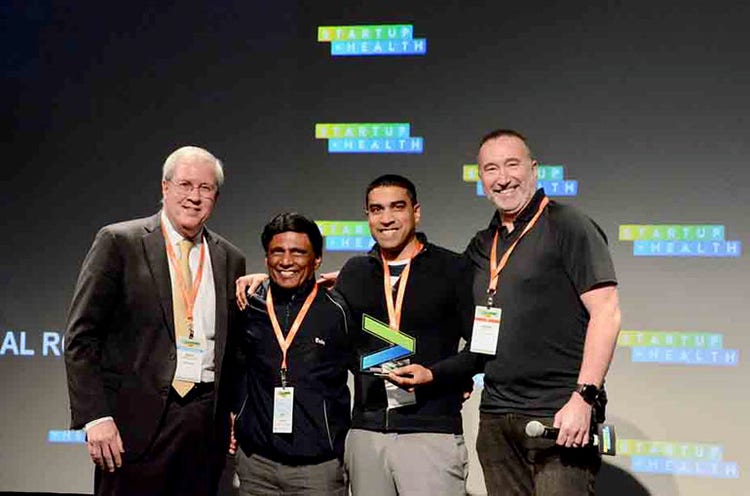 Pictured are Nanowear executives accepting the designation of Innovator at the
2018 Accenture HealthTech Innovation Challenge
As part of Accenture's HealthTech Innovation Challenge, more than 700 startups from around the world demonstrated how their innovative technology and business models help improve the way people access and manage healthcare. Finalists presented in regional rounds in Boston, London and Singapore to an exclusive panel of judges comprised of senior executives from leading health and life sciences organizations globally.

In addition to gaining access to these industry-leading companies as they seek to bring their ideas to market, the startups will participate in StartUp Health's Masterclass program and get access to StartUp Health HQ, an exclusive online network for companies transforming healthcare delivery.

"This is by far the deepest, most thorough digital heath competition as evidenced by Accenture's extensive healthcare partners across the value chain," said Venk Varadan, CEO of Nanowear. "Being awarded Innovation Champion confirms that we at Nanowear can truly transform healthcare."
Congratulations Nanowear - Innovation Champion of the Accenture #HealthTechChallenge


Jvion was recognized as Top Innovator at the Accenture HealthTech Innovation Challenge. Jvion, based out of Johns Creek, GA, delivers a comprehensive view through its Cognitive Clinical Success Machine that goes beyond the risk of a health event to the clinical actions that can improve patient outcomes and drive patient engagement. Shantanu Nigam, CEO of Jvion, said, "We have the potential of changing how care is delivered across various segments and change the lives of millions of patients. Thank you for this tremendous opportunity and recognition."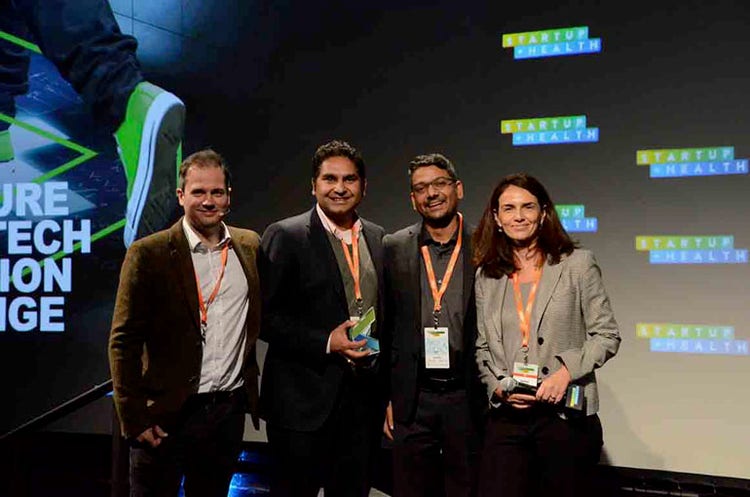 Pictured are Jvion executives accepting the designation of Top Innovator by John Pugh of
Accenture at the 2018 Accenture HealthTech Innovation Challenge
"I would like to congratulate Nanowear for being named the Innovation Champion and to acknowledge all the startups that submitted applications to the Accenture HealthTech Innovation Challenge for their efforts to advance how healthcare is developed and delivered," said Anne O'Riordan, senior managing director of Accenture Life Sciences and co-author of Healthcare Disrupted. "Creating differentiated, personalized patient experiences can play a significant role in improving the way people around the world manage their health and bridge the gap between patients, their healthcare providers and therapeutic treatments. The Accenture HealthTech Innovation Challenge is a key part of our mission to improve people's lives and provide better outcomes for all facets of the healthcare industry."

Brian Kalis, managing director of digital health and innovation at Accenture, said, "The submissions we received from startups around the globe further demonstrate the momentum of discovery and digital innovation in healthcare. We estimate that digital health startups received $7 billion in funding in 2017, and we believe this area continues to show promise as healthcare organizations advance their digital transformation agendas. We look forward to working with Nanowear and other companies in the future to continue to help advance solutions that address the industry's toughest challenges."

Ten companies presented as finalists at the San Francisco event: Babyscripts, Eidware, Horus, Jvion Health, Kronikare, Medopad, Nanowear, Peptone, QMenta, and Wellth. Key criteria the finalists demonstrated included the ability to provide an innovative solution, the design quality of the solution, a disruptive business model, the potential impact on patient outcomes, and a scalable solution.

About Accenture
Accenture is a leading global professional services company, providing a broad range of services and solutions in strategy, consulting, digital, technology and operations. Combining unmatched experience and specialized skills across more than 40 industries and all business functions – underpinned by the world's largest delivery network – Accenture works at the intersection of business and technology to help clients improve their performance and create sustainable value for their stakeholders. With more than 435,000 people serving clients in more than 120 countries, Accenture drives innovation to improve the way the world works and lives. Visit us at www.accenture.com.

Accenture Disclaimer
Accenture's support of the selected companies will help them as they further develop their solutions and products. In supporting such initiatives, however, Accenture is in no way promoting or intending to market any one particular solution or product or otherwise offer or market a medical device or clinical solution. Each company uses its own operations to ensure compliance with applicable laws and regulations.
# # #


Contacts:

Jenn Francis
Accenture
+1 630 338 6426
jennifer.francis@accenture.com

Cam Granstra
Accenture
+1 312 693 5992
cameria.l.granstra@accenture.com