December 06, 2018
Most Traditional Energy Retail Utilities Lag Disruptor Brands in Delivering Customer Experience, Accenture Research Finds


Improving customer relevance and adopting new customer-centric capabilities is key to securing a competitive advantage

NEW YORK; Dec. 6, 2018 – Most traditional energy retail utilities lag behind disruptor brands — new energy-market entrants and service providers from other industries — when it comes to delivering an engaging customer experience, according to a new study from Accenture (NYSE: ACN). In the face of disruption, these companies should invest to deliver a more satisfying customer experience and exceed liquid customer expectations.
As part of its New Energy Consumer research program, Accenture surveyed approximately 70,000 consumers across 36 energy retail utilities and six disruptor brands in multiple markets worldwide. The study, conducted by Accenture Research in partnership with Fjord, the design and innovation unit of Accenture Interactive, intended to identify how customers feel about their experience with these companies and measure their affinity for the brand across physical and digital interactions. Disruptor brands included firms in the retail banking, telecommunications home services, retail insurance and energy retail industries.
Respondents were asked to rate one of nine key moments of interaction with their utility, ranging from initiating their service and adding new services to terminating their service and receiving disruption notifications. The customer experience for each moment was scored on a 10-point scale, representing the aggregated scores from across six experience dimensions:
Authentic – Conveys distinct personality and stays true to self
Fun – Holds people's attention in an entertaining way
Relevant – Creates relevant consumer touchpoints
Engaging – Identifies with individual needs and wants
Social – Connects people with each other
Helpful – Is intuitive, clear and easy to understand
Individual customer scores were aggregated to derive overall brand affinity scores for every moment, brand or region. The brand affinity scores indicate overall how connected customers feel to energy retail utilities and service providers from other industries.

The study found that traditional energy retail utilities' score of 6.3, aggregated across all key moments, lags disruptor brands' score of 6.8. For each key moment evaluated, the customer experience scores for disruptors were higher than the scores for traditional energy players, with the largest gap for receiving communications from their provider. With customer experience at the heart of value creation for these utilities, this is a cause for concern but also presents opportunities.

The study found that the 25 percent of customers in competitive markets with the highest customer-experience ratings (6.8 or higher) are 20 percent more likely to stay with their current brand, 37 percent more likely to recommend their energy retail utility and 22 percent more satisfied than other customers surveyed.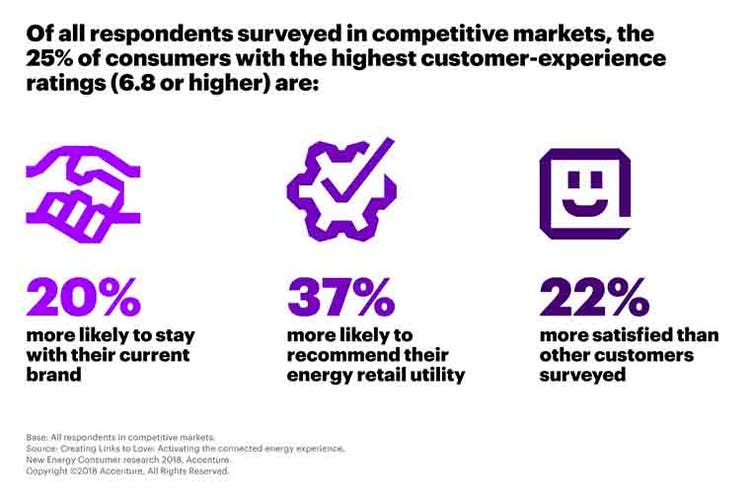 The need to improve customer experience is particularly important for utilities in competitive markets, which are under increasing threat from disruptor brands. Among traditional energy retail utilities, competitive brands were less loved than non-competitive ones across all but one key moment: receiving proactive communications from their provider. The largest gaps were noticed during moments of sign up, including initiating basic energy services or adding a new product or service.

"In the new energy ecosystem, energy retail utilities must invest in the customer to create a connected energy experience," said Tony Masella, a managing director at Accenture who leads its Energy Retail and Customer Services practice. "This need is increasingly urgent, as new market entrants, energy industry convergence and even consumers themselves are disrupting the status quo. The risks of not improving customer experience are substantial, but the value in doing so is equally significant. To improve customer relevance, energy retail utilities must become 'Living Businesses
,'
continuously evaluating and adopting new customer-centric capabilities such as automated customer service and personalized and targeted digital messaging."

Three transformational levers could enable mastery of customer experience
The study notes that while identifying the interactions that are most or least loved is important, the real value of the research lies in identifying the moments that matter — i.e., those that drive clear business outcomes. Based on an evaluation of customer satisfaction, likelihood to remain a customer, and likelihood to recommend a company to others, the study identified three key moments that matter the most across all energy retail utilities surveyed: service initiation, billing, and providing help with specific queries. It is here, the study notes, that these utilities should prioritize improvement.

The study also suggests three transformational levers that companies can use to deliver more satisfying, effortless and unique customer experiences, particularly in the moments that matter most:
Use artificial intelligence (AI) to enable intelligent service. AI can help improve customer satisfaction while reducing operational cost via the shift to digital. As consumers increasingly accept AI, energy retail utilities should use it to provide relevant and contextualized digital support.
Personalize with hyper-relevance. Energy retail utilities can execute a hyper-relevant experience through a variety of tools and techniques, including proactive alerts and auto adjustments of in-home technologies that take things off consumers' "thinking list," and personalized subscription services, for example.
Target for value, target for growth. Identifying further value in existing products and services is key, as is pursuing untapped value in new ones. Energy retail utilities must pivot wisely by recalibrating business portfolios to specifically target new customer preferences and opportunities.
"Focusing on these areas can set energy retail utilities on a course to sustainable growth and competitive advantage," Masella said. "Activating a new energy experience requires more than just meeting customer expectations — it calls for exceeding customer demands by a significant margin. Leading utilities create hyper-relevant customer experiences where every customer interaction is an opportunity to deliver a connected energy experience that goes beyond the commodity. Those that focus on experience can become trusted providers and true partners in delivering what a customer wants."

Research methodology
Accenture surveyed 69,685 consumers globally across 36 energy retail utilities and six disruptor brands to identify how they feel about their utilities across nine key moments of interaction: initiating their service; adding new services; moving their service to a different residence; reviewing their bill; getting help with queries; terminating their service; receiving communications; receiving irregular billing/activity notifications; and receiving disruption notifications. Survey respondents were selected based on screening questions to ensure sufficient recent experience corresponding to a specific experience moment for a specific brand. The online survey was conducted between February and April 2018.

About Accenture
Accenture is a leading global professional services company, providing a broad range of services and solutions in strategy, consulting, digital, technology and operations. Combining unmatched experience and specialized skills across more than 40 industries and all business functions — underpinned by the world's largest delivery network — Accenture works at the intersection of business and technology to help clients improve their performance and create sustainable value for their stakeholders. With 459,000 people serving clients in more than 120 countries, Accenture drives innovation to improve the way the world works and lives. Visit us at www.accenture.com.

Accenture Interactive helps the world's leading brands transform their customer experiences across the entire customer journey. Through our connected offerings in design, marketing, content and commerce, we create new ways to win in today's experience-led economy. Accenture Interactive is ranked the world's largest digital agency in the latest Ad Age Agency Report, for the third year in a row. Fjord, Accenture Interactive's design and innovation unit, reimagines people's relationships with the digital and physical world around them, using the power of design to create services people love. To learn more follow us @AccentureSong or @fjord and visit www.accentureinteractive.com or www.fjordnet.com.

# # #

Contacts:

Guy Cantwell
Accenture
+1 281 900 9089
guy.cantwell@accenture.com

Matt Corser
Accenture
+44 755 784 9009
matthew.corser@accenture.com