November 06, 2018
Most Electricity Distribution Utilities Are Optimistic and Expect Earnings to Grow Beyond 2025, According to Research from Accenture


Growth hinges on ability to unlock new value by digitally transforming core processes and capturing new business opportunities

NEW YORK; Nov. 6, 2018 – More than nine in 10 utilities executives (94 percent) believe that their electricity distribution business' earnings growth will remain under severe pressure until approximately 2025. However, they're far more optimistic about earnings growth potential in the subsequent years, driven by efficiency and improved network performance enabled by the latest digital technologies and new business opportunities, according to a new study from Accenture (NYSE: ACN).
Part of Accenture's Digitally Enabled Grid research program, now in its fifth year, the study is based on a survey of 150 utilities executives across more than 25 countries. After several years of disruption — driven by regulatory pressure, new technologies such as distributed generation, shifting consumer dynamics and weaker demand — the challenging environment will continue to stymie distributors' earnings growth in the near term. The top reasons given for this were network capital investment levels falling below depreciation (cited by 16 percent of respondents), increasing targets for service reliability and performance regulation (13 percent), and energy demand erosion (13 percent).

Furthermore, while digital technologies could play a key role in unlocking value in the business and enabling growth, most executives — 93 percent — believe that distribution businesses are struggling to deliver the benefits of digital transformation. The research indicates that, with the greatest threat to utilities' business considered to be the performance of other utilities (cited by 25 percent of respondents), there's a need to act quickly to remain competitive.

However, there is reason for optimism in the long term, as 97 percent expect earnings in their distribution business to grow beyond 2025. Specifically, executives expect the earnings growth to be driven largely by improved efficiency from transformed core business processes (cited by 54 percent of respondents), improved network performance from smarter grids (50 percent), revenue opportunities from core distribution services (43 percent), new services like microgrids (40 percent), and new asset plays, including distributed generation and storage (40 percent).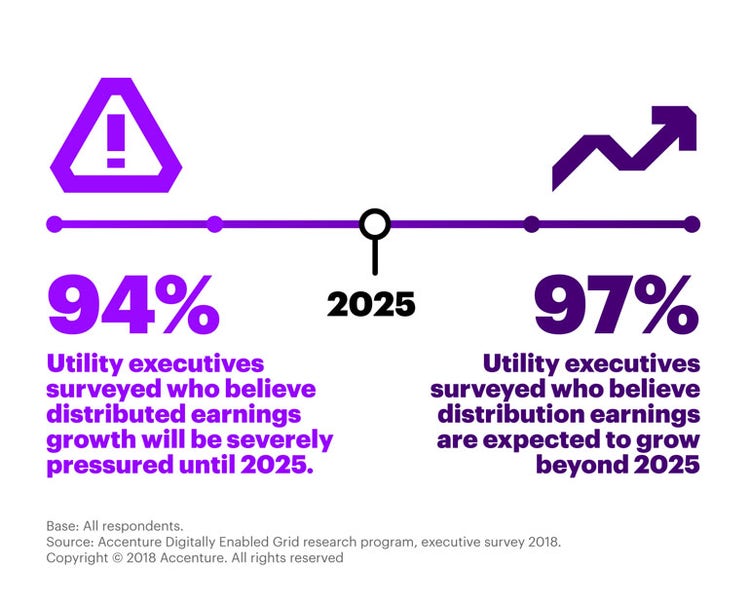 In addition, Accenture's modelling of residential and commercial electricity demand revealed progressive easing of stagnant demand growth until 2036 in most geographies.

"Distribution businesses' revenues are being negatively impacted by the proliferation of distributed energy resources, tighter regulated revenue controls, and energy efficiency," said Stephanie Jamison, a managing director at Accenture who leads its Transmission and Distribution business. "Improved operational performance will be key to succeeding in this transition. Distribution businesses have the opportunity to become intelligent grid optimizers, developing and scaling advanced grid operations capabilities to accommodate, operate and navigate a fast-changing ecosystem of energy devices being adopted for homes and businesses."

Digitally transforming core operations can boost efficiency, enabling new revenue opportunities
The latest digital technologies will play a key role in transforming the core distribution business to boost efficiency and increase network performance. When asked to identify the three disruptive technologies they believe would have the most beneficial impact on their business operations by 2025, respondents most often cited autonomous vehicles like drones (59 percent), digital twin (55 percent), artificial intelligence (AI) (54 percent), augmented and virtual reality (47 percent), blockchain (44 percent) and autonomous robots (41 percent). In fact, nearly all respondents — 99 percent — believe that AI will be used routinely in decision support in the control room and in network planning by 2025.

Digitally transforming the core business can also unlock investment capacity, enabling distribution businesses to pursue new revenue opportunities, according to the study. When asked to identify growth opportunities for their business going forward, a majority of respondents in geographies where pursuing such opportunities would be allowed by regulation cited owning assets like large-scale distributed generation (71 percent), grid-connected storage (68 percent) and electric-vehicle charging infrastructure (65 percent).

Utilities executives also expect to become the trusted third-party provider of energy-related data services to consumers. For example, more than three-quarters (77 percent) of respondents cited providing distribution tariff information as a growth opportunity, and more than two-thirds said the same thing about demand-response program information and notifications and energy usage information (71 percent and 69 percent, respectively).

"Distribution companies have the opportunity to lead the debate about the most effective regulatory model to support the electricity system," Jamison said. "The model should foster innovation, expand customer choice and deliver efficiency while providing the opportunity for the highest-performing businesses to reap financial rewards. Distribution companies are well-placed to help accelerate the transformation process to create a more-distributed, low-carbon and customer-centric electricity system."

Research Methodology
Accenture's annual Digitally Enabled Grid research evaluates the implications and opportunities of an increasingly digital grid. As part of this year's research, Accenture surveyed 150 utility executives from 25 countries: Argentina, Australia, Brazil, Canada, China (including Macau and Hong Kong), Denmark, France, Germany, Indonesia, Ireland, Italy, Japan, Malaysia, the Netherlands, Norway, the Philippines, Poland, Portugal, Singapore, Spain, Sweden, Switzerland, Thailand, the United Kingdom and the United States; the qualitative online survey was conducted in February and March 2018. In addition, Accenture developed a geo-level electricity demand impact model to quantify the forecasted combined hourly impact of individual electricity demand drivers for a selected sample of countries and U.S. states.

About Accenture
Accenture is a leading global professional services company, providing a broad range of services and solutions in strategy, consulting, digital, technology and operations. Combining unmatched experience and specialized skills across more than 40 industries and all business functions — underpinned by the world's largest delivery network — Accenture works at the intersection of business and technology to help clients improve their performance and create sustainable value for their stakeholders. With 459,000 people serving clients in more than 120 countries, Accenture drives innovation to improve the way the world works and lives. Visit us at www.accenture.com.

# # #

Contacts:

Guy Cantwell
Accenture
+1 281 900 9089
guy.cantwell@accenture.com

Matt Corser
Accenture
+44 755 784 9009
matthew.corser@accenture.com