June 26, 2018
Majority of Business Leaders Say Sharing Customer Insights, Technology and Industry Knowledge is Critical to Competitive Agility, Accenture Study Finds


Telecom, Banking and Utilities companies most prepared to capitalize on ecosystems growth opportunity

NEW YORK; June 26, 2018 – With only a quarter of business leaders globally very confident they will achieve their 2020 growth targets, and 56 percent concerned that current growth strategies are at high risk of disruption, a new strategic approach is critical to enabling business success. New research from Accenture (NYSE: ACN) finds that 84 percent of business leaders globally agree that building ecosystems – joining forces with other companies to share data, customers, technology and industry knowledge – is critical to their strategy.
The 'Cornerstone of Future Growth: Ecosystems' study by Accenture Strategy surveyed over 1,250 business leaders from different industries around the world to understand how companies are creating competitive advantage through agile business models. The study found that companies operating in Telecoms, Banking and Utilities have the strongest capabilities today to capitalize on the ecosystems opportunity.

"In today's competitive market, companies can no longer create sustainable growth by going it alone. They need the help of partners to form ecosystems to innovate and create new customer propositions, expand their customer base and enter new markets," said Michael Lyman, senior managing director, Accenture Strategy. "The beauty of ecosystems is that no single company owns or operates all components of the solution, making the value generated much larger than the combined value each of the players contributes individually, and the risk is distributed equally."
84% of business leaders say that building #ecosystems is critical to #disrupting their industry & driving #growth finds @AccentureStrat report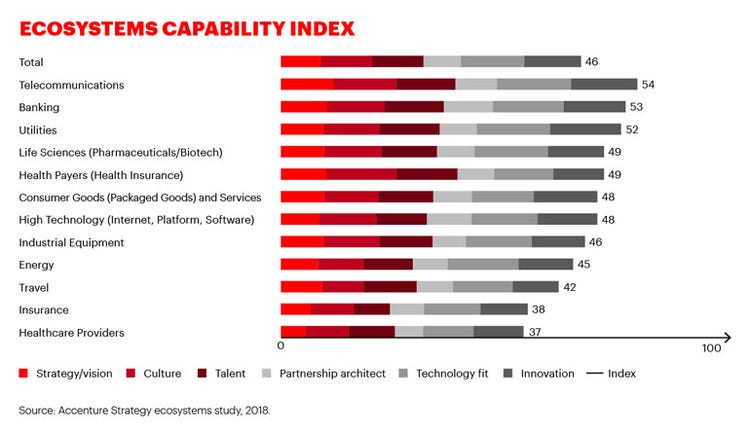 The Index shows the ecosystem capabilities of organizations across six dimensions – strategy, culture, talent, partnership architect, technology fit and innovation. Telecom, Banking and Utilities companies come out on top.

Ecosystems igniting growth
Enabled by digital platforms, ecosystems could unlock $100 trillion of value for business and society over the next decade. To capitalize on the opportunity, the research suggests companies are forming ecosystems to make major innovation plays (63 percent), increase revenue growth (58 percent), access new markets (55 percent) and gain new customers (55 percent). Today, nearly half (46 percent) of business leaders are actively seeking partners, and another 77 percent believe their organization will generate more than half of its revenues from ecosystems in the next five years.

"Due to increasing market pressure, we're likely to see more companies – particularly those that have traditionally been competitors – join forces as they look to create new growth and achieve competitive agility. 'Coopetition' will continue to grow and exciting partnerships will form as a result, some of which have already remade markets and industries around the world," said Oliver Wright, managing director, Accenture Strategy. "Customers will benefit from the new products and services that will be created, and organizations will pursue new business models to capitalize on market shifts."

Adapting to change
Business leaders say that some of the biggest challenges they experience when building ecosystems include getting comfortable with ceding control – 44 percent are concerned about sharing company assets and secrets with other organizations – and over a third (37 percent) say it's challenging to balance the responsibilities of the current business while exploring the new.

Path to success
Businesses pursuing disruptive growth by building ecosystems should consider:
Setting the vision: For ecosystems to deliver growth, it's important to consider what the strategic intent and innovation goals are upfront. When ecosystem players combine their functional, technology and industry strengths and capabilities, they can deliver exciting new customer propositions and open new markets.
Identifying the right partners: Selecting the right partners is critical to ecosystem success. Leaders should look for partners with complementary capabilities, a collaborative mindset, industry experience, customer relationships and data to set themselves up for success. They must also clearly define how data will be shared and how success will be measured. Proper governance frameworks can ease fears and reduce friction among participants.
Orchestrating the ecosystem: Once leading companies with distinct capabilities join together with a shared vision and necessary outcomes, they can launch and operate their ecosystem. The process involves planning and testing the ecosystem design and piloting the market play. Successful ecosystems enable companies to drive new value beyond what they're able to do in isolation.
To find out more about the report, visit: http://www.accenture.com/ecosystems. Join the conversation at @AccentureStrat #ecosystems.

About the research
Accenture Strategy surveyed 1,252 C-level executives from organizations around the world in January 2018 to understand how they are creating competitive advantage by building ecosystems. All leaders surveyed represented companies with over $1 billion in revenues, and nearly 60 percent were over $6 billion. Thirteen industries and seven countries were represented in the study.

Data from the Accenture Strategy 'Revenue Growth' research was also referenced which surveyed 815 C-level executives from organizations around the world across diverse industries to identify sources of competitive growth. Furthermore, the World Economic Forum and Accenture report, 'Digital transformation initiative: Unlocking $100 trillion for business and society from digital transformation,' was also cited.

About Accenture
Accenture is a leading global professional services company, providing a broad range of services and solutions in strategy, consulting, digital, technology and operations. Combining unmatched experience and specialized skills across more than 40 industries and all business functions – underpinned by the world's largest delivery network – Accenture works at the intersection of business and technology to help clients improve their performance and create sustainable value for their stakeholders. With approximately 442,000 people serving clients in more than 120 countries, Accenture drives innovation to improve the way the world works and lives. Visit us at www.accenture.com.

Accenture Strategy operates at the intersection of business and technology. We bring together our capabilities in business, technology, operations and function strategy to help our clients envision and execute industry-specific strategies that support enterprise wide transformation. Our focus on issues related to digital disruption, competitiveness, global operating models, talent and leadership help drive both efficiencies and growth. For more information, follow @AccentureStrat or visit www.accenture.com/strategy.
# # #


Contact:

Lucy Davies
Accenture
+44 (0) 7773044808
lucy.d.davies@accenture.com

Copyright © 2018 Accenture. All rights reserved. Accenture, its logo, and High Performance Delivered are trademarks of Accenture.