September 12, 2018
Low Consumer "Literacy" of Healthcare System Estimated to Cost $4.8B Annually, Accenture Report Finds


One in two consumers not proficient at navigating complexity of healthcare system

CHICAGO; Sept. 12, 2018 – A new report by Accenture (NYSE: ACN) has found that half of U.S. consumers are unable to navigate the complexity of the healthcare system on their own and that this low level of health system "literacy" costs the industry an estimated $4.8 billion annually in administrative expenses alone.
"Consumers are expected to understand and navigate the complex layers of a healthcare system that was not designed with them in mind," said Jean-Pierre Stephan, managing director of health engagement at Accenture. "Education alone won't solve this systemic problem, because it isn't that Americans are failing in healthcare literacy, rather it is the complexity of the system that is failing them."

According to the report, the U.S. healthcare system is so complex that more than half (52 percent) of consumers do not understand how to navigate it appropriately. These consumers struggle to make informed decisions about everything from the health plan types they choose and the premiums they pay to the doctors they see and the procedures they have done. Overall, just one in six consumers (16 percent) are considered to be experts in navigating the system, while one-third (33 percent) have no experience or proficiency with it whatsoever.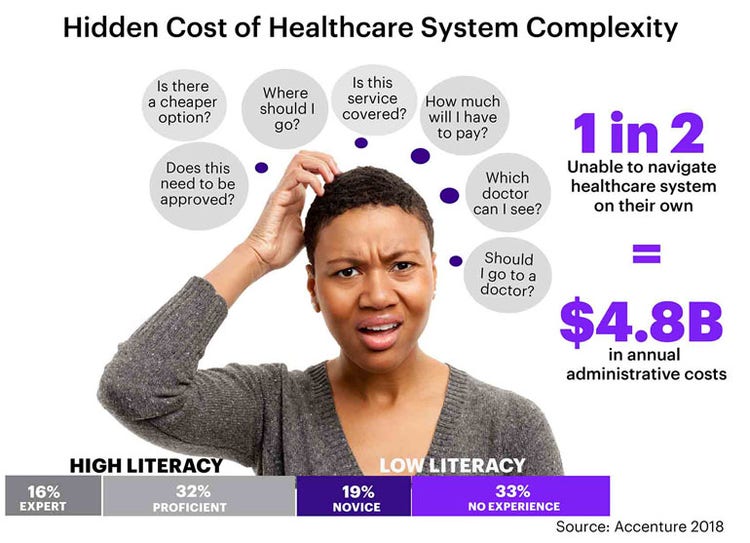 Confusion translates into a significant customer-service cost burden for insurers. Compared with consumers who have a high level of literacy with the healthcare system, consumers with a low level of system proficiency are 13 percent more likely to contact a customer service representative, three times more likely to use customer service one to three times a month, and seven times more likely to use customer service one to three times a week. What's more, one-quarter (26 percent) of consumers have both a low understanding of the system and the highest healthcare need, facing sizeable medical costs and serious conditions such as cancer, congestive heart failure or renal failure, which require additional interactions.

Among the report's other key findings:
Health insurers and employers spend about $26 more on administration fees for every consumer with low healthcare system literacy – which translates to $4.82 billion annually in administrative costs compared with $1.4 billion for those with high system literacy.
Healthcare system literacy is not about education level. Roughly half (48 percent) of those who have low literacy are college-educated, and nearly all (97 percent) have at least a high school diploma.
If all consumers had a high understanding of how to navigate the healthcare system, health insurers could save US$3.41 billion a year in administrative costs. These savings would be even greater if the analysis accounted for the impact of low healthcare system literacy on medical costs.
"The only way to eliminate this systemic issue is advancement," Stephan said. "Rather than forcing consumers to battle the complexities of the system, the healthcare system must design user experiences to align seamlessly with the needs, behaviors and preferences of the people it serves."

Methodology
The Accenture healthcare system literacy index evaluates the degree that consumers can obtain, understand and navigate information and services to make health decisions. Using the healthcare system literacy index, Accenture evaluated how literacy levels affect the performance of nine consumer experience touchpoints and then calculated the correlating impact to administrative costs. Where applicable, relevant findings were compared to the Accenture 2017 Customer Experience Payer Benchmark Survey.

About Accenture
Accenture is a leading global professional services company, providing a broad range of services and solutions in strategy, consulting, digital, technology and operations. Combining unmatched experience and specialized skills across more than 40 industries and all business functions – underpinned by the world's largest delivery network – Accenture works at the intersection of business and technology to help clients improve their performance and create sustainable value for their stakeholders. With 449,000 people serving clients in more than 120 countries, Accenture drives innovation to improve the way the world works and lives. Visit us at www.accenture.com.

# # #

Contact:

Jenn Francis
Accenture
+1 630 338 6426
jennifer.francis@accenture.com