March 22, 2018
Investment in Insurtech Industry Surged in 2017, with Europe Emerging as Key Insurtech Hub, Accenture Analysis Finds


But consumers won't experience benefits of technology until insurers rethink their innovation strategy

LONDON, NEW YORK and HONG KONG; March 22, 2018 – Global investment in the insurance technology (insurtech) industry surged in 2017, with Europe emerging as a new insurtech hub outside the U.S., according to new research from Accenture (NYSE: ACN).
The research, which includes new analysis of CB Insights data on insurtech deals over the last year, appears in a new Accenture report titled "Fearless Innovation: Insurtech as the Catalyst for Change Within Insurance."

According to the report, the number of insurtech deals increased 39 percent globally in 2017, with the total value of deals up 32 percent, to US$2.3 billion.

While North America still leads in terms of both the total value and number of deals – accounting for US$1.24 billion, or 46 percent of deals last year – the number of deals there grew only 6 percent in 2017. In Europe, however, the number of deals increased 118 percent, accounting for one-third of all insurtech deals globally, and the total value of deals there jumped an astounding 385 percent, to US$679 million. Asia-Pacific saw a significant increase in funding, with a 169 percent rise in deal values, to US$358 million, with the number of deals rising 27 percent.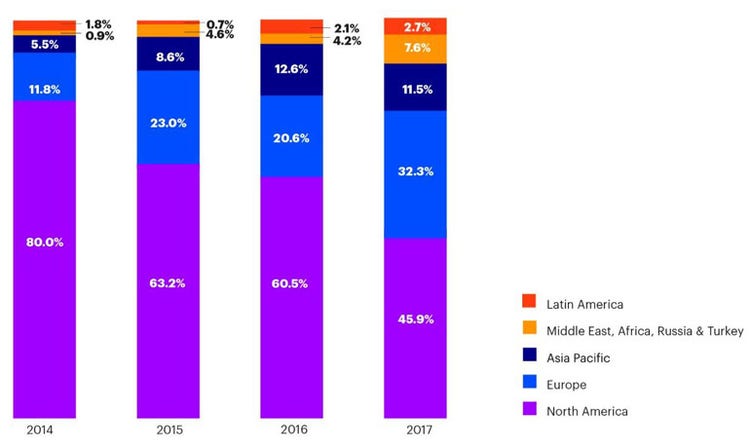 Number of insurtech deals by region
Despite the uncertainty around the U.K.'s vote to leave the European Union, the nation continues its emergence as Europe's insurtech capital, with 41 deals in 2017, representing total growth of 117 percent over the last two years. Deal values vastly increased in 2017, with US$364 million invested in UK-based insurtechs, up from US$19 million the year before.

The report argues that insurtech should serve as a catalyst for innovation across the insurance industry, but traditional insurers must recognize that collaborating with insurtech startups is just one part of this process. Ultimately, innovation needs to become engrained throughout their organizations.

"The insurtech industry's rapid growth reflects investors' response to consumer appetite for change in an industry sitting on trapped value," said Roy Jubraj, Accenture's UK and Ireland Insurance Strategy and Innovation lead. "At the same time, however, insurers must recognize that insurtech investments alone can't deliver the levels of change and innovation the industry requires or that its customers expect. The key is having an enterprise-wide innovation strategy that transforms the core business and enables the company to drive growth."

The research reveals that property and casualty was the most popular insurance segment for insurtech investments in 2017, accounting for 42 percent of global investments, with multiline (26 percent) and health (18 percent) rounding out the top three. Personal lines accounted for more than two-thirds (68 percent) of insurtech investments, with commercial lines and mixed applications accounting for 26 percent and 6 percent, respectively.

From a value chain perspective, marketing and distribution led all areas in terms of insurtech investment, accounting for more than half (53 percent) of deals globally. This is evident in the number of startups pitching slick, app-based sales and distribution experiences, as well as those improving the customer claims journey through mobile photo-evidencing or chatbot First Notification of Loss.

The report reveals that traditional insurers are quickly getting behind emerging technology companies, as the percentage of traditional insurers' participating in venture capital investments is up 63 percent over the last five years. The most common areas for these investments were health and digital health (14 percent of such investments), the internet of things (13 percent), and big data and analytics (9 percent).

"Insurtech is no longer just a target for private equity and venture capital — it's a global phenomenon," said Michael Costonis, who leads Accenture's Insurance practice globally. "Insurers are playing a big role in helping reshape the technology landscape across the industry, making investments beyond wearables and telematics to seize the opportunity that exists within distribution to strengthen the customer experience. The next step for insurers is to use insurtech as a springboard to innovate across their entire organization. After all, $2.3 billion is a small slice of the pie when you consider that insurance is a $4.2 trillion industry."

Methodology
Accenture analyzed insurtech investment data from CB Insights, a global venture-finance data and analytics firm. The analysis included global financing activity from venture-capital and private-equity firms, corporations and corporate venture-capital divisions, hedge funds, accelerators, and government-backed funds. The investment data ranged from 2010 through 2017 and included equity and non-equity financing.

About Accenture
Accenture is a leading global professional services company, providing a broad range of services and solutions in strategy, consulting, digital, technology and operations. Combining unmatched experience and specialized skills across more than 40 industries and all business functions – underpinned by the world's largest delivery network – Accenture works at the intersection of business and technology to help clients improve their performance and create sustainable value for their stakeholders. With more than 435,000 people serving clients in more than 120 countries, Accenture drives innovation to improve the way the world works and lives. Visit us at www.accenture.com

# # #

Contacts:

Natalie de Freitas
Accenture
+44 7988165382
natalie.de.freitas@accenture.com

Michael McGinn
Accenture
+1 917 452 9458
michael.mcginn@accenture.com