March 14, 2018
Industry Consortium Successfully Tests Blockchain Solution Developed by Accenture That Could Revolutionize Ocean Shipping
AB InBev, Accenture, APL and Kuehne + Nagel demonstrated how blockchain will create huge efficiencies for the industry

NEW YORK; March 14, 2018 – A consortium comprising AB InBev, Accenture, APL, Kuehne + Nagel and a European customs organization has successfully tested a blockchain solution that can eliminate the need for printed shipping documents and save the freight and logistics industry hundreds of millions of dollars annually.
The consortium tested a solution where documents are no longer exchanged physically or digitally but instead, the relevant data is shared and distributed using blockchain technology under single ownership principles determined by the type of information. Through a detailed review of the current documentation processes, the group examined a re-allocation of information ownership, accountability and risk enabled by the trust and security blockchain technology offers.

An international shipment of goods for companies in areas such as the automotive, retail or consumer goods industries typically requires more than 20 different documents, many of which are often paper-based, to enable the goods to move from exporter to importer. Across these documents, up to 70 percent of the data can be replicated. The document heavy approach limits data quality and real-time visibility to all parties involved in the trade and this can also delay the financial settlement on goods.

The solution can speed up the entire flow of transport documents, reduce the requirement for data entry by up to 80 percent, simplify data amendments across the shipping process, streamline the checks required for cargo and reduce the burden and risk of penalties for customs compliance levied on customers.

Blockchain is a new type of distributed database system that maintains and records data in a way that allows multiple stakeholders to confidently and securely share access to the same information. The technology is poised to revolutionize operations across a multitude of sectors, such as financial services, government, healthcare, entertainment and freight and logistics.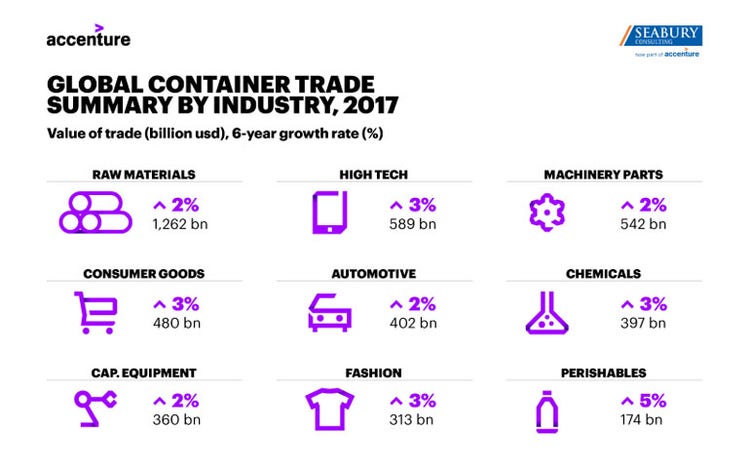 "Our trials have proven the viability of a shipping process in which many documents can be replaced by secure and distributed data sharing with clear and defined ownership," said Adriana Diener-Veinott, who leads Accenture's Freight & Logistics industry practice. "This gives companies a significant opportunity to save time and money while improving their service to customers."

The consortium, which represents typical stakeholders across an international shipment, collaborated to test 12 real shipments, with various destinations, each with different regulatory requirements. The tests confirmed that blockchain can reduce operating costs and increase supply chain visibility.

Each organization involved in the trials typified a particular stakeholder in the shipping process: AB InBev represented a typical exporter; APL contributed its role as a shipping organization; Kuehne + Nagel provided direction on the requirements for a freight forwarder and a European customs organization replicated the regulatory requirements that cargo faces. Accenture provided the technological and consulting expertise on the blockchain technology and developed the technical architecture required to support a blockchain solution, leveraging the capabilities of its Singapore Internet of Things practice to rapidly build the prototype.

"As a facilitator of global trade and strong advocate of innovation, APL sees much potential in blockchain technology to accelerate the digital transformation of the container shipping industry, moving us from traditional paper-based transactions to more efficient, more secure and faster processes along the entire supply chain," said Eddie Ng, head of Strategic Liner Management at APL. "We are therefore happy to be part of the exciting journey to explore how disruptive technology like blockchain can benefit our industry, and ultimately our shippers and their customers."

Martin Kolbe, Chief Information Officer of Kuehne + Nagel International AG, said, "As part of Kuehne + Nagel's digitalization strategy, we explore innovative technologies to create benefits for our customers. Blockchain is one of the most promising technologies in logistics. It has the potential to digitalize many of today's paper-based processes and overcome the multitude of different interfaces. From our perspective, the open and collaborative approach applied in this project is key to gaining traction in the industry and the required market acceptance."

"We continually evaluate new technologies and innovations to enhance our operations to meet consumer needs and deliver the freshest beer," said Danillo Figueiredo, VP of International Logistics, AB InBev. "Blockchain technology will be transformational to our business and the world. It reduces mistakes, digitizes information and improves the supply chain process so we can focus on our core business of brewing the best beers for consumers."

About Accenture
Accenture is a leading global professional services company, providing a broad range of services and solutions in strategy, consulting, digital, technology and operations. Combining unmatched experience and specialized skills across more than 40 industries and all business functions – underpinned by the world's largest delivery network – Accenture works at the intersection of business and technology to help clients improve their performance and create sustainable value for their stakeholders. With more than 435,000 people serving clients in more than 120 countries, Accenture drives innovation to improve the way the world works and lives. Visit us at www.accenture.com.

About Anheuser-Busch InBev
Anheuser-Busch InBev is a publicly traded company (Euronext: ABI) based in Leuven, Belgium, with secondary listings on the Mexico (MEXBOL: ANB) and South Africa (JSE: ANH) stock exchanges and with American Depositary Receipts on the New York Stock Exchange (NYSE: BUD). Our Dream is to bring people together for a better world. Beer, the original social network, has been bringing people together for thousands of years. We are committed to building great brands that stand the test of time and to brewing the best beers using the finest natural ingredients. Our diverse portfolio of well over 500 beer brands includes global brands Budweiser®, Corona® and Stella Artois®; multi-country brands Beck's®, Castle®, Castle Lite®, Hoegaarden® and Leffe®; and local champions such as Aguila®, Antarctica®, Bud Light®, Brahma®, Cass®, Chernigivske®, Cristal®, Harbin®, Jupiler®, Klinskoye®, Michelob Ultra®, Modelo Especial®, Quilmes®, Victoria®, Sedrin®, Sibirskaya Korona® and Skol®. Our brewing heritage dates back more than 600 years, spanning continents and generations. From our European roots at the Den Hoorn brewery in Leuven, Belgium. To the pioneering spirit of the Anheuser & Co brewery in St. Louis, US. To the creation of the Castle Brewery in South Africa during the Johannesburg gold rush. To Bohemia, the first brewery in Brazil. Geographically diversified with a balanced exposure to developed and developing markets, we leverage the collective strengths of nearly 200,000 employees based in more than 50 countries worldwide.

For 2017, AB InBev's reported revenue was 56.4 billion USD (excluding JVs and associates).

About APL
APL is one of the world's leading ocean carriers, providing world-class container shipping and terminal services, as well as intermodal operations supported by leading-edge IT and ecommerce. APL offers transcontinental cargo shipping across Asia, North and South America, Europe, the Middle East, the Indian subcontinent and Australia through more than 120 weekly services calling ports in over 70 countries worldwide. APL is part of the CMA CGM Group, a leading worldwide shipping group founded in 1978 by Jacques R. Saadé and now headed by Rodolphe Saadé.

About Kuehne + Nagel
With approximately 76,000 employees at more than 1,300 locations in over 100 countries, the Kuehne + Nagel Group is one of the world's leading logistics companies. Its strong market position lies in the seafreight, airfreight, contract logistics and overland businesses, with a clear focus on providing IT-based integrated logistics solutions. Further information can be found at www.kuehne-nagel.com\
# # #

Contacts:

Anthony Hatter
Accenture
+44 7810 756 138
anthony.hatter@accenture.com

Shirley Poo
APL
+65 6371 5180
shirley.poo@apl.com

Karl Olaf Petters
Kuehne + Nagel
+41 44 786 95 26
karl.olaf.petters@kuehne-nagel.com