April 25, 2018
Industrial Manufacturers Turning to AI to "Turbocharge" Products and Services, According to Accenture Report


However, while nearly all manufacturers are experimenting with AI, only a select few are reinventing products with AI at scale;


Data quality and security remain challenges to AI adoption

HANNOVER MESSE, Germany; April 25, 2018 – The vast majority of manufacturers are turning to artificial intelligence (AI) to "turbocharge" their products and services, finds a new research report from Accenture (NYSE: ACN).
Based on a survey of 500 manufacturing companies in six industries across Europe, North America and Asia, the report notes the ability of AI – particularly when combined with mobile computing and big data analytics – to transform not only core operations, but also worker and customer experiences, and ultimately even business models, and to enable "Industry X.0" strategies.

Yet the research found that only a small group is already leveraging AI in a way that Accenture refers to as Applied Intelligence – intelligent technology and human ingenuity, combined with analytics and industry expertise, applied at the core of business – at scale. For instance, while 98 percent of the surveyed organizations have begun to enhance their offerings with AI, only 16 percent of them have established a holistic AI vision for their business, only 5 percent are committing resources to AI-driven product initiatives, and only 2 percent report that they have begun to leverage AI solutions at scale.

The research also highlights the challenges companies face when trying to use the technology: The concerns cited most often were data quality (identified by 51 percent of respondents); data- and cyber security (45 percent); deciding between 'buying vs. making' AI-embedded solutions (45 percent); and data sharing and protecting intellectual property (40 percent).

"The re-invention of industrial products with AI is still in its early stages, and getting it right is anything but easy," said Eric Schaeffer, a senior managing director at Accenture and global lead of its Industrial practice. "However, the successes of the AI leaders in our sample clearly show that it can be done and that the business case for AI in industrial is very strong."

The report mentions how companies that re-invent their products by combining AI with other digital technologies can reap huge rewards. For instance, it cites other Accenture research showing that mastering AI can enable industrial-equipment manufacturers to boost their market capitalization by as much as 25 percent.

How AI leaders succeed
To get to these kinds of results, companies must go through a journey which, according to the Accenture report, comprises four stages: (1) exuding belief in AI and its ability to digitally reinvent products; (2) building a vision for leveraging existing offerings with AI; (3) committing resources to AI-driven product reinvention; and (4) executing on their vision and planned initiatives to digitally reinvent the product at scale.

Through clustering the surveyed companies by both industry and "AI-journey stage," the report shows that AI maturity seems to vary by industry: Automotive companies seem to be more likely to commit to and execute AI initiatives, with 9 percent reaching the third stage and 5 percent reaching the fourth stage. However, only 7 percent and 3 percent of consumer durables companies and industrial and heavy equipment makers, respectively, reach the third stage, with only 1 percent of companies in each of those two sectors reaching the fourth stage.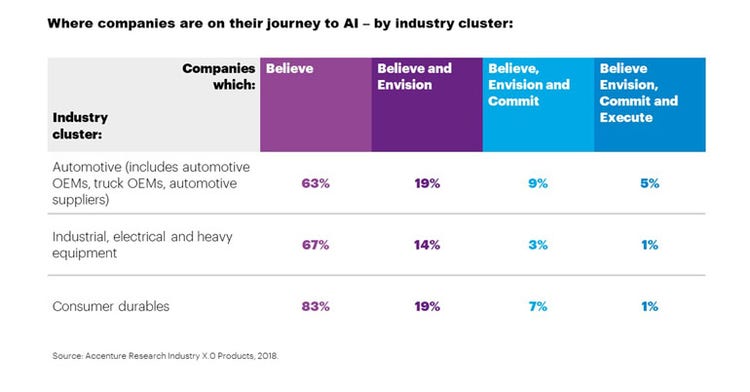 Other results indicate what sets apart the 16 percent of companies that are at least envisioning AI-enabled ways to reinvent their products: Companies that reach the "vision" stage develop the investment and ecosystem strategies to acquire, process and secure the data needed to drive maximum value from AI. Moreover, they carefully analyze what they need to focus on: 82 percent of these "visionaries" cited enhanced "customer loyalty" and "deeper insights from product and service usage" as the key value drivers for themselves. The same proportion also said that "greater safety" and "smarter solutions and services" would be critical benefits of AI use for their customers.

Most of the 5 percent of surveyed companies that commit significant resources to AI initiatives concentrate on building both the IT capabilities and the skills necessary for large-scale AI implementation: 91 percent of those companies cited analytics and systems integration skills as imperative, and 64 percent said they would change elements of their business model as a result of embedding AI.

The 2 percent that reach the fourth stage – execution at scale – set themselves apart by closely working with ecosystem partners to identify, in granular detail, the AI components they want to combine with other digital technologies, now and in the future, as part of their customer value propositions. Among the key AI solutions these companies are planning to use are computer vision (73 percent), deep learning (64 percent) and robotics process automation (64 percent).

"Our findings suggest a strong correlation between a holistic, well-planned strategy and AI success," said Raghav Narsalay, a managing director and Industry X.0 research lead at Accenture. "However, three-quarters of the companies we surveyed are still experimenting, using what might be called a 'scattershot' approach. But this is likely to change in the near future – and that's when we'll really see a rise in product reinvention with AI."

Results from the research also indicate that the rate of product reinvention with AI will likely vary by industry. Changing sources of profitable revenue is a priority for 65 percent of those in the automotive sector, for example, while the sub-groups of the reports' "industrial equipment manufacturing" cluster are split: Most heavy equipment makers (57 percent) state that product-lifecycle sales and marketing strategy is their key priority, while 42 percent of those in the industrial and electrical equipment sector expect that embedding AI will lead to changes in their innovation architecture.

The full research report is available online here.

About this research
Accenture surveyed C-suite and director-level executives from 500 industrial companies with revenues of at least US$500 million across six industrial clusters (automotive manufacturers; truck manufacturers; automotive suppliers; industrial and electrical equipment manufacturers; heavy equipment manufacturers; and consumer durables companies) and six countries (China, France, Germany, Italy, Japan, the U.S.). Accenture also analyzed more than 30 external case studies and the viewpoints of industry participants via desktop research; interviewed more than a dozen industry experts; and used monitoring-tools to analyze public social-media postings by U.S. farmers who use AI-driven agricultural equipment.

About Accenture
Accenture is a leading global professional services company, providing a broad range of services and solutions in strategy, consulting, digital, technology and operations. Combining unmatched experience and specialized skills across more than 40 industries and all business functions – underpinned by the world's largest delivery network – Accenture works at the intersection of business and technology to help clients improve their performance and create sustainable value for their stakeholders. With approximately 442,000 people serving clients in more than 120 countries, Accenture drives innovation to improve the way the world works and lives. Visit us at www.accenture.com.

# # #

Contact:

Florian Heinrichs
Accenture
+49 1511 11407803
florian.heinrichs@accenture.com

Copyright © 2018 Accenture. All rights reserved. Accenture, its logo, and High Performance Delivered are trademarks of Accenture.