October 30, 2018
Half of Companies on the Accenture Competitive Agility Index Experienced a Major Drop in Trust, Losing Out on $180B in Potential Revenues


A first of its kind analysis of more than 7,000 companies across 20 industries proves that trust is a critical component of competitiveness

NEW YORK; Oct. 30, 2018 – A decrease in stakeholder trust can have a substantial impact on a company's competitiveness, according to new research from Accenture (NYSE ACN). The Accenture Competitive Agility Index found that over half (54 percent) of the companies analyzed have experienced a major drop in trust, which conservatively equates to a missed opportunity of $180 billion in potential revenues, based on available data.
The Bottom Line on Trust — a first of its kind analysis of more than 7,000 companies around the world operating across 20 industries — now proves that trust is a critical component of competitiveness, as important as growth and profitability.

"Trust can no longer be considered a 'soft' issue for companies. We can now quantify how trust, specifically the loss of it, impacts a company's revenue and EBIDTA growth," said Bill Theofilou, senior managing director, Accenture Strategy. "From product recalls and data breaches to c-suite missteps, trust incidents present an ever-increasing risk to the financial well-being of companies. Today's leaders must deliver on their company's promises if they want to limit the lasting impact a major trust incident can have on their competitiveness."
The impact of trust on revenue can now be quantified via the @AccentureStrat #CompetitiveAgility Index — and companies are losing out on billions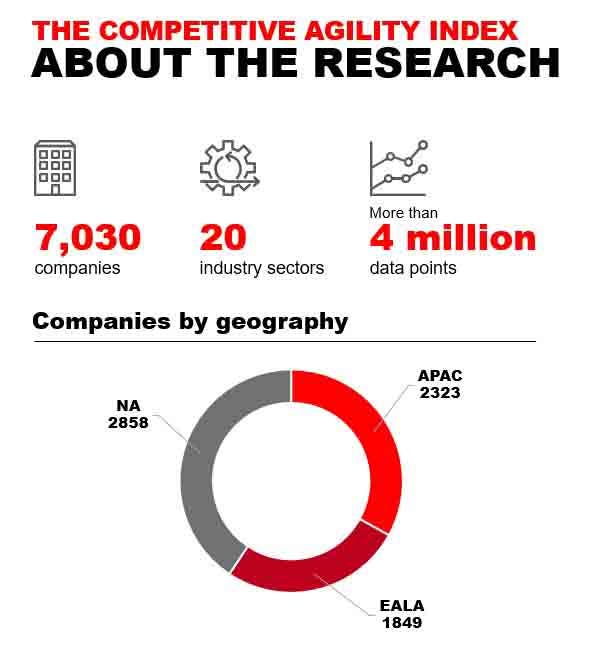 According to the research and analysis done by Accenture Strategy, when a company faces a material loss of trust among its key stakeholders — customers, employees, investors, suppliers, analysts and the media — the result is a drop in that company's Index score by two points on average across industries. Every one-point drop in an Index score equals a negative impact on revenue growth by three percent and EBITDA by five percent, on average across all industries.

When a drop in trust occurs, on average, companies will experience a drop in revenue growth and EBITDA growth. The impact varies by industry, for example:
A B2C company launched a sustainability-oriented publicity event that backfired, breaking trust with their stakeholders. The resulting negative viral publicity caused its trust score to drop by nine percent in one quarter. Its Competitive Agility Index score for the year then declined 1.4 percent. Revenues declined by US$400 million, while EBITDA dropped US$200 million.
On the other hand, when a B2B company was named in money laundering allegations, its trust score dropped 9 percent in just one quarter. Revenues the following year then dropped almost 34 percent or US$1.8 billion, with EBITDA diving almost 61 percent, or by US$500 million.
About the Competitive Agility Index
Developed by Accenture Strategy, the Competitive Agility Index scores 7,030 companies across 20 sectors based on data from the past two and a half years across three interdependent dimensions of competitiveness: growth, profitability, and sustainability/trust. The Index relies on both publicly available data, including historical data and future consensus data, and innovative sustainability and trust measurements. Accenture Strategy worked with Arabesque to source data and create a new proprietary measure of trust.

About Accenture
Accenture is a leading global professional services company, providing a broad range of services and solutions in strategy, consulting, digital, technology and operations. Combining unmatched experience and specialized skills across more than 40 industries and all business functions — underpinned by the world's largest delivery network — Accenture works at the intersection of business and technology to help clients improve their performance and create sustainable value for their stakeholders. With 459,000 people serving clients in more than 120 countries, Accenture drives innovation to improve the way the world works and lives. Visit us at www.accenture.com.

Accenture Strategy operates at the intersection of business and technology. We bring together our capabilities in business, technology, operations and function strategy to help our clients envision and execute industry-specific strategies that support enterprise wide transformation. Our focus on issues related to digital disruption, competitiveness, global operating models, talent and leadership help drive both efficiencies and growth. For more information, follow @AccentureStrat or visit www.accenture.com/strategy.
# # #


Contact:

Maggie Nolan
Accenture
+1 845 661 0952
margaret.d.nolan@accenture.com

Copyright © 2018 Accenture. All rights reserved. Accenture, its logo, and High Performance Delivered are trademarks of Accenture.