March 27, 2018
Four in Five North American Bank Operations Leaders Believe Their Bank's Survival Depends on Updating Legacy Systems to Innovate Faster, Accenture Study Finds


New digital technologies pushing back-office operations into more customer-facing functions

NEW YORK; March 27, 2018 – Nearly four-fifths (79 percent) of operations leaders at North American banks believe that their bank's existence will be threatened if they don't update their technology to innovate faster and more efficiently, according to new research by Accenture (NYSE: ACN).
According to the Accenture report, "Back Office, It's Time to Meet the Customers," which is based on a survey of 80 bank operations leaders in North America, banks recognize that to compete successfully in today's digital age, they must provide the kind of superior experience consumers have come to expect from large tech and fintech companies.

Banks have for many years been prioritizing their investment in technology to enhance operational efficiency. However, three-quarters (74 percent) of the bank operations leaders surveyed said that improving the customer experience is currently their top strategic priority. More than two-thirds (69 percent) of the respondents believe that their operations hold trapped value — customer data that could be used for innovative new products, services and processes — that is not currently being leveraged.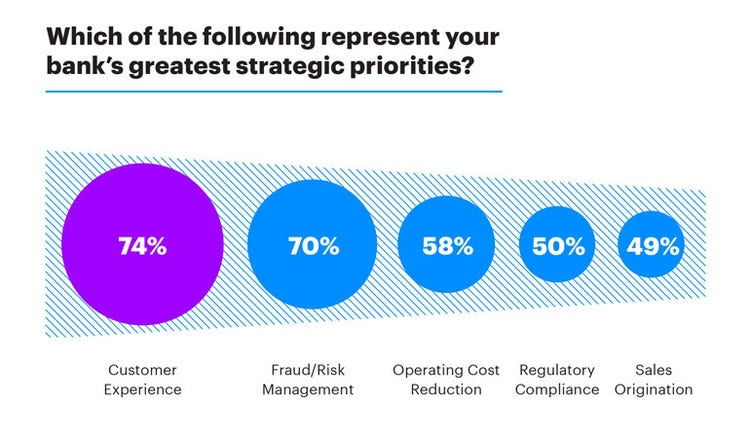 "There's a wealth of unlocked value to be extracted from banks' operational systems, but releasing and optimizing that value depends on the bank's ability to use digital technologies," said Alan McIntyre, a senior managing director at Accenture and head of its Banking practice. "The challenge lies in the banks' legacy systems, which can impede a bank's ability to improve operations and prepare for the future."

While bank operations leaders understand the importance of digital transformation, implementing the technologies required to achieve that transformation is a major challenge. When asked to identify the greatest barrier to their bank's ability to drive digital transformation, respondents most often cited their complex legacy IT environment (cited by 38 percent of respondents), with the cost of modernizing those systems the most significant obstacle to adopting new technologies, cited by 39 percent of respondents.

"Banks can focus on the customer experience by combining key technologies that they can implement today, without a major overhaul of their existing IT infrastructure," McIntyre said. "For instance, by using cloud, robotic process automation and artificial intelligence, banks can plug-and-play new customer-facing apps and processes within or around their existing legacy systems. We believe that this approach can, through revenue and productivity gains, increase a bank's return on equity by as much as seven percentage points."

The report notes that banks are embracing cloud, artificial intelligence and other digital technologies to upgrade their operations. Nearly half (48 percent) of survey respondents said they already use cloud-based applications, with another 27 percent planning to do so in the next year; 22 percent said they are using artificial intelligence, with another one-third (33 percent) planning to do so in the next year; and 16 percent said they use robotic process automation, with another one-third (33 percent) planning to so in the next year.

This adoption of new technologies underscores the shift in the role that banks' operations organizations will play. Almost half (45 percent) of respondents said they foresee banking operations' primary role in three years as achieving straight-through processing through digital technologies and fully harnessing the potential of customer and transaction data residing in operational systems.

Learn more about Accenture Banking at www.accenture.com/banking.

Methodology
Accenture Research surveyed 80 executives responsible for operations (middle- and back-office functions) at small, mid-sized, regional and large banks in the United States and Canada. Respondents were mostly chief operating officers, executive vice presidents of operations and their direct reports. Seventy of the respondents were from U.S. banks and 10 were from Canadian banks. The online survey was conducted in November and December 2017.

About Accenture
Accenture is a leading global professional services company, providing a broad range of services and solutions in strategy, consulting, digital, technology and operations. Combining unmatched experience and specialized skills across more than 40 industries and all business functions – underpinned by the world's largest delivery network – Accenture works at the intersection of business and technology to help clients improve their performance and create sustainable value for their stakeholders. With approximately 442,000 people serving clients in more than 120 countries, Accenture drives innovation to improve the way the world works and lives. Visit us at www.accenture.com.

# # #

Contact:

Melissa Volin
Accenture
+1 267 216 1815
Melissa.Volin@accenture.com