February 14, 2018
First Accenture Center of Excellence for SAS® Customer Intelligence Helps Clients Unlock More Marketing Value from Data

WARSAW, Poland; Feb. 14, 2018 – Accenture (NYSE: ACN) has launched its first Customer Intelligence Center of Excellence (CoE) for SAS® Customer Intelligence, SAS' customer analytics and marketing suite. The CoE team of marketing, technology and SAS experts from Accenture Applied Intelligence helps companies drive sales through applied, real-time intelligence that enables personalized customer experiences. It also supports clients in setting up and running marketing campaigns faster and more efficiently.
The center applies analytics solutions that use real-time omnichannel customer and contextual data, supported by predictive modelling, to identify new revenue opportunities for clients. Tangible data-driven business results delivered to clients through the CoE include:
A telecommunications company in Europe increased the efficiency of its campaigns to acquire and retain customers by almost 50%.
For a Polish bank, the center supported the implementation of event-based analytics and real-time contextual offerings, which resulted in a 9% sales increase for the company's key product within six months.
Other projects in the Customer Intelligence CoE to date have included the automation of marketing processes, integration of predictive modelling capabilities into clients' marketing operations, and the monetization of data for generating new revenue opportunities.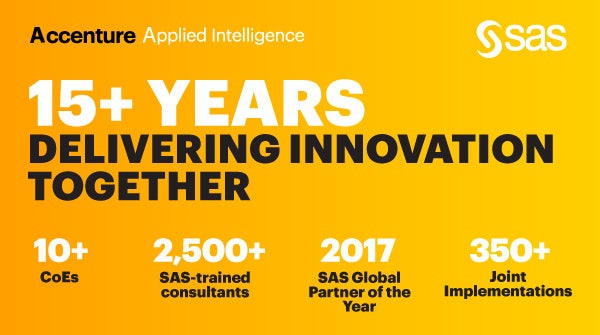 Accenture and SAS have collaborated for over 15 years and completed more than 350 client projects together
"Consumers expect to be understood as individuals," said Athina Kanioura, data science and customer analytics lead at Accenture Applied Intelligence. "Businesses need to embed new intelligence in their marketing operations that enables true personalization, as people increasingly expect experiences that match their personal preferences and needs. Our new Customer Intelligence Center of Excellence helps clients unlock trapped value in marketing data, which can help grow their business by giving customers what they want, when they want it."

Russ Cobb, Senior Vice President, Growth and Business Operations at SAS, said, "Accenture is our first alliance partner to establish a center focused on our SAS Customer Intelligence suite, which offers Accenture clients the best quality of service, an agile approach, and faster speed to market with new analytics solutions. SAS and Accenture are a powerful combination, and we have a long, successful history of working together. It's exciting to see both organizations continuing to invest in the future of our partnership to bring value to our clients."

Accenture now has 10 CoEs with SAS-trained experts around the world. The two companies have collaborated for over 15 years and completed more than 350 client projects together. Earlier this year, Accenture was named Global Partner of the Year by SAS, in part because Accenture Applied Intelligence has over 2,500 consultants trained in SAS around the world, delivering innovation to clients.

About Accenture
Accenture is a leading global professional services company, providing a broad range of services and solutions in strategy, consulting, digital, technology and operations. Combining unmatched experience and specialized skills across more than 40 industries and all business functions – underpinned by the world's largest delivery network – Accenture works at the intersection of business and technology to help clients improve their performance and create sustainable value for their stakeholders. With approximately 435,000 people serving clients in more than 120 countries, Accenture drives innovation to improve the way the world works and lives. Visit us at www.accenture.com.

Accenture Applied Intelligence, part of Accenture Digital, applies artificial intelligence and human ingenuity at the core of business to help clients solve their most complex business problems. By deploying AI responsibly and combining it with our deep industry and analytics expertise, we enable the digital transformation of organizations, extend human capabilities, and make intelligent products and services a reality. Follow @ISpeakAnalytics and visit accenture.com/appliedintelligence.

About SAS
SAS is the leader in analytics. Through innovative software and services, SAS empowers and inspires customers around the world to transform data into intelligence. SAS gives you THE POWER TO KNOW®.

# # #

Contact:

Jens R. Derksen
Accenture
+49 175 57 61393
jens.derksen@accenture.com

Shannon Heath
SAS
+1 919 531 2676
shannon.heath@sas.com

Copyright © 2018 Accenture. All rights reserved. Accenture, its logo, and High Performance Delivered are trademarks of Accenture.

SAS and all other SAS Institute Inc. product or service names are registered trademarks or trademarks of SAS Institute Inc. in the USA and other countries. ® indicates USA registration. Other brand and product names are trademarks of their respective companies. Copyright © 2018 SAS Institute Inc. All rights reserved.