February 06, 2018
Failure to Integrate Culture Preventing Companies from Reaping the Rewards of Digital Acquisitions, Accenture Study Finds


Only a third of companies infuse cultural DNA of recent acquisitions into their legacy business

NEW YORK: Feb. 6, 2018 – Companies are driving digital acquisitions in quick succession to gain cutting-edge technology and new talent, but the majority are struggling to extract the full value of deals due to their inability to integrate diverse cultures, Accenture (NYSE: ACN) research finds. Almost two-thirds of corporations globally (64 percent) kept recent digital acquisitions as standalone businesses – particularly those operating in Consumer Goods and Energy industries – but only four percent are fully integrated. This comes despite companies recognizing that technology (71 percent) and cultural (62 percent) integration are critical to acquisition success.
The Tech-Led M&A study from Accenture Strategy surveyed 1,100 C-level executives from companies around the world to understand the driving forces behind the digital deal trend and the barriers to unlocking competitive advantage.

"Big businesses are fighting back against new disruptors by quickly acquiring multiple digital companies to boost technology capabilities and accelerate competitive advantage. But many are struggling to integrate diverse cultures and skills – the 'secret sauce' powering digital acquisitions – which is preventing companies from reaping the full value of the deal," said J. Neely, managing director and global M&A lead, Accenture Strategy.
Failure to integrate culture preventing companies from reaping the full rewards of #digital #MandA deals @AccentureStrat


The rise of 'digital deals'
Accenture Strategy research found that digital motivations are increasingly driving M&A transactions. Forty-two percent of companies making acquisitions said their goal was to gain next-generation technology, while 43 percent acquired to gain new capabilities. Companies operating in the Industrial, Travel and Health industries have been the most active in acquiring digital companies.

Sixty-one percent of companies use a different pre-deal team and evaluation criteria for digital M&A transactions compared to traditional acquisitions. Furthermore, the majority (78 percent) agree that companies cannot rely on existing M&A capabilities for digital deals.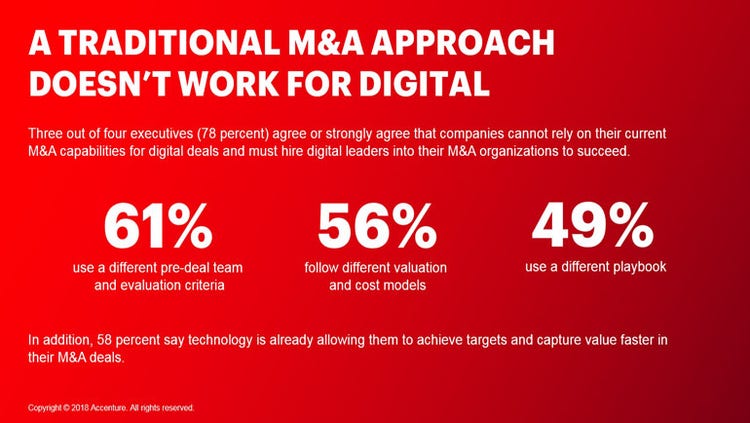 "The C-Suite can no longer rely on the 'same-old-same-old approach' to M&A when pursuing digital targets," continued Neely. "They need to take a close look at their M&A teams and hire talent with digital backgrounds into their M&A organizations to make these deals successful."

Technology-led M&A
As companies look to digital deals to gain a competitive edge, the majority (85 percent) say they would benefit from digitizing the target screening process and using Artificial Intelligence (AI). Though organizations for the most part leave the acquired companies as stand-alone businesses, they have ample tooling for integration. Fifty-seven percent have a platform in place to enable new businesses and systems to quickly integrate. A similar number (57 percent) report they have the digital expertise to support the integration.

"To accelerate and better inform the deal process, leaders are leveraging AI to help human deal analysts assess vast amounts of data – from financials to company communications and social media," said Neely.

To find out more about the report, visit https://www.accenture.com/us-en/insight-tech-led-mergers-acquisitions . Join the conversation at @AccentureStrat #MnA.

About the research
In mid-2017, Accenture Strategy surveyed 1,100 C-level executives, representing 13 industries, in seven countries, to explore M&A strategy and how companies are harnessing technology to increase business value.

About Accenture
Accenture is a leading global professional services company, providing a broad range of services and solutions in strategy, consulting, digital, technology and operations. Combining unmatched experience and specialized skills across more than 40 industries and all business functions – underpinned by the world's largest delivery network – Accenture works at the intersection of business and technology to help clients improve their performance and create sustainable value for their stakeholders. With more than 435,000 people serving clients in more than 120 countries, Accenture drives innovation to improve the way the world works and lives. Visit us at www.accenture.com.

Accenture Strategy operates at the intersection of business and technology. We bring together our capabilities in business, technology, operations and function strategy to help our clients envision and execute industry-specific strategies that support enterprise wide transformation. Our focus on issues related to digital disruption, competitiveness, global operating models, talent and leadership help drive both efficiencies and growth. For more information, follow @AccentureStrat or visit www.accenture.com/strategy.
# # #


Contact:

Tourang Nazari
Accenture
+1 202 322 4640
tourang.nazari@accenture.com

Copyright © 2018 Accenture. All rights reserved. Accenture, its logo, and High Performance Delivered are trademarks of Accenture.