May 15, 2018
Disconnect Between C-Suite and Supply Chain Resulting in Missed Digital Growth Opportunities for Companies, According to New Research from Accenture


Biggest challenges facing supply chain executives: leadership, labor, legacy technology

NEW YORK; May 15, 2018 – While most companies recognize the value of a digitally enabled supply chain – empowered by new technologies like artificial intelligence, blockchain, big data and analytics ­– many chief supply chain officers (CSCOs) are not leveraging their C-suite counterparts to help reinvent the supply chain function and transform it into an engine of new growth models and customer experiences, according to new research from Accenture (NYSE: ACN).
The research report, Drive Your Own Disruption: Is your supply chain in sleep mode?, reveals that the 900 supply chain executives surveyed were more likely to say that they see their function in two years as a cost efficiency driver (60 percent) or a support function (68 percent) than as a competitive differentiator (48 percent) or a growth enabler (53 percent) within their organizations, which can leave significant value on the table.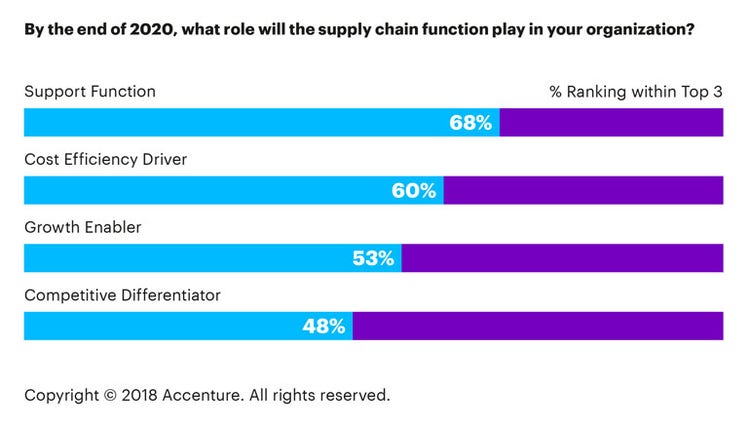 "Supply chain executives should take no comfort in being categorized as a support function," said Mohammed (Mo) Hajibashi, a managing director at Accenture and global Supply Chain lead in its Products industry practice. "In this digital era where customers demand speed to market and hyper-personalization, these executives need to ensure that their supply chain function is not only a key differentiator but also ensures the sustained growth of their organizations. The fast and efficient adoption of the right new technologies that enable a new way of working, along with increased C-suite engagement with the supply chain function, are the keys to achieving growth via new digital business models that create new customer experiences, craved by the consumer."
C-Suite, #Supplychain Disconnect Causing Missed Digital Growth Opps for Companies @Accenture.


Accenture research found that 80 percent of the supply chain executives surveyed identify the chief information officer or chief technology officer – not the CEO, chief operating officer (COO) or chief financial officer (CFO) – as key stakeholders, even despite the major role the CFO has in making technology investment decisions and the COO's role in designing the operating model.

Furthermore, in many organizations, the supply chain isn't seen as a driver of differentiation and aggressive growth. Meanwhile, the CSCOs blame the absence of a clear business strategy (cited by 43 percent of CSCOs surveyed), together with an inadequately skilled workforce (48 percent) and incompatible legacy systems (44 percent), for their function's inability to drive value for the organization.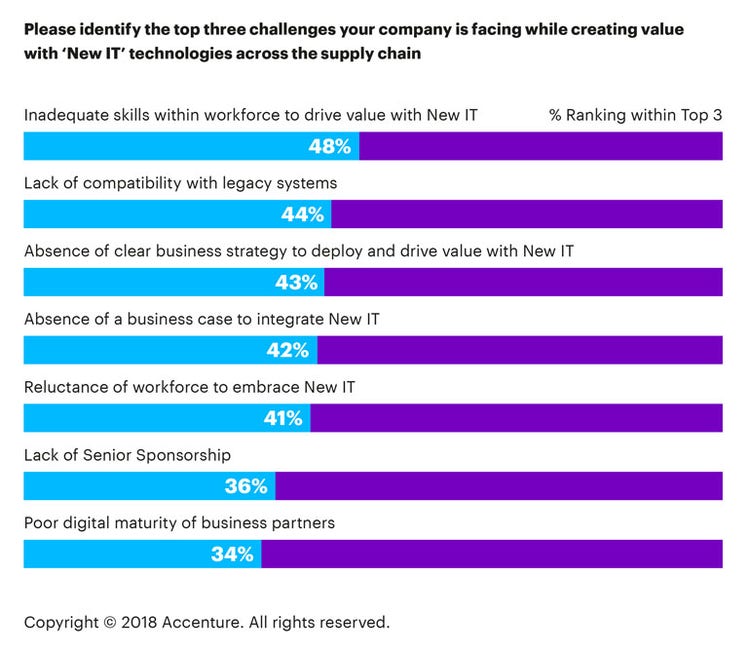 How To Overcome C-suite Challenges
According to the report, CSCOs have an opportunity to work with the full C-suite to overcome three core challenges – leadership, labor and legacy technology – and move their function toward better and more strategic partnerships that will provide the organization with increased value-driving potential.
Leadership. The CSCO will need to be better aligned with business strategy and build a new and productive working relationship with the executives responsible for long-term digital investment: the CFO and COO.
Labor. CSCOs need to build a workforce that focuses on core supply chain workers, "adaptive" (part-time and on-demand) workers and artificial intelligence / robotics — all working together to drive productivity at speed. The CSCO will also need to leverage their C-suite connections to secure support for a reskilling strategy founded on continuous learning.
Legacy Technology. Digitally decoupling legacy systems provides a less-resource-intensive and more impactful way to drive agility than spending on new, more compatible systems. CSCOs can start by decoupling data from their legacy IT systems, replicating it and moving it, in real time, to cloud-based data "lakes" that are accessible to customers.
To find out more about the report, visit Accenture.com/wakeupyoursupplychain. Join the conversation at @Accenture #supplychain and #wakeupyoursupplychain.

About the research
Accenture polled 900 chief supply chain officers, chief operating officers, chief procurement officers and other supply chain leaders from 12 industries (aerospace & defense; chemicals; consumer goods & services; electronics/high tech/communications; financial services; healthcare; industrial equipment; life sciences; government/public service; retail; energy; and utilities) and seven countries (Austria, Canada, Switzerland, Germany, the U.K., Ireland and the U.S.). The survey was conducted during December 2017 and February 2018. All surveyed companies had annual revenues of at least US$1 billion.

About Accenture
Accenture is a leading global professional services company, providing a broad range of services and solutions in strategy, consulting, digital, technology and operations. Combining unmatched experience and specialized skills across more than 40 industries and all business functions – underpinned by the world's largest delivery network – Accenture works at the intersection of business and technology to help clients improve their performance and create sustainable value for their stakeholders. With approximately 442,000 people serving clients in more than 120 countries, Accenture drives innovation to improve the way the world works and lives. Visit us at www.accenture.com.
# # #


Contact:

Tourang Nazari
Accenture Media Relations
+1 202 322 4640
tourang.nazari@accenture.com