April 25, 2018
Data Veracity is Critical for Insurers to Make Better Business Decisions, According to Accenture Report


Accenture Technology Vision for Insurance 2018 report finds insurers are falling short in verifying the data feeding into their artificial intelligence (AI) systems

NEW YORK; April 25, 2018 – A new report from Accenture (NYSE: ACN) has found that as data becomes more critical to insurance companies' operations, most insurers can improve how they validate data and combat data manipulation by outside stakeholders.
The report, Technology Vision for Insurance 2018, draws on the analysis of a technology advisory board, interviews with technology luminaries and industry experts, and a survey of more than 600 insurance executives.

Among its key findings: Only 26 percent of insurers currently validate their data to some extent, while another 19 percent try to validate it but are unsure of the quality. This is particularly surprising given that four-fifths (82 percent) of respondents believe that their organizations must innovate at an increasingly rapid pace just to maintain a competitive edge — and maintaining this edge will likely involve access to new data sources, according to the report.

As insurers rely more on data to make key business decisions, they must identify and prevent ways stakeholders could manipulate data for their benefit. One-third (34 percent) of the insurers surveyed have been the target of practices such as bot fraud, spoofed sensor data or falsified location data, while another third (32 percent) believe they most likely experienced such an attack but couldn't verify it. The report notes that uncovering processes that inadvertently incentivize data manipulation is a key step to improving the truth and trust in data that insurers use for key decisions.

"With their industry on the edge of disruption, insurers are feeling the pressure to reinvent their businesses, and the influx of customer data from new technologies presents ample opportunities to help do so," said Michael Costonis, who leads Accenture's Insurance practice globally. "But insurers must carefully consider how they verify, protect and use this data. In addition to addressing the security and ethics of data use, they must have appropriate data-grading capabilities to ensure the accuracy of the data they're using to make crucial business decisions. Insurers have the opportunity to improve trust levels with consumers, incentivize them to share their data, and showcase that this data will be used responsibly."

"Data Veracity" is one of five trends the report showcases that could generate the next wave of industry disruption for insurers and how technological change will rewrite the rules of the industry over the next decade. Another is "Citizen AI," which highlights how the rapid evolution and adoption of AI will require insurers and other businesses to "raise" AI to act responsibly.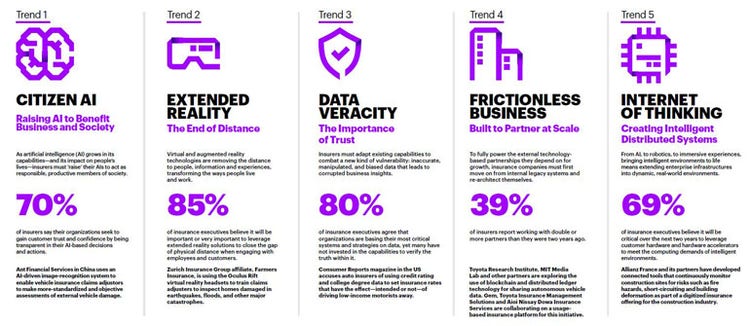 Five Key Trends from Accenture's Technology Vision for Insurance 2018
According to the report, enabling AI systems to make crucial business decisions autonomously requires that the data on which the systems are based is verified properly. This is particularly important, given that more than three-quarters (77 percent) of the insurance executives surveyed acknowledge that AI is advancing faster than the pace at which their organization is adopting the technology.

The report suggests that insurers build their own data intelligence practice to ensure data veracity. This group would draw from existing data science and cybersecurity capabilities to grade the truth within data, determine the embedded risk across a portfolio of data supply chains, and set standards for how much risk is acceptable, based on business priorities and the implications of automated decisions.

"Data has always been the lifeblood of the insurance industry, helping carriers make better pricing, risk and operational decisions," Costonis said. "And the benefits of accurate, real-time data to consumers could be tremendous; incentivizing customers to reduce their exposure to risks and helping them avoid incurring losses in the first place. But for all the opportunities data presents, there are real risks if insurers aren't properly validating their data. Thankfully, there are steps insurers can take now, including building a data intelligent practice to inspire confidence in their data grading capabilities and combat the risks from manipulated data."

A full copy of Accenture's Insurance Technology Vision 2018 can be accessed here: https://www.accenture.com/US-EN/insight-insurance-technology-vision-2018

Methodology
The Insurance Technology Vision 2018 report is derived from the Accenture Technology Vision, developed annually by the Accenture Labs and Accenture Research. The research process for Accenture Technology Vision 2018 included gathering input from the Technology Vision External Advisory Board, a group comprising more than two dozen experienced individuals from the public and private sectors, academia, venture capital firms and entrepreneurial companies. In addition, the Technology Vision team conducted interviews with technology luminaries and industry experts, as well as with nearly 100 Accenture business leaders. In parallel, Accenture Research conducted a global online survey of more than 6,300 business and IT executives across 25 countries and 18 industries to capture insights into the adoption of emerging technologies.

The insurance industry report is based on responses from 623 respondents at insurance companies in 25 countries across North America, Europe, Asia-Pacific, Africa and South America. The goal of the survey was to identify the key issues and priorities for technology adoption and investment. Respondents were mostly C-level executives and directors, with some functional and line-of-business leads, at companies with annual revenues of at least US$500 million, with the majority of companies having annual revenues greater than US$6 billion.

About Accenture
Accenture is a leading global professional services company, providing a broad range of services and solutions in strategy, consulting, digital, technology and operations. Combining unmatched experience and specialized skills across more than 40 industries and all business functions – underpinned by the world's largest delivery network – Accenture works at the intersection of business and technology to help clients improve their performance and create sustainable value for their stakeholders. With approximately 442,000 people serving clients in more than 120 countries, Accenture drives innovation to improve the way the world works and lives. Visit us at www.accenture.com.

# # #

Contact:

Michael McGinn
Accenture
+1 917 452 9458
m.mcginn@accenture.com