February 13, 2018
Cybercrime Costs Financial-Services Sector More Than Any Other Industry, with Breach Rate Tripling Over Past Five Years, According to Report from Accenture and Ponemon Institute


Report cites opportunity to improve security with new technologies: only one-quarter of banks are using AI, less than one-third using advanced analytics to combat cybercrime

Encouragingly, financial-services firms making more prudent and balanced security technology investments than those in other industry sectors

NEW YORK; Feb. 13, 2018 – Cyberattacks cost financial-services firms more to address and contain than in any other industry, and the rate of breaches in the industry has tripled over the past five years, according to a report from Accenture (NYSE: ACN) and the Ponemon Institute.
The report, "Cost of Cyber Crime Study," examines the costs that organizations incur when responding to cybercrime incidents and applies a costing methodology that allows year-over-year comparisons. It found that the average cost of cybercrime for financial services companies globally has increased by more than 40 percent over the past three years, from US$12.97 million per firm in 2014 to US$18.28 million in 2017 – significantly higher than the average cost of US$11.7 million per firm across all industries included in the study. The analysis focuses on the direct costs of the incidents and does not include the longer-term costs of remediation.

However, the report also notes while cyberattacks have a greater financial impact on the financial services industry than on any other industry, financial services firms continue to make prudent and sophisticated security technology investments that contribute to reducing the cost of breaches significantly. The greatest proportion of financial services firms' cyberdefense spending is for more advanced solutions like security intelligence systems, followed by automation, orchestration and machine-learning technologies.

"While the cost of cybercrime for financial services companies continues to rise, our research found that these companies have considerably more balanced and appropriate spending levels on key security technologies to combat sophisticated attacks than do those in other industries," said Chris Thompson, a senior managing director at Accenture who leads financial services security and resilience in the company's Security practice. "This is particularly true with regard to the use of automation, artificial intelligence and machine-learning technologies, which could be critical to future cybersecurity efforts."

Among the key findings for the financial services industry:
The average number of breaches per company has more than tripled over the past five years, from 40 in 2012 to 125 in 2017; that is slightly below the global average of 130 across all industries.
Nearly two-thirds (60 percent) of financial services companies' total security costs is spent on containment and detection of cyberbreaches.
The greatest impact of cyberbreaches on financial services firms are business disruption and information loss, which together account for 87 percent of the cost to respond to cybercrime incidents, with revenue loss accounting for only 13 percent.
The report notes that more can be done with regards to security technologies deployed in financial services. Only one-quarter (26 percent) of financial-services companies have actually deployed AI security technologies, and fewer than one-third (31 percent) use advanced analytics to fight cybercrime.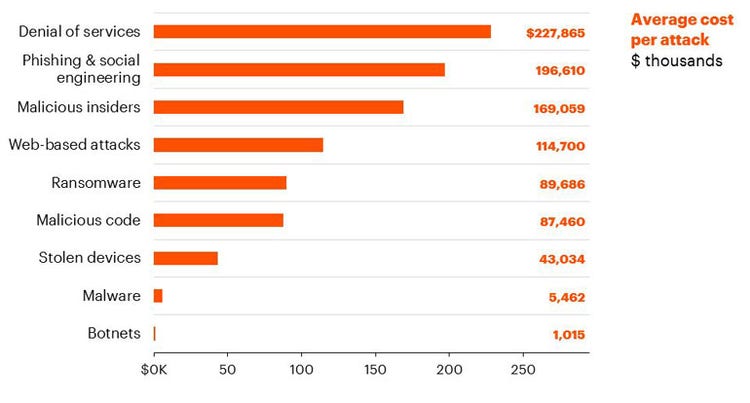 Most Costly Attack Types for Financial-Services Firms
At the same time, financial-services firms appear to be less affected than other industries by more-common forms of cyberattacks. While 2017 saw a string of malware attacks – including the WannaCry and Petya attacks, which cost several global firms hundreds of millions of dollars in lost revenues – malware attacks were among the least costly types of cyberattacks for financial services companies. The costliest types of attacks for banks and insurers are denial of services, phishing and social engineering, and malicious insiders.

"Banks and other financial services firms have implemented advanced solutions for malware, reducing the susceptibility to such attacks, so the cybercrimes they're currently grappling with are largely different from those affecting other industries," Thompson said. "One such threat is identifying bad actors within their own organization and figuring out the right combination of human effort with technologies to combat this growing issue. One thing is certain, however: When it comes to fighting cybercrime, organizations can't hire their way out of this issue, as there simply aren't enough talented cyber professionals out there."

Methodology
The study, conducted by the Ponemon Institute on behalf of Accenture, analyzes a variety of costs associated with cyberattacks to IT infrastructure, economic espionage, business disruption, ex-filtration of intellectual property and revenue losses. Data was collected from 2,182 interviews conducted over a ten-month period from a benchmark sample of 254 organizations in seven countries: the United States, United Kingdom, Australia, Germany, Japan, France and Italy. The financial services industry data was from 352 interviews from a benchmark sample of 42 financial services companies in those seven countries. The study represents the annualized cost of all cybercrime events and exploits experienced over a one-year period, including costs to detect, recover, investigate and manage the incident response. Also covered are costs that result in after-the-fact activities and efforts to contain additional expenses from business disruption and the loss of customers.

About Accenture
Accenture is a leading global professional services company, providing a broad range of services and solutions in strategy, consulting, digital, technology and operations. Combining unmatched experience and specialized skills across more than 40 industries and all business functions – underpinned by the world's largest delivery network – Accenture works at the intersection of business and technology to help clients improve their performance and create sustainable value for their stakeholders. With more than 435,000 people serving clients in more than 120 countries, Accenture drives innovation to improve the way the world works and lives. Visit us at www.accenture.com.

# # #

Contact:

Michael McGinn
Accenture
+1 917 452 9458
m.mcginn@accenture.com