October 03, 2018
CMO Collaborators Fill the Gap in the C-Suite to Drive Business Growth, Accenture Interactive Research Finds


Ninety percent of organizations view the CMO as the connective tissue between different lines of business

NEW YORK; Oct. 3, 2018 – New global research released by Accenture (NYSE: ACN) and conducted by Forrester Consulting reveals an opportunity for chief marketing officers (CMOs) to expand their remit by assuming the role of CMO Collaborator. By ushering in new levels of collaboration across the C-suite, technology ecosystem and agency partners, CMOs can drive customer experience (CX), a proven source of growth in modern organizations today.
The Accenture Interactive commissioned report, "Rethink the Role of the CMO,'" states that CX is the new battleground for brands today. The research finds that nearly 87 percent of organizations agree that traditional experiences are no longer enough to satisfy their customers. This changing landscape represents an opportunity for CMOs to grow their roles beyond traditional brand advertising and communications and seize their CX agenda to deliver business success. CX is a proven catalyst to businesses' bottom line as previous Forrester research found that one-point increases in CX scores can translate into approximately $10M's - $100M's in annual revenue1.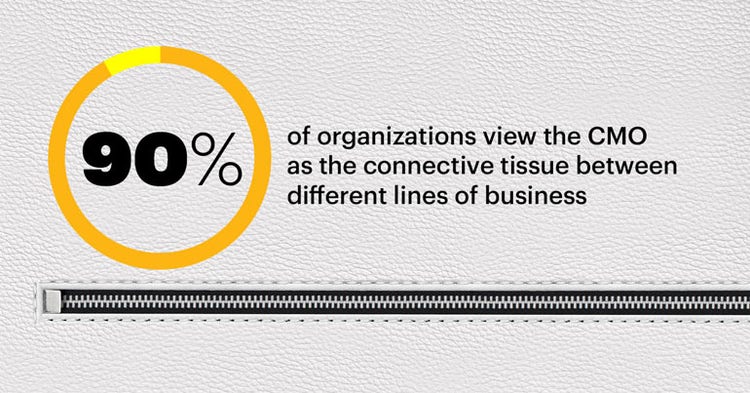 "Each time the CEO creates a new c-suite title it's often code for the fact that he or she feels that nobody is successfully driving the customer experience agenda," said Glen Hartman, head of Accenture Interactive, North America. "We believe that by thinking like a CMO Collaborator, CMOs can fulfil their potential and seize the CX agenda to drive top-line growth for organizations. By adopting this mindset, CMOs can be the ones who are the voice of the customer and can align their organization, their agency partners and their technology partners to focus on delivering the best experiences on the planet for their customers."

The new research finds that up to 88 percent of organizations agree that the CMO's remit has changed in the last two years, and they also agree that it will likely continue to change over the next two years. To drive superior CX requires a new mindset where the CMO starts to think and act like and embrace the hybrid role of CMO Collaborator.

According to the report, "The CMO Collaborator must now step up and govern how customer experiences are shaped and delivered organization wide. To deliver world-class experiences a requirement of unparalleled collaboration is needed across the organization and the CMO is seen as the connective tissue between different lines of business by 90 percent of organizations."

CMO Collaborators vs. Traditional Marketers
CMO Collaborators are defined in the study as individuals who encourage their teams to work across the company, departments and locations, and who instill a new culture that fosters collaboration across the lines of business. When compared to traditional marketers, collaboration leaders are set apart by bringing together internal teams as well as outside partners to collaborate. They allow the entire organization to align on the brand vision and align their CX strategy to achieve their vision. The research states:
Ninety-five percent of collaboration leaders agree their customer experiences surpass their competitors compared to only 68 percent of traditional marketers
Collaboration leaders are two times more likely to collaborate across the C-suite than traditional marketers
Ninety percent of organizations with collaboration leaders are ready to execute customer experience strategy
Traditional marketers are more than twice as likely as collaboration leaders to struggle with a lack of top-down support from the CEO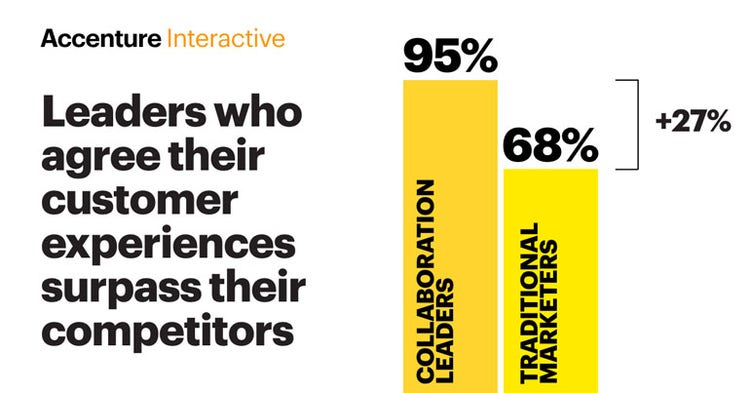 Experience Builds Brands
In today's digitally connected world, there are more opportunities than ever for the brand experience to fall apart. And only 36 percent of marketers said their brands have a well-defined experience vision – that's why only 15 percent of consumers rate customer experience as "good" and zero as "excellent," according to Forrester. Additionally, the research finds:
Ninety-five percent of collaboration leaders agree their entire company is aligned around a shared customer experiences, compared to only 68 percent of traditional marketers
Eighty-one percent of collaboration leaders have an insight-based, empathetic relationship with customers, compared to only 53 percent of traditional marketers
Ninety-six percent of collaboration leaders agree their organization meets their customers' expectations compared to 77 percent of traditional marketers
Sixty-nine percent of organizations with collaboration leaders benefit from freedom of creativity and flow of ideas that achieves a 'wow' factor in their customer experiences
Workforce, Technology and Agency Partners Need to Collaborate
Marketing relies heavily on technology to deliver contextual, relevant and personalized CX. Today, 50 percent of marketing technology purchasing decisions are happening outside of the marketing department. CMOs must have a key voice in decision making for adopting tools that affect multiple channels, business units and regions.
The CMO's remit has expanded beyond traditional marketing. @AccentureACTIVE commissioned Forrester research reveals the importance of collaboration and #CX


Additionally, almost 52 percent of organizations agree that their CMO demands collaboration between the agency partners and their teams. The report states that forward-thinking CMO Collaborators know that partnerships can help them stay ahead of the competition. Eighty-three percent of collaboration leaders are expanding or have implemented this strategy compared to 60 percent of traditional marketers. In fact, 91 percent of collaboration leaders see external/third-party partners as a critical part of their customer experience strategy.

Accenture Interactive is helping some of the world's leading brands break down organizational silos and drive change through world-class customer experiences, including Subway and New York Life.

Methodology
In this study, Forrester conducted in-depth phone interviews with ten senior level marketing decision makers and conducted an online survey of 250 senior level marketing decision makers from a range of industries in the United States, Canada, United Kingdom, Germany, and Australia to evaluate the current and future role of the CMO in building and delivering customer experiences and the need for organization-wide collaboration to meet customer needs. The study began in July 2018 and was completed in August 2018.

About Accenture
Accenture is a leading global professional services company, providing a broad range of services and solutions in strategy, consulting, digital, technology and operations. Combining unmatched experience and specialized skills across more than 40 industries and all business functions – underpinned by the world's largest delivery network – Accenture works at the intersection of business and technology to help clients improve their performance and create sustainable value for their stakeholders. With 459,000 people serving clients in more than 120 countries, Accenture drives innovation to improve the way the world works and lives. Visit us at www.accenture.com.

Accenture Interactive helps the world's leading brands transform their customer experiences across the entire customer journey. Through our connected offerings in design, marketing, content and commerce, we create new ways to win in today's experience-led economy. Accenture Interactive has been ranked the world's largest digital agency in the latest Ad Age Agency Report, for the third year in a row. To learn more, follow us @AccentureSong and visit www.accentureinteractive.com.

This document makes descriptive reference to trademarks that may be owned by others. The use of such trademarks herein is not an assertion of ownership of such trademarks by Accenture and is not intended to represent or imply the existence of an association between Accenture and the lawful owners of such trademarks.

Forward-Looking Statements
Except for the historical information and discussions contained herein, statements in this news release may constitute forward-looking statements within the meaning of the Private Securities Litigation Reform Act of 1995. Words such as "may," "will," "should," "likely," "anticipates," "expects," "intends," "plans," "projects," "believes," "estimates," "positioned," "outlook" and similar expressions are used to identify these forward-looking statements. These statements involve a number of risks, uncertainties and other factors that could cause actual results to differ materially from those expressed or implied. These include, without limitation, risks that: the transaction might not achieve the anticipated benefits for the company; the company's results of operations could be adversely affected by volatile, negative or uncertain economic conditions and the effects of these conditions on the company's clients' businesses and levels of business activity; the company's business depends on generating and maintaining ongoing, profitable client demand for the company's services and solutions, including through the adaptation and expansion of its services and solutions in response to ongoing changes in technology and offerings, and a significant reduction in such demand or an inability to respond to the changing technological environment could materially affect the company's results of operations; if the company is unable to keep its supply of skills and resources in balance with client demand around the world and attract and retain professionals with strong leadership skills, the company's business, the utilization rate of the company's professionals and the company's results of operations may be materially adversely affected; the markets in which the company competes are highly competitive, and the company might not be able to compete effectively; the company could have liability or the company's reputation could be damaged if the company fails to protect client and/or company data from security breaches or cyberattacks; the company's profitability could materially suffer if the company is unable to obtain favorable pricing for its services and solutions, if the company is unable to remain competitive, if its cost-management strategies are unsuccessful or if it experiences delivery inefficiencies; changes in the company's level of taxes, as well as audits, investigations and tax proceedings, or changes in tax laws or in their interpretation or enforcement, could have a material adverse effect on the company's effective tax rate, results of operations, cash flows and financial condition; the company's results of operations could be materially adversely affected by fluctuations in foreign currency exchange rates; the company's business could be materially adversely affected if the company incurs legal liability; the company's work with government clients exposes the company to additional risks inherent in the government contracting environment; the company might not be successful at identifying, acquiring, investing in or integrating businesses, entering into joint ventures or divesting businesses; the company's Global Delivery Network is increasingly concentrated in India and the Philippines, which may expose it to operational risks; as a result of the company's geographically diverse operations and its growth strategy to continue geographic expansion, the company is more susceptible to certain risks; adverse changes to the company's relationships with key alliance partners or in the business of its key alliance partners could adversely affect the company's results of operations; the company's services or solutions could infringe upon the intellectual property rights of others or the company might lose its ability to utilize the intellectual property of others; if the company is unable to protect its intellectual property rights from unauthorized use or infringement by third parties, its business could be adversely affected; the company's ability to attract and retain business and employees may depend on its reputation in the marketplace; if the company is unable to manage the organizational challenges associated with its size, the company might be unable to achieve its business objectives; any changes to the estimates and assumptions that the company makes in connection with the preparation of its consolidated financial statements could adversely affect its financial results; many of the company's contracts include payments that link some of its fees to the attainment of performance or business targets and/or require the company to meet specific service levels, which could increase the variability of the company's revenues and impact its margins; the company's results of operations and share price could be adversely affected if it is unable to maintain effective internal controls; the company may be subject to criticism and negative publicity related to its incorporation in Ireland; as well as the risks, uncertainties and other factors discussed under the "Risk Factors" heading in Accenture plc's most recent annual report on Form 10-K and other documents filed with or furnished to the Securities and Exchange Commission. Statements in this news release speak only as of the date they were made, and Accenture undertakes no duty to update any forward-looking statements made in this news release or to conform such statements to actual results or changes in Accenture's expectations.

1 Source: Forrester's Customer Experience Index Online Survey, US Consumers Q1 2015

# # #

Contact:

Kelly Coffed
Accenture
+1 404 219 3100
kelly.coffed@accenture.com

Copyright © 2018 Accenture. All rights reserved. Accenture, its logo, and High Performance Delivered are trademarks of Accenture.