October 31, 2018
Citizen Comfort with AI Growing, Accenture Study Shows


Most voice no concerns over ethical and responsible use of AI by government

ARLINGTON, Va; Oct., 31, 2018 – Most citizens are equally or more comfortable using artificial intelligence (AI) for public and private services today compared with 12 months ago, according to findings of a multi-country survey by Accenture (NYSE: ACN).
The survey of more than 6,000 citizens of Australia, France, Germany, Singapore, the United Kingdom and the United States found that 45 percent of citizens overall are more comfortable using AI today than they were one year ago; 43 percent said their comfort level with using AI was unchanged; and 12 percent said they were less comfortable using AI today than they were a year ago.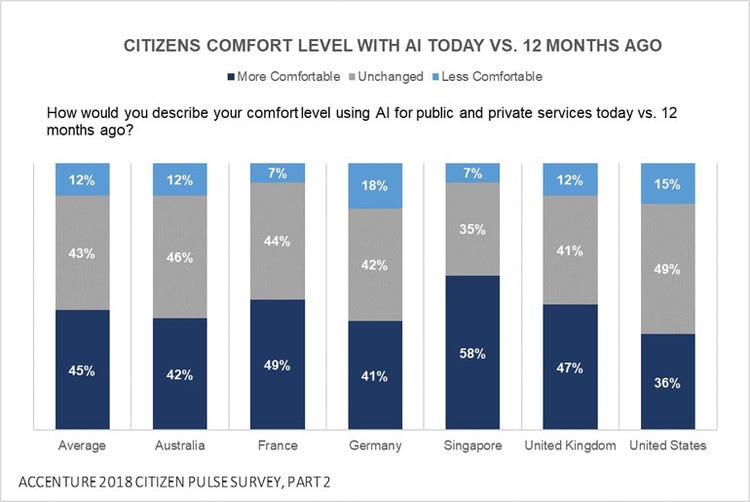 "As new digital services are playing an ever-larger role in everyday affairs, citizens expect government to keep pace with opportunities to leverage AI to improve public programs and services," said Carl Ward, who leads AI programs for Accenture's Health & Public Service practice. "AI is bringing new opportunities for human-machine collaboration to improve services, and government should be proactively exploring such new approaches to service delivery while ensuring AI is implemented responsibly."

The survey found other positive indicators of citizen views of government use of AI. Nearly two-thirds (62 percent) of respondents overall saw government as at least as qualified as the private sector to deliver AI-enabled services. More than half (56 percent) said they support use of AI by government to deliver new or improved services more efficiently, and only around one in four respondents (25 percent) indicated concern over ethical and responsible use of AI by government.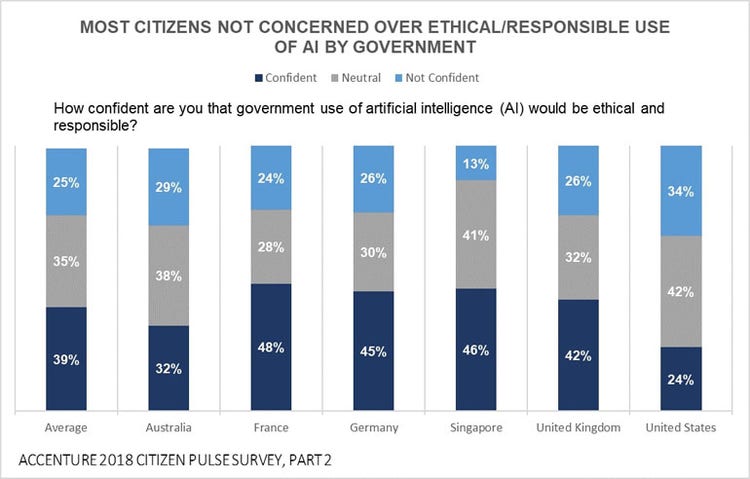 Numerous independent analysts have cited the growing potential for AI in the public sector, as well as challenges for AI adoption. Adelaide O'Brien, a research director with IDC Government Insights, said, "IDC Government Insights predicts that by 2020, as AI is more widely adopted in back-office systems and citizen self-services, there needs to be a shift in job roles to address more complex, idiosyncratic tasks and interactions."

Citizens who work in the public sector are substantially more positive than the general public toward government use of AI, with two-thirds (67 percent) of public-sector respondents supporting government use of AI, compared with only about half (52 percent) of other respondents. Similarly, public-sector respondents were more likely than other respondents — 63 percent versus 41 percent — to say that they are more comfortable with AI today than they were 12 months ago.

"AI and other digital advances are tools to help create better-functioning, more efficient, consistent and personalized services relevant to citizens' circumstances, goals shared by many government organizations," Ward said. "We found regular citizens as well as public workers reasonably supportive of government use of AI, and that should boost leaders' and managers' intent on keeping up with opportunities to transform public services. AI complements and enables the shift of government towards citizen-focused platform services, creating new ways of providing service beyond just automating existing interactions."

Methodology
Accenture surveyed 6,000 citizens aged 18 or older in the United States, Australia, France, Germany, Singapore, and the United Kingdom on a variety of public sector topics. The survey was conducted online during May 2018. One-fourth (25 percent) of the overall respondents identified themselves as currently working in the public sector. Results for the multi-country sample are statistically significant at a confidence level of 95 percent and a margin of error of +/- 1.3 percent.

About Accenture
Accenture is a leading global professional services company, providing a broad range of services and solutions in strategy, consulting, digital, technology and operations. Combining unmatched experience and specialized skills across more than 40 industries and all business functions — underpinned by the world's largest delivery network — Accenture works at the intersection of business and technology to help clients improve their performance and create sustainable value for their stakeholders. With 459,000 people serving clients in more than 120 countries, Accenture drives innovation to improve the way the world works and lives. Visit us at www.accenture.com.

# # #

Contact:

Joe Dickie
Accenture
+1 512 694 6422
joseph.r.dickie@accenture.com