September 12, 2018
CFOs Play a Major Role in Digital Investment Decisions Across the Enterprise, According to Latest Accenture Research


76% of CFOs agree that finance will continue to move from core finance skills to advanced digital, statistical and collaborative capabilities

NEW YORK; Sept. 12, 2018 – Chief Financial Officers (CFO) are playing a critical role in driving digital disruption across the organization, according to new research from Accenture (NYSE: ACN). Today's CFOs oversee more than just the finance function and are now integral players in directing enterprise-wide digital investments and managing their economic outcomes and impacts.
The research report, The CFO Reimagined: From Driving Value to Building the Digital Enterprise, finds that CFOs have expanded beyond their traditional finance roles into areas that have broader consequences for the whole organization. More than eight in 10 CFOs (81 percent) see identifying and targeting areas of new value across the business as one of their main responsibilities. Three quarters (77 percent) believe it is within their purview to drive business-wide operational transformation.

"The CFO role has evolved over the last several years, from accountant to business partner to a strategic advisor across the entire enterprise, becoming the economic guardian of planned outcomes for digital investments," said Steve Culp, senior managing director at Accenture and global head of the company's Finance & Risk practice. "In addition, CFOs are fast becoming the digital stewards of their organizations, leveraging predictive analytics and artificial intelligence to better interpret data for key business decisions that drive value, improve efficiency and enable strategy beyond the borders of the finance function."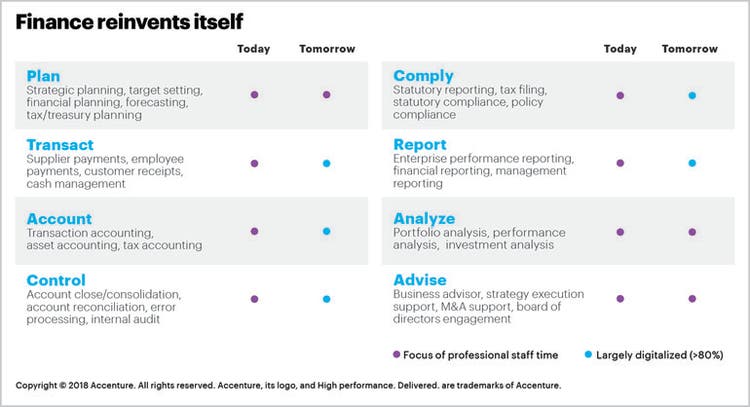 CFO as the Digital Investment Sherpa
CFOs are emerging as drivers of the digital agenda, with 77 percent heading up efforts to improve performance through adoption of digital technology, and 77 percent also exploring how disruptive technologies could benefit the entire organization and the business eco-system. Not only are CFOs carrying out their own tasks faster and better through automation, they're also increasingly ushering in the "digitalization" of other functions and finding new ways to use technology to change business models and open new revenue streams.

CFOs: Get Your Data House in Order


The standard CFO to-do list is shifting towards strategic planning, advisory and analytics roles as CFOs continue to automate routine accounting, control and compliance tasks. Automation of these finance duties is enabling the finance function to focus on newer and more challenging tasks and bring the C-suite together to act on insights gleaned from data analysis. Today, 34 percent of finance tasks are carried out by technology; by 2021, almost half (45 percent) of these duties will be taken over by automation.

"CFOs' use of data is expanding to other parts of the business. As a result, they will need to be more entrenched in transformational technologies such as AI and analytics to usher in digitization of the broader organization, create new business models and unlock new revenue streams," said Dr. Christian Campagna, senior managing director, Accenture Strategy, CFO & Enterprise Value. "The CFOs who step up to manage these opportunities will be the true guardians of the enterprise."

Future Finance Talent Is Calling
As the role of the CFO continues to evolve, so do the skillsets required to become a finance executive. Today's finance function must include employees with a wide range of capabilities, from data visualization to flexible thinking. Most CFOs recognize that finance skills will continue to move away from core finance to advanced digital, statistics, operational and collaborative skills (76 percent). And more than three-quarters (78 percent) say the change must be rapid and drastic, as traditional finance roles may soon become obsolete.

The biggest challenge for CFOs will be recruiting or training the talent to understand how to collect data and gain insight from data. Eight in ten CFOs agree that data storytelling is an essential skill for today's finance professional. They must be more open-minded and collaborative to work effectively with and serve as strategic advisors to leaders in other business functions.

"It feels like there are two camps for what people look for in a CFO: the control or accounting background versus a more strategic finance role who partners with the CEO," explains Chris Weber, CFO and executive vice president, Halliburton Company. "Over time, I think the shift has been towards this second role, even if that means the candidate isn't an accountant by training."

To find out more about the report, visit https://www.accenture.com/us-en/insights/consulting/cfo-research-overview. And join in the conversation at @AccentureRSRCH #CFO #CFOReimagined.

About the research
This research is based on online surveys with more than 700 finance leaders from around the globe and more than 200 up-and-coming finance professionals (the "talent of the future"). Close to 50 qualitative interviews were conducted with CFOs, senior finance executives, CEOs and Chief Data Officers. We selected interviewees on the basis that they worked for global, billion-dollar enterprises that reflected a good mix of sectors and geographies worldwide. The survey was conducted between December 2017 and April 2018.

Respondent company size:



About Accenture
Accenture is a leading global professional services company, providing a broad range of services and solutions in strategy, consulting, digital, technology and operations. Combining unmatched experience and specialized skills across more than 40 industries and all business functions – underpinned by the world's largest delivery network – Accenture works at the intersection of business and technology to help clients improve their performance and create sustainable value for their stakeholders. With 449,000 people serving clients in more than 120 countries, Accenture drives innovation to improve the way the world works and lives. Visit us at www.accenture.com.

Accenture Strategy operates at the intersection of business and technology. We bring together our capabilities in business, technology, operations and function strategy to help our clients envision and execute industry-specific strategies that support enterprise wide transformation. Our focus on issues related to digital disruption, competitiveness, global operating models, talent and leadership help drive both efficiencies and growth. For more information, follow @AccentureStrat or visit www.accenture.com/strategy.
# # #


Contact:

Tourang Nazari
Accenture Media Relations
+1 202 322 4640
tourang.nazari@accenture.com

Michael McGinn
Accenture Financial Services
+1 917 452 9458
m.mcginn@accenture.com

Maggie Nolan
Accenture Strategy
+1 917 452 3964
margaret.d.nolan@accenture.com