October 17, 2018
Banks' Revenue Growth at Risk Due to Unprecedented Competitive Pressure Resulting from Digital Disruption, Accenture Study Finds


Digital-only banks, fintechs and big tech companies are quietly gaining customers, while incumbents struggle to make strategic investments in their digital future

NEW YORK, LONDON, HONG KONG; Oct. 17, 2018 – New entrants to the banking market — including challenger banks, non-bank payments institutions and big tech companies — are amassing up to one-third of new revenue, which is challenging the competitiveness of traditional banks, according to new research from Accenture (NYSE: ACN).
Accenture analyzed more than 20,000 banking and payments institutions across seven markets to quantify the level of change and disruption in the global banking industry. The study found that the number of banking and payments institutions decreased by nearly 20 percent over a 12-year period — from 24,000 in 2005 to less than 19,300 in 2017. However, nearly one in six (17 percent) current institutions are what Accenture considers new entrants — i.e., companies entering the market after 2005. While few of these new players have raised alarm bells among traditional banks, the threat of reduced future revenue growth opportunities is real and growing.

Two new reports from Accenture quantify the level of disruption in the banking industry: "Beyond North Star Gazing" discusses how industry change is shaping the strategic priorities for banks, and "Star Shifting: Rapid Evolution Required" outlines what banks can do to take advantage of these changes to maintain customer relevance and ensure future revenue growth.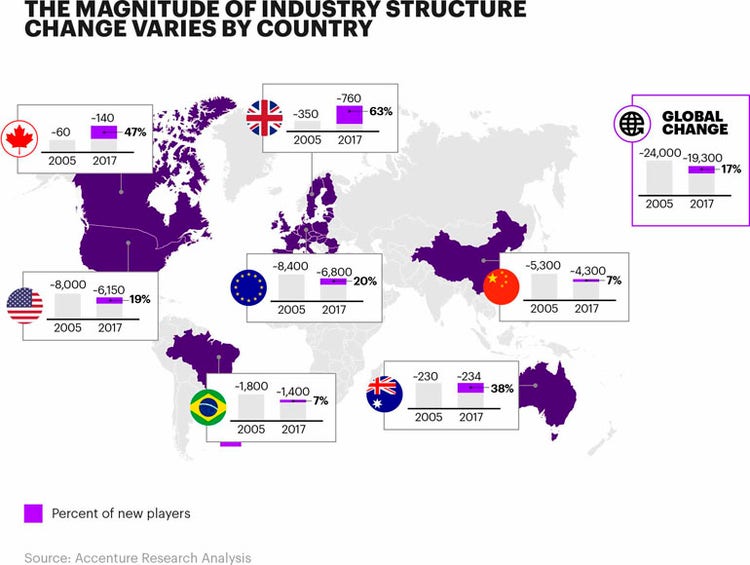 "Most banks are struggling to find the right mix of investments in traditional and digital capabilities as they balance meeting the needs of digital customers with maintaining legacy systems that protect customer data," said Alan McIntyre, a senior managing director at Accenture and head of its global Banking practice. "Banks can't simply digitally enable their business as usual and expect to be successful. So far, the conservative approach to digital investment has hindered banks' ability to build new sources of growth, which is crucial to escaping the tightening squeeze of competition from digital attackers and deteriorating returns."

Industry disruption
Many incumbent banks continue to dismiss the threat of new entrants, claiming that (1) new entrants are not creating new innovations, but rather dressing up traditional banking products; (2) significant revenue is not moving to new entrants; and (3) new entrants are not generating profits. However, the reports analyzed where revenue is shifting to new entrants and identifies examples of true innovation happening around the world that can no longer be dismissed. Accenture predicts that the shift in revenue to new entrants will continue and will start to have a material impact on incumbent banks' profits.

U.S.: Nineteen percent of financial institutions in the U.S. are new entrants and have captured 3.5 percent of total banking and payments revenues. Over the past dozen years, the number of financial institutions in the U.S. has decreased by nearly one-quarter, largely due to the financial crisis and subsequent regulatory hurdles imposed to obtain a banking license. These factors have made the U.S. a difficult market for new entrants and a stable environment for incumbents. More than half of new current accounts opened in the U.S. have been captured by three large banks that are making material investments in digital, while regional banks focus on cost reduction and struggle to grow their balance sheets.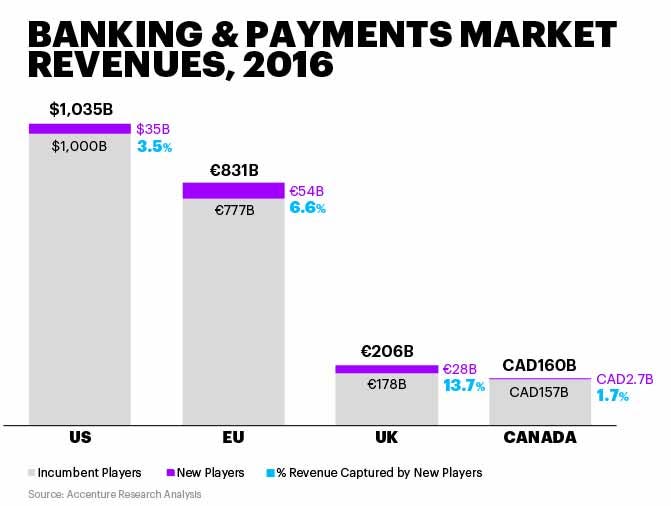 "Ten years after the financial crisis, the banking industry is experiencing a level of competitive intensity and disruption that's much greater than what's been seen before," said Julian Skan, a senior managing director at Accenture and global Banking lead, Accenture Strategy. "With challenger banks and platform players reducing traditional banks' competitiveness and the threat of a power shift looming, incumbent players can no longer rest on their laurels. Banks are mobilizing to take advantage of industry changes, leveraging digital technologies and ecosystem business models to cement their relevance with customers and regain revenue growth."

UK: With regulation increasing competition in the financial services industry and reducing the dominance of established banks, 63 percent of players in the UK are new entrants. This is eye-popping compared with other markets and the 17 percent global average. New entrants have captured 14 percent of total banking revenues, with the clear majority (12 percent) going to non-bank payments institutions. While they have only taken around 14 percent of revenues, the reports suggest that they are taking over one third of new revenue indicating a higher level of disruption in the future. The reports also suggest that incumbent banks will therefore likely start to see a significant impact on revenues as leading challenger banks are surpassing the 1 million customer threshold and 15 fintechs have been granted full banking licenses.

Canada: Investors have backed new entrants in Canada with the intention of disrupting the banking industry. While nearly half (47 percent) of banking and payments institutions are new entrants, they have captured less than 2 percent of total banking and payments revenue, making Canada one of the least disrupted major banking markets.

Europe: In Europe (including the UK), 20 percent of the banking and payments institutions are new entrants and have captured nearly 7 percent of total banking revenue — and one-third (33 percent) of all new revenue since 2005.

"As the banking industry experiences radical change, driven by regulation, new entrants and demanding consumers, banks will need to reassess their assets, strengths and capabilities to determine if they are taking their business in the right direction," McIntyre said. "The future belongs to banks that can build new sources of growth, including finding opportunities beyond traditional financial services. They can't afford to blindly follow the path they originally set out at the beginning of their digital journey. However, as the report clearly shows, there is no single answer and each bank needs to truly understand the market it is operating in before charting a path forward"

Methodology
Using data from various sources, including the European Central Bank (ECB) and other local central banks, Accenture Research analyzed more than 20,000 institutions in the banking and payments market across seven markets: Australia, Brazil, Canada, China, Europe, the United Kingdom and the United States. Of the companies analyzed, 3,200 are considered "new players" (having entered the market since 2005), which fall into three main categories: licensed banks; payments players (payment system providers, including e-money services, and payment system operators other than banks); and non-licensed players, including well-established "fintech" start-ups. Additional analysis of banking revenues was conducted for Canada, Europe, the United Kingdom, and the United States, based on company data, where consistently available, and economic modeling.

Explore www.accenture.com/banking
Visit our Banking Blog
Follow us on LinkedIn
Follow Us on Twitter

About Accenture
Accenture is a leading global professional services company, providing a broad range of services and solutions in strategy, consulting, digital, technology and operations. Combining unmatched experience and specialized skills across more than 40 industries and all business functions — underpinned by the world's largest delivery network — Accenture works at the intersection of business and technology to help clients improve their performance and create sustainable value for their stakeholders. With 459,000 people serving clients in more than 120 countries, Accenture drives innovation to improve the way the world works and lives. Visit us at www.accenture.com.

Accenture Strategy operates at the intersection of business and technology. We bring together our capabilities in business, technology, operations and function strategy to help our clients envision and execute industry-specific strategies that support enterprise wide transformation. Our focus on issues related to digital disruption, competitiveness, global operating models, talent and leadership help drive both efficiencies and growth. For more information, follow @AccentureStrat or visit www.accenture.com/strategy.

# # #

Contact:

Melissa Volin
Accenture
+1 267 216 1815
melissa.volin@accenture.com

Lucy Davies
Accenture
+44 777 3044 808
lucy.davies@accenture.com