May 02, 2018
Banks Must Invest in Reskilling Their Workforces to Seize AI-driven Growth Opportunities, Accenture Report Finds


Stronger commitment to AI could boost revenues 34 percent and employment 14 percent by 2022

NEW YORK; May 2, 2018 – Although bank leaders recognize that intelligent technologies are reshaping the core banking process and can transform customer experiences, few plan to significantly increase investments in reskilling their workforces to enable these technologies in the near-term, according to a report by Accenture (NYSE: ACN).
Based on two surveys – one of 100 banking executives and another of 1,300 non-executive bank employees – the report, "Future Workforce Survey - Banking: Realizing the Full Value of AI," estimates that if banks invest in artificial intelligence (AI) and human-machine collaboration at the same rate as top-performing companies do, they could boost revenues by 34 percent and raise employment levels 14 percent by 2022.

"As AI becomes more nuanced, its role in banks is moving beyond automation to elevating human capabilities," said Alan McIntyre, a senior managing director at Accenture and head of the company's Banking practice. "To benefit from the potential of AI, banks need to implement 'applied intelligence' – combining technology and human ingenuity – across all areas of their core business. To achieve this, they will need commitment from the highest levels of leadership and an understanding that this evolution will require a dramatic change in their workforce."

According to the report, 76 percent of the 100 senior executives surveyed said that intelligent technology will be critical to their organization's market differentiation, and 39 percent believe it will be behind every innovation they implement in the next three years.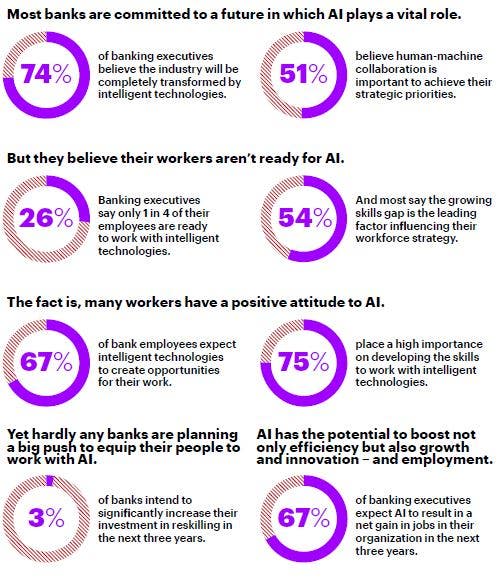 While banks recognize that getting human-machine collaboration right is critical, few have acted to unlock the value that lies at the intersection of people and intelligent machines. For instance, bank executives believe that only one in four of their employees, on average, is ready to work with AI. Further, only 3 percent of the executives said their organization plans to significantly increase its investment in reskilling their workers in the next three years.

"Banks' lack of commitment to upskilling and reskilling employees to learn how to collaborate with intelligent technologies will significantly hinder their ability to deploy and benefit from them," McIntyre said. "The only way for banks to benefit from applied intelligence is by ensuring that the data and systems are managed to be fair, transparent and accountable – and people are essential to training machines to achieve this 'responsible AI.'"

More than one-quarter (28 percent) of the 1,300 non-executive bank employees surveyed said they work with intelligent technologies more than half of their workday. Overall, the employees are optimistic about the impact of AI; two-thirds (67 percent) believe it will improve their work-life balance, and more than half (57 percent) expect it will expand their career prospects.

The research suggests that there is a strong foundation on which to boost AI skills investment. Two-thirds (67 percent) of the senior banking executives believe that their company will create net job gains in the next three years through AI.

"Banks – indeed, all financial services firms – have work to do before they can even determine how best to employ intelligent tools," said Andrew Woolf, Talent & Organization lead for Accenture's Financial Services practice. "They can start by building an enterprise-wide strategy focused on applied intelligence, reimagining how work is done today and determining what steps they need to take to move to a state of advanced collaboration, where humans help AI to help humans."

Learn more about Accenture Banking at www.accenture.com/banking.

Methodology
"Realizing the Value of AI" is based on two surveys: one of 100 senior banking executives, and another of 1,300 non-executive bank employees across skill levels. Accenture combined quantitative and qualitative research techniques to analyze the attitudes and readiness of workers and business leaders with regards to collaborating with intelligent technologies. The surveys were conducted between September and November 2017 in 11 countries: Australia, Brazil, China, France, Germany, India, Italy, Japan, Spain, U.K. and the U.S. The research also included economic modelling to determine the correlation between AI investment and financial performance, in-depth interviews with C-suite executives and ethnographic interviews with individuals who have been working with AI.

About Accenture
Accenture is a leading global professional services company, providing a broad range of services and solutions in strategy, consulting, digital, technology and operations. Combining unmatched experience and specialized skills across more than 40 industries and all business functions – underpinned by the world's largest delivery network – Accenture works at the intersection of business and technology to help clients improve their performance and create sustainable value for their stakeholders. With approximately 442 people serving clients in more than 120 countries, Accenture drives innovation to improve the way the world works and lives. Visit us at www.accenture.com.

# # #

Contact:

Melissa Volin
Accenture
+1 267 216 1815
melissa.volin@accenture.com