November 05, 2018
Banks' Ability to Maximize Their Use of New Digital Technologies May Be Hindered by Slow Transition to the Cloud, New Research from Accenture Shows

NEW YORK; Nov. 5, 2018 – Although the majority of banks recognize the advantages of building new information technology (IT) systems on cloud platforms, many have been slow to transition to the cloud, and only one in four has a solid strategy for cloud adoption, according to a new report from Accenture (NYSE: ACN).
The report — titled "Cloud and Clear, Accenture Cloud Readiness Report - Banking" and based on a global survey of banking executives — finds that cloud adoption is integral to enabling banks to quickly add new online services, develop applications and improve customer experience. The top benefits that surveyed bankers expect from cloud adoption are the ability to scale their IT operations up — and down — as needed (cited by 77 percent) and the ability to launch applications faster (63 percent); only 49 percent cited cost savings as a top benefit.

However, more than two-fifths (43 percent) of the bank executives surveyed said their banks lack a strategy for cloud adoption or have only started to implement basic cloud practices, and only 26 percent have what Accenture considers a solid cloud-adoption strategy, which includes ongoing measurement of efficiencies for continuous improvement.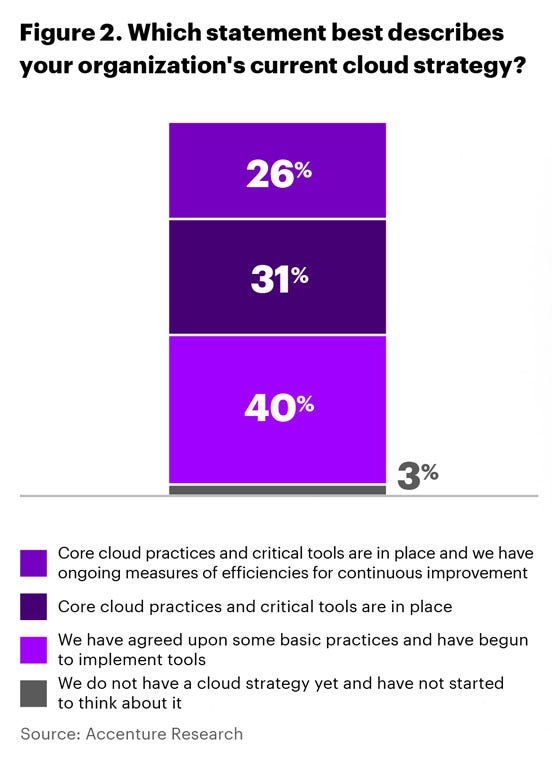 "To drive growth, banks must provide customers with a stellar digital experience, and cloud is a core component to accomplishing this," said Andrew Poppleton, head of the technology advisory practice within Accenture's Financial Services operating group. "Cloud provides the capacity and agility that banks need to use big data and analytics to identify the best products and services for their customers and to quickly develop and get them to market, which is crucial to keeping pace with competitors in this digital age."

According to the report, banks' initial focus on the cloud has traditionally centered around infrastructure-related functions. The survey found that the two most-common functions that banks have moved, or are in the process of moving, to the cloud are disaster recovery (cited by 80 percent of respondents) and data backup (74 percent). Banks have also made progress in identifying which legacy applications are good candidates for early migration to the cloud, with the top three being retail customer access channels, such as email, mobile, internet and ATM (cited by 65 percent of respondents); foreign exchange (60 percent); and regulatory reporting (40 percent).

However, the report identifies two impediments to banks' wide-spread cloud implementation:
Existing legacy IT infrastructure. Nearly all bank executives surveyed said they expect that transitioning to the cloud will require new IT operating models. In fact, more than two-thirds (69 percent) intend to operate in a "bimodal" way — maintaining key legacy systems and those not easily replicated on cloud platforms, while transferring other systems and adding new applications in the cloud.
A skills gap. Although nearly nine out of 10 bankers (89 percent) surveyed rated the skills and experience of their employees in charge of cloud strategy and management as "mature" or "advanced," they were less confident about their teams' ability to manage cloud infrastructure and applications. Specifically, more than half (55 percent) rated their team's skill level as "novice" or having "no experience" in managing cloud infrastructure, and 40 percent gave the same skill rating for managing cloud applications.
"The cloud provides extraordinary opportunities for banks to transform how they conceptualize, develop, manage and sell their products and services — but this can't be accomplished without the right talent in place to advance the cloud agenda," said Chad Duncan, a managing director in Accenture's Financial Services technology advisory practice. "At the same time, our research shows that many banks still lack a comprehensive strategy to rapidly shift to the cloud, leading to limited deployment. Because cloud is fundamental to how banks will conduct business and grow in the future, it's time to move past the experimental phase and put an aggressive cloud transition strategy in place."

Methodology
Accenture Research surveyed 35 banking executives responsible for technology and information security at global retail banks in North America, South America, Europe, Africa and Asia Pacific. The survey was conducted during November and December 2017.

About Accenture Research
Accenture Research shapes trends and creates data driven insights about the most pressing issues global organizations face. Combining the power of innovative research techniques with a deep understanding of our clients' industries, our team of 250 researchers and analysts spans 23 countries and publishes hundreds of reports, articles and points of view every year. Our thought-provoking research — supported by proprietary data and partnerships with leading organizations such as MIT and Singularity — guides our innovations and allows us to transform theories and fresh ideas into real-world solutions for our clients. Visit us at www.accenture.com/research.

About Accenture
Accenture is a leading global professional services company, providing a broad range of services and solutions in strategy, consulting, digital, technology and operations. Combining unmatched experience and specialized skills across more than 40 industries and all business functions — underpinned by the world's largest delivery network — Accenture works at the intersection of business and technology to help clients improve their performance and create sustainable value for their stakeholders. With 459,000 people serving clients in more than 120 countries, Accenture drives innovation to improve the way the world works and lives. Visit us at www.accenture.com.

# # #

Contact:

Melissa Volin
Accenture
+1 267 216 1815
melissa.volin@accenture.com