March 06, 2018
Accenture Study Finds Growing Demand for Digital Health Services Revolutionizing Delivery Models: Patients, Doctors + Machines


Rapid growth seen in use of digital technology, especially wearable devices and mobile, tablet apps

LAS VEGAS; March 6, 2018 – Growing consumer demand for digital-based health services is ushering in a new model for care in which patients and machines are joining doctors as part of the healthcare delivery team, according to results of a survey from Accenture (NYSE: ACN) released today at HIMSS18.
The survey of 2,301 U.S. consumers suggests that consumers are becoming more accepting of machines — ranging from artificial intelligence (AI), to virtual clinicians and home-based diagnostics — having a significantly greater role in their overall medical care. For example, one in five respondents (19 percent) said they have already used AI-powered healthcare services, and most said they are likely to use AI-enabled clinical services, such as home-based diagnostics (cited by 66 percent of respondents), virtual health assistants (61 percent) and virtual nurses that monitor health conditions, medications and vital signs at home (55 percent).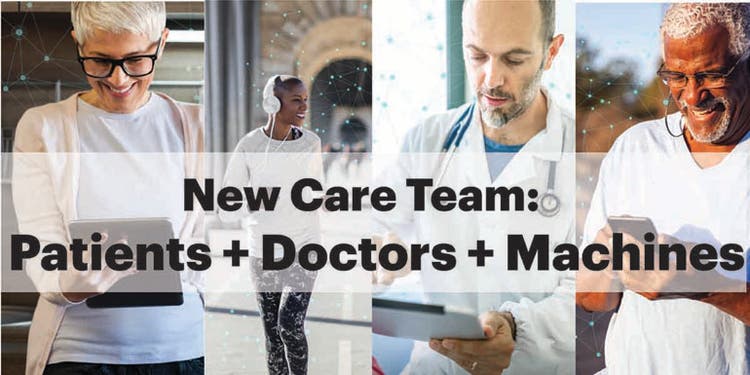 "Driven by experiences outside of healthcare, consumers increasingly expect to use digital technologies to control when, where and how they receive care services," said Kaveh Safavi, M.D., J.D., who leads Accenture's health practice globally. "By harnessing digital technologies in this way, healthcare will increasingly tap digital technologies to empower human judgement, free up clinician time and personalize care services to put control in the patients' hands."

The survey results also show that consumers are increasingly using a variety of digital self-service tools for managing their health. For instance, consumer use of mobile and tablet health apps has tripled over the past four years, from 16 percent in 2014 to 48 percent today. In one such example, patient portals, more than four in 10 respondents (44 percent) said they have accessed their electronic health records (EHRs) over the past year, primarily to get information on lab and blood-test results (cited by 67 percent of respondents who accessed their EHRs this past year), view physician notes regarding medical visits (55 percent) and view their prescription history (41 percent).

Similarly, the use of wearable devices by consumers has nearly quadrupled in the past four years, from just 9 percent in 2014 to 33 percent today. Roughly three-fourths of health consumers view wearables — such as those that monitor glucose, heart rate, physical activity and sleep — as beneficial to understanding their health condition (75 percent), engaging with their health (73 percent), and monitoring the health of a loved one (73 percent).

"The more accustomed healthcare consumers become to using wearables and other smart technologies, the more open they are to sharing the personal health data these tools collect," Dr. Safavi said.

For instance, 90 percent of survey participants said they are willing to share personal data with their doctor, and 88 percent said they are willing to share personal data with a nurse or other healthcare professional. Additionally, the percentage of consumers willing to share with their insurance carrier personal data collected from their wearable devices has increased over the past year, from 63 percent in 2016 to 72 percent today. They also are more willing so share such data and with online communities or other app users – 47 percent today, compared with 38 percent in 2016. Fewer are willing to share data with their employer (38 percent) or a government agency (41 percent).

The survey also found that consumers are taking greater advantage of virtual services:
One quarter (25 percent) of respondents said they had received virtual care services in the previous year, up from 21 percent in last year's survey. In addition, one in six (16 percent) of those consumers said they are taking part in remote health consultations, compared with 12 percent in 2016, and 14 percent are participating in remote monitoring, up from 9 percent in 2016.
Three-quarters (74 percent) of respondents said they were satisfied with the virtual care they have received, with nearly half (47 percent) of those respondents saying that, given a choice, they would prefer a more immediate virtual medical appointment over a delayed in-person appointment.
More than half (54 percent) of survey respondents said they believe that virtual care reduces medical costs to patients, and 43 percent said they like the timely care that virtual technology provides.
The majority of healthcare consumers said they would use virtual care for a variety of activities, from e-medical visits to medical diagnosis and group therapy. For instance, nearly three-quarters (73 percent) of respondents said they would use virtual care for after-hours (nights and weekend) appointments, 71 percent said they would use virtual care for taking a class on a specific medical condition, and two-thirds (65 percent) said they would use virtual care for a follow-up appointment after seeing a health professional in person. Most respondents said they would also use virtual care for a range of additional services, including discussing specific health concerns with medical professionals (cited by 73 percent of respondents), in-home follow-up after a hospital stay (62 percent), participating in a family member's medical appointment (59 percent), and being examined for a non-emergency condition (57 percent).

Methodology
The findings in this news release relate to the U.S. portion of a seven-country survey that Accenture commissioned as part of its 2018 Consumer Survey on Digital Health report. The purpose of the survey — of 7,905 consumers ages 18 and older, including 2,301 from the U.S. — was to assess consumer attitudes toward healthcare technology, modernization and service innovation. It is the latest in a series of annual health technology surveys tracking the perspectives of consumers across themes ranging from electronic health records and health management to virtual health and cybersecurity. The survey was conducted by Longitude on behalf of Accenture between October 2017 and January 2018.

About Accenture
Accenture is a leading global professional services company, providing a broad range of services and solutions in strategy, consulting, digital, technology and operations. Combining unmatched experience and specialized skills across more than 40 industries and all business functions – underpinned by the world's largest delivery network – Accenture works at the intersection of business and technology to help clients improve their performance and create sustainable value for their stakeholders. With more than 435,000 people serving clients in more than 120 countries, Accenture drives innovation to improve the way the world works and lives. Visit us at www.accenture.com.

# # #

Contact:

Jenn Francis
Accenture
+1 630 338 6426
jennifer.francis@accenture.com