December 18, 2018
Accenture Security to Invest $500,000 in Georgia Tech's Online Master of Science in Cybersecurity Degree Program


Accenture teams with world-renowned academic institution to prepare, grow and sustain a skilled cybersecurity workforce

ATLANTA; Dec. 18, 2018 – To help meet the growing demand for highly skilled cybersecurity professionals, Accenture (NYSE: ACN) will become the first corporate donor to invest $500,000 over the next twelve months in the Georgia Institute of Technology's Online Master of Science in Cybersecurity (OMS Cybersecurity) degree program.
The OMS Cybersecurity program will launch January 7, 2019 with approximately 250 students and is projected to scale over time to meet increasing demand and greater student needs. The online program has the same content as the on-campus program but is designed to serve working professionals who can study part-time and earn a master's degree, which will increase the number of trained and educated cybersecurity professionals available for organizations to hire. The program offers three unique interdisciplinary tracks beginning with information security and followed by policy and energy systems. The gift will be used to support the creation of the OMS Cybersecurity program, including course materials and production.

"As the first corporate sponsor to support the Online Master of Science in Cybersecurity program, we will enhance the learning environment by providing real-world experience to challenge students to apply their technical knowledge in a business context for the utility sector," said Jim Guinn II, managing director and global cybersecurity leader for energy, utilities, chemicals and mining at Accenture Security. "At the same time, we are excited to tap into the gender diversity of Georgia Tech, which is consistently ranked has having the largest percentage of female students in the nation enrolled in engineering. We are confident Georgia Tech's graduates can help us meet our goal of bringing diverse skills into the workforce to unlock even greater business value for our utility clients."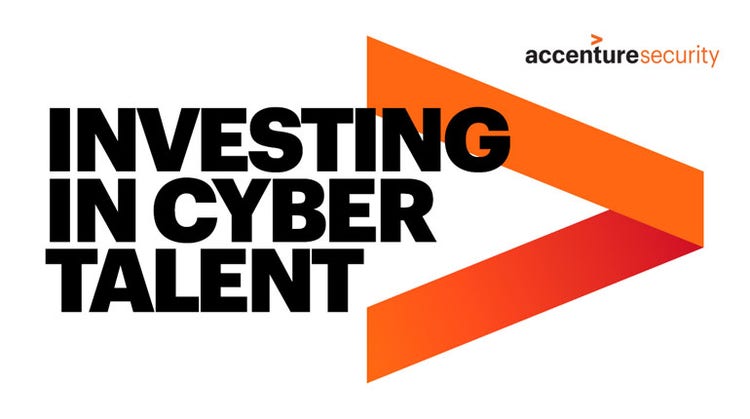 Accenture to become first corporate donor to invest $500,000 over next 12 months in Georgia Tech's Online Master of Science in #Cybersecurity degree program

Over the next three years, the OMS Cybersecurity program anticipates enrolling more than 3,000 students. Graduates of the program will have completed a rigorous and diversified core curriculum as well as an in-depth specialization in principles and practical techniques for developing safeguards to secure computers and networks. They will have also mastered specialized concerns for keeping control of the operations and information in cyber-physical systems, or the administrative, market, and public policy tools used to keep cyberspace safe.

For its part, Accenture expects to provide many of the program's students and graduates with their first professional experiences through recurring summer internships, full-time employment and opportunities to support existing Accenture client projects.

"As an innovator in higher education delivery, Georgia Tech's goal is to provide the world access to high quality education at a disruptive price. We do this partly by selecting high growth, high demand subject areas like cybersecurity and filling the workforce skills gap with highly trained professionals and leaders," said Rafael L. Bras, provost and executive vice president for Academic Affairs and K. Harrison Brown Family Chair. "We are grateful for the strategic vision and support of Accenture and to be collaborating to train the next generation of talent that will help solve the world's most challenging cybersecurity problems."

The OMS Cybersecurity program is Georgia Tech's third degree-at-scale available fully online to thousands of learners around the world. It will follow the same model as the online Master of Science in Computer Science (OMSCS) program, which launched in 2014 and has enrolled about 10,000 students overall for the $6,600 degree. Georgia Tech followed on that success in 2017 by launching the Online Master of Science in Analytics, also with support from Accenture, which currently has more than 1,200 students enrolled this fall and costs less than $10,000.

"I am thrilled that Accenture is collaborating with the Institute to extend the opportunity for a Masters in Cybersecurity to students who might not otherwise have it," said Jimmy Etheredge, senior managing director, Southeast, Accenture. "Accenture is deeply committed to skilling the future workforce, and programs such as Georgia Tech's OMS bring the curriculum to talented students wherever they are, preparing them for a bright future, and ensuring that employers will have access to the talent they need in the field of cybersecurity."

The OMS Cybersecurity is an interdisciplinary collaboration between Georgia Tech's School of Computer Science in the College of Computing, the School of Public Policy in the Ivan Allen College of Liberal Arts, and the School of Electrical and Computer Engineering in the College of Engineering. Georgia Tech is home to the largest Electrical & Computer Engineering program in the United States with more than 110 faculty, three campuses and 19 research centers.

Applications for fall 2019 are open through April 15, 2019. More information on the Georgia Tech OMS Cybersecurity program can be found at omscybersecurity.gatech.edu .

About Accenture
Accenture is a leading global professional services company, providing a broad range of services and solutions in strategy, consulting, digital, technology and operations. Combining unmatched experience and specialized skills across more than 40 industries and all business functions — underpinned by the world's largest delivery network — Accenture works at the intersection of business and technology to help clients improve their performance and create sustainable value for their stakeholders. With 459,000 people serving clients in more than 120 countries, Accenture drives innovation to improve the way the world works and lives. Visit us at www.accenture.com.

Accenture in the United States
Accenture is a leading professional services company providing a broad range of services and solutions in strategy, consulting, digital, technology and operations. Serving 93 of the Fortune 100 and more than 70 percent of the Fortune 500, Accenture employs an innovation-led approach to help clients imagine and invent their future. The company has more than 50,000 people and operations in 42 cities in the United States, and with an unwavering commitment to inclusion and diversity, is consistently recognized on FORTUNE's 100 Best Companies to Work For and DiversityInc's Top 50 Companies for Diversity lists. Visit us at accenture.com/US.

Accenture Security helps organizations build resilience from the inside out, so they can confidently focus on innovation and growth. Leveraging its global network of cybersecurity labs, deep industry understanding across client value chains and services that span the security lifecycle, Accenture helps organizations protect their valuable assets, end-to-end. With services that include strategy and risk management, cyber defense, digital identity, application security and managed security, Accenture enables businesses around the world to defend against known sophisticated threats, and the unknown. Follow us @AccentureSecure on Twitter or visit us at www.accenture.com/security.
# # #


Contact:

Alison Geib
Accenture
+1 703 947 4404
alison.geib@accenture.com

Copyright © 2018 Accenture. All rights reserved. Accenture, its logo, and High Performance Delivered are trademarks of Accenture.