December 21, 2018
Accenture Recognized as Product and Platform Engineering Leader by Zinnov for Third Consecutive Year

NEW YORK; Dec. 21, 2018 – For the third consecutive year, Zinnov has positioned Accenture (NYSE: ACN) as the leading provider of Product and Platform Engineering Services — Enterprise Software Ratings — in the Zinnov Zones 2018: Engineering Research & Development (ER&D) Report.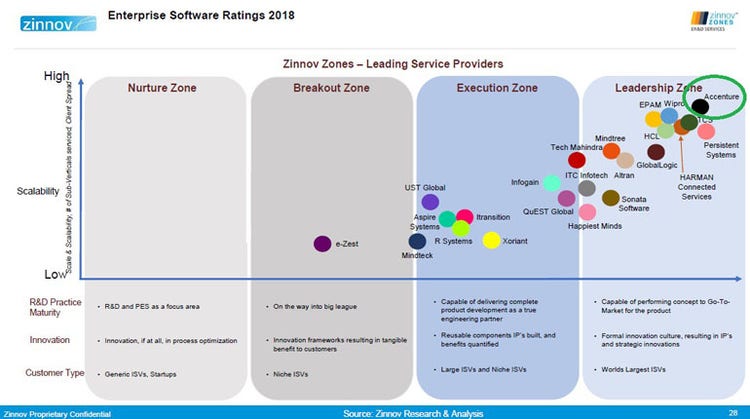 Zinnov Enterprise Software Ratings 2018

In addition, Accenture was positioned as an established and expansive provider of user experience engineering, ahead of all competitors.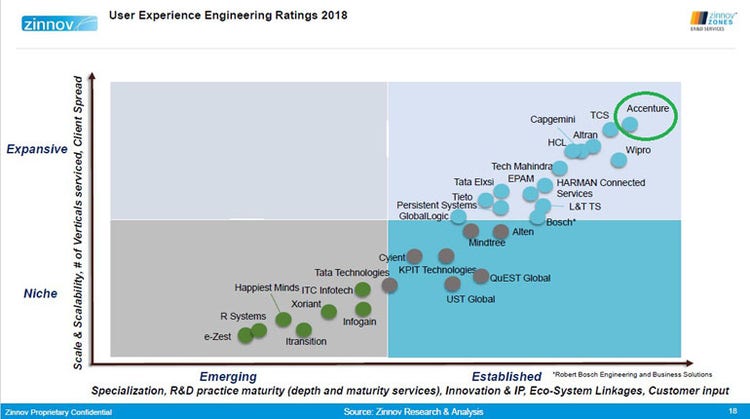 Zinnov User Experience Engineering Ratings 2018

"Accenture's proven capabilities across the full-stack of software engineering services — covering strategy, to build, to user experience — has helped establish it as the industry leader in Enterprise software and User Experience Engineering," said Sidhant Rastogi, partner and practice head at Zinnov. "The firm's positioning is further fortified by its legacy of building and operating SaaS products and platforms. Its proprietary solutions (Accenture myWizard®, Touchless Testing Platform, Platform-in-a-Box) enable automation and DevOpS; thereby, reducing time-to-market for enterprises."

Ram Ramalingam, managing director of Accenture's Product and Platform Engineering Services practice, added, "This report underscores our ability to help our clients take advantage of the limitless possibilities that platforms offer, while accelerating their journey in the Platform Economy."

Zinnov, a global management and strategy consulting firm, released its study on the rankings of global service providers in the Engineering R&D segment for 2018, an analysis of the global ER&D landscape, evolving customer preferences, and assessment of service providers in this space. This year, additional focus was place on artificial intelligence engineering services that providers offer, and Accenture ranked particularly well in this realm, as well.

About Accenture
Accenture is a leading global professional services company, providing a broad range of services and solutions in strategy, consulting, digital, technology and operations. Combining unmatched experience and specialized skills across more than 40 industries and all business functions — underpinned by the world's largest delivery network — Accenture works at the intersection of business and technology to help clients improve their performance and create sustainable value for their stakeholders. With 469,000 people serving clients in more than 120 countries, Accenture drives innovation to improve the way the world works and lives. Visit us at www.accenture.com.
# # #


Contact:

Hannah Unkefer
Accenture
+1 206 839 2172
hannah.m.unkefer@accenture.com

Copyright © 2018 Accenture. All rights reserved. Accenture and its logo are trademarks of Accenture.
\