January 08, 2018
Accenture Positioned as Overall Leader in Everest Group Finance & Accounting Outsourcing Market Assessment


Accenture identified as Star Performer based on year-over-year revenue growth and highest number of new deals

NEW YORK; Jan. 8, 2018 – Accenture (NYSE: ACN) has been positioned as overall market Leader in the 2017 Everest Group PEAK Matrix™ Assessment for Finance & Accounting Outsourcing (FAO). Accenture was awarded its position ahead of all competitors based on its market success, which is measured through revenue, clients, and growth. Accenture was also recognized as Leader due to its delivery capability, which comprises scale, scope, innovation, delivery and customer satisfaction.
According to the report, Accenture has retained its leadership position for six consecutive years in FAO due to continued enhancements to its delivery and innovative technology capabilities. The report highlighted Accenture's AI-based solutions for enhanced insights as a distinguishing feature of the company's strengthened proposition.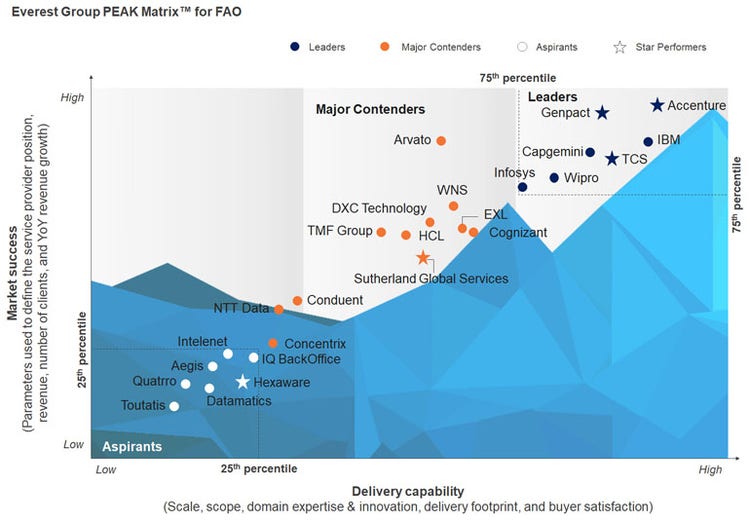 Everest Group recognizes Accenture as a Star Performer in FAO market for strongest year-on-year growth

In addition, Everest Group cited Accenture's success in signing the highest number of new deals and registering the highest revenue growth among FAO leaders as reasons for its high position in the Matrix. Accenture's performance in securing strong year-on-year growth meant that it was also identified as an FAO market 'Star Performer' in the report.

Rajesh Ranjan, partner at Everest Group, commented, "In this highly competitive market, the ability to differentiate through end-to-end transformative solutions, domain and industry expertise, and next-generation offerings, based on innovations such as advanced automation, analytics, and AI-based solutions, are increasingly important. Through acquisitions, technology, tools, and partnerships, Accenture has built such a set of capabilities and is experiencing significant market success as a result."

Accenture strengths highlighted in the report include:
Accenture's commitment to driving enhanced value for clients through a suite of analytical tools and dashboards, advanced automation and AI technologies, various point solutions and workflow tools.
Accenture's extremely balanced capability mix across its functions and vast experience in a multitude of tools and ERP platforms.
Accenture's strong client traction in the large and mid-markets of North America and Europe as well as the emerging markets of APAC and Latin America.
Accenture's broad-based industry expertise, global delivery model, and strong client reference feedback.
Accenture's flexible and partner-based approach, expertise in F&A services, and its ability to scale to clients' needs.
"Accenture has focused on providing clients with effective business solutions increasingly powered by data, AI, analytics and digital technologies including blockchain and automation that are bringing new levels of insight, control, and agility," said Debbie Polishook, group chief executive of Accenture Operations.

"Everest Group's report shows that Accenture's approach delivers, and that our clients value the improved productivity, experience and business performance we help them deliver. Moving forward, we will continue to provide clients with the business process, domain and industry expertise, digital technologies, applied intelligence, and data capabilities they need to ensure their future growth as we strive to maintain our unrivaled leadership position," Polishook added.

The report examines 25 leading FAO service providers with multi-process capability, evaluating their market impact and vision & capability using the proprietary framework of the Everest Group Performance | Experience | Ability | Knowledge (PEAK) Matrix.

About Accenture
Accenture is a leading global professional services company, providing a broad range of services and solutions in strategy, consulting, digital, technology and operations. Combining unmatched experience and specialized skills across more than 40 industries and all business functions – underpinned by the world's largest delivery network – Accenture works at the intersection of business and technology to help clients improve their performance and create sustainable value for their stakeholders. With more than 435,000 people serving clients in more than 120 countries, Accenture drives innovation to improve the way the world works and lives. Visit us at www.accenture.com.

# # #

Contact:

Mylissa Tsai
Accenture
+1 917 452 9729
mylissa.tsai@accenture.com

Copyright © 2018 Accenture. All rights reserved. Accenture, its logo, and High Performance Delivered are trademarks of Accenture.