August 16, 2018
Accenture Positioned as Overall Innovation Leader in HFS Software Product Engineering Blueprint Report

NEW YORK; August 16, 2018 – Accenture (NYSE: ACN) has been named to the Winner's Circle and positioned as the overall leader in innovation, ahead of 24 other competitors, in HFS Research's 2018 Software Product Engineering Services Blueprint Report.
Accenture is recognized for its consulting-driven approach to services delivery, particularly in connected platform engineering. The report cites the global scope of Accenture's work with its partners and specifically highlights the company's strength in Europe and APAC, regions where very few service providers have a strong overall delivery presence.

Pareekh Jain, senior vice president, HFS Research stated, "Accenture has been recognized as a top innovator that leverages its deep understanding of software product engineering to drive excellence in its clients' journeys in the Platform Economy. Having made significant investments in futuristic technologies, Accenture is well-poised to lead and drive meaningful business outcomes for its customers."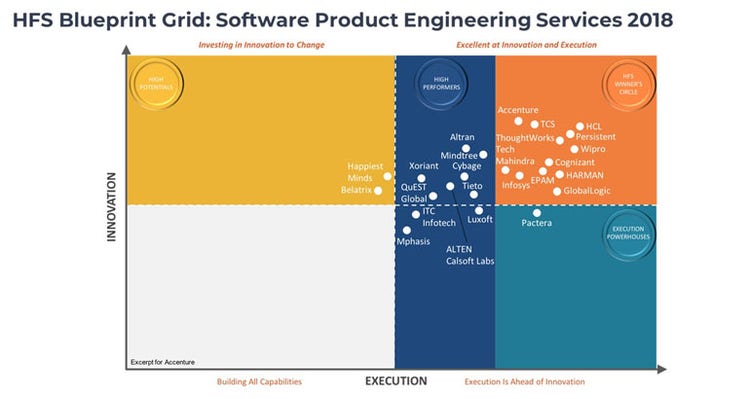 Accenture strengths highlighted in the report include:
Consulting led delivery of services: Accenture is leveraging its advisory and strategy consulting services across the software product engineering value chain. It has a specialized focus on connected platform engineering, working with clients to define platform strategy, design and implementation.
Investments in labs and innovation infrastructure: Accenture has invested in labs for R&D and prototyping new concepts; studios for digital services creation; and innovation centers for demonstrating and scaling industry solutions. The company has also built a Platform-in-a-Box asset, a new, preconfigured solution for deploying a platform for clients.
Partnership focus: The company is working with leading internet and technology ISVs on cloud platforms, development languages and software tools, and is expanding its solutions portfolio across digital thread, intelligent product operations, agile development and engineering optimization.
Strong Europe and APAC presence: With a significant revenue percentage from Europe and APAC, Accenture is one of a small number of service providers that boast a high overall delivery presence in onshore and nearshore locations.
Quality of customers: Accenture's high number of clients in the top 100 ISVs, top 10 ISVs and the top 25 internet companies list, demonstrates its customer quality.
Ram Ramadurai, managing director in Product & Platform Engineering Services at Accenture, said, "Accenture's recognition in HFS' report validates our strength in platform engineering services. With our hypergrowth in the product and platform engineering realm, the limitless possibilities that platforms offer to our clients keeps us energized every day as we help them accelerate their platform journeys."

The HFS Blueprint report assessed 25 service providers of software engineering services. It reviewed the market across product development, sustenance, testing, deployment, support and management services.

About Accenture
Accenture is a leading global professional services company, providing a broad range of services and solutions in strategy, consulting, digital, technology and operations. Combining unmatched experience and specialized skills across more than 40 industries and all business functions – underpinned by the world's largest delivery network – Accenture works at the intersection of business and technology to help clients improve their performance and create sustainable value for their stakeholders. With 449,000 people serving clients in more than 120 countries, Accenture drives innovation to improve the way the world works and lives. Visit us at www.accenture.com.

# # #

Contact:

Christina McDonald
Accenture
+1 415 537 7997
christina.mcdonald@accenture.com