April 18, 2018
Accenture Positioned as Overall Innovation Leader in HfS Research Report on Enterprise Artificial Intelligence Services

NEW YORK; April 18, 2018 – Accenture (NYSE: ACN) has been named to the 'Winner's Circle' and positioned as the overall leader in innovation, ahead of 17 other competitors, in the HfS Research Enterprise Artificial Intelligence (AI) Services 2018 blueprint report.
"Accenture is leading the market for enterprise AI services as a result of its strong innovation and execution capabilities," said Tom Reuner, senior vice president of intelligent automation & IT services at HfS Research and the report's author. "Its clients have told us that 'Accenture makes AI easy for us,' which is testament to the firm's extensive AI skills, capabilities and resources. We are impressed by the company's vision for and investments in the evolution of AI; by its expanding service delivery toward AI; and by its tool and platform strategy for intelligent automation delivery."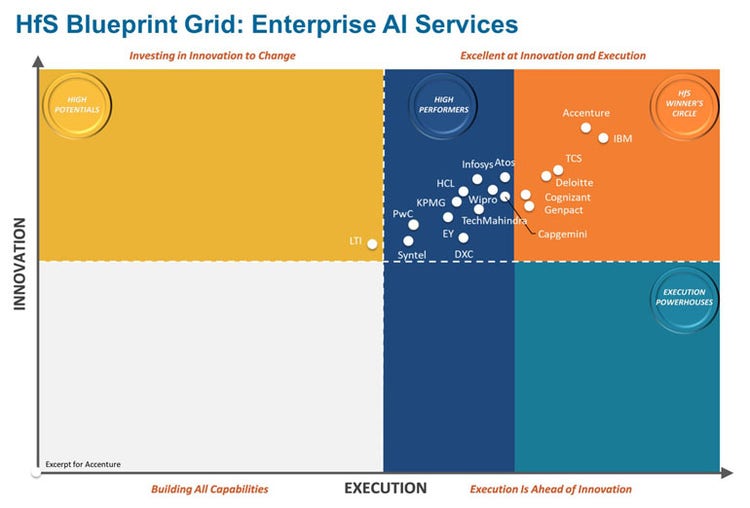 Some of the specific Accenture strengths highlighted in the report are its:
Focus on strategic and transformational projects. The report cites Accenture's ability to create "self-adapting, self-optimizing 'living processes' that use machine-learning algorithms and real-time data to continuously improve." It notes that clients view Accenture as "a strong thought leader" with an approach that is more consultative than transactional.
Organizational maturity, tangible in a formalized AI practice. The report points to Accenture Applied Intelligence, a new group within Accenture Digital, that combines the company's analytics capabilities with those developed under its AI strategic growth initiative.
Strong traction for the myWizard intelligent automation offering. The report acknowledges the power of the Accenture myWizard platform, with information from more than 2,300 client engagements, making it "an immense data pool that helps to train virtual agents" and that "serves as a platform for open innovation."
Breadth of vertical and domain-specific offerings. The report mentions how Accenture leverages its AI Navigator – "a 'menu' of AI solutions that are readily available to clients and accessed through the Accenture Intelligent Automation Platform" – to deliver process transformation at scale, across industries and functional areas.
"AI isn't a future notion – it's here now, changing the rules of how companies operate," said Paul Daugherty, Accenture's chief technology & innovation officer. "Being recognized by HfS as the leading innovator in enterprise AI services is a testament to our ability to help clients leverage the power of AI to transform into intelligent enterprises for success in the rapidly evolving digital world."

The report also praises Accenture in the area of governance and testing services, mentioning the company as one of only a few providers that have demonstrated thought leadership and best practices around AI. Specifically, the report cites Accenture's AI Teach and Test methodology as "leading the market with addressing issues such as bias as well as taking the end-to-end processes in mind."

"As organizations increasingly leverage AI, we remain committed to helping train and sustain these systems to maximize innovation and growth," said Bhaskar Ghosh, group chief executive, Accenture Technology Services. "Being positioned in this report as a leader in enterprise AI services underscores the strength of our offerings and methodologies and recognizes our ability to help clients confidently, responsibly, and securely embrace AI systems."

Narendra Mulani, chief analytics officer for Accenture Applied Intelligence, said, "I'm pleased that the HfS report recognizes our proprietary solutions including the Accenture Intelligent Automation Platform and the Accenture Insights Platform, an as-a-service offering giving clients access to the latest, pre-configured analytics technologies. Our solutions play an important role in enabling us to apply AI and human ingenuity at the core of business to help clients solve their most complex business problems."

The report assessed 18 service providers based on their ability to orchestrate diverse sets of cognitive and AI solutions and tools within the context of service delivery. Among the capabilities and expertise in execution and innovation that a service provider must have to be named to the Winner's Circle are collaborative relationships with clients; services executed with a combination of talent and technology as appropriate; an articulated vision for a 'new way of thinking'; recognizable investments in future capabilities; and strong client feedback.

HfS Research's 'Enterprise Artificial Intelligence (AI) Services 2018' blueprint report can be accessed here.

About Accenture
Accenture is a leading global professional services company, providing a broad range of services and solutions in strategy, consulting, digital, technology and operations. Combining unmatched experience and specialized skills across more than 40 industries and all business functions – underpinned by the world's largest delivery network – Accenture works at the intersection of business and technology to help clients improve their performance and create sustainable value for their stakeholders. With more than 442,000 people serving clients in more than 120 countries, Accenture drives innovation to improve the way the world works and lives. Visit us at www.accenture.com.

# # #

Contact:

Hannah Unkefer
Accenture
+1 415 537 4848
hannah.m.unkefer@accenture.com