October 17, 2018
Accenture Positioned as Leader in Everest Group 2018 Finance and Accounting Digital Augmentation Suite Assessment

NEW YORK; Oct. 17, 2018 – Accenture (NYSE: ACN) has been named as a Leader in Everest Group's inaugural Finance and Accounting Digital Augmentation Suite (F&A DAS) — Service Provider Landscape with Services PEAK Matrix™ Assessment. Accenture has been positioned in the top category of Leaders, placing high in Market Impact due to its market adoption, portfolio mix, and value delivered; and in Vision & Capability in recognition of its ability to innovate and deliver services successfully.
In the report, Everest Group commended Accenture's transformative approach, which leverages multiple digital levers, including process automation, analytics, and AI, to address transactional and judgmental processes across the entire F&A value chain.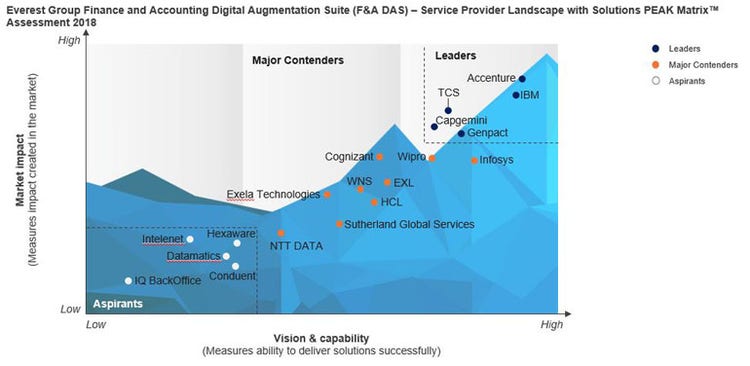 As a Leader, Accenture places high in Market Impact and in Vision & Capability

"The Finance and Accounting Outsourcing industry is rapidly moving from an arbitrage-first to a digital-first model," said Rajesh Ranjan, partner at Everest Group. "Buyers not only seek individual digital components such as Robotic Process Automation, analytics, configurable and personalized portals but increasingly look for an integrated approach to increase efficiency, improve user experience, and drive better outcomes. Accenture excels at integrating and implementing these digital components collectively as a suite driving a higher business impact."

Accenture strengths highlighted in the report include:
ERP-agnostic Intelligent Automation Platform through tools such as automation, portals (for visual intelligence) and Intelligent Optical Character Recognition to transform the F&A process;
Intelligent Insights Platform with automation and cognitive capabilities in combination with chatbots to develop ad hoc reports including personalized commentary, thereby significantly reducing effort in Financial Planning and Analysis;
Mobile-centric solutions for making decisions on-the-go;
Investments in risk and compliance monitoring for the digital workforce;
Multiple machine learning-enabled solutions, including Intelligent Travel & Expense (T&E), Intelligent Order, and Collections Concierge, which flag issues upstream in the process; and
Flexible engagement and commercial models to accelerate adoption.
Debbie Polishook, group chief executive at Accenture Operations, commented: "Everest Group's report reflects our success in creating an industry-leading solution set for intelligent operations. This recognition demonstrates that our investments are aligned to help our clients focus on driving superior business outcomes."

The report examines the Digital Augmentation Suite solutions of 19 Finance and Accounting Outsourcing (FAO) service providers, evaluating their Market Impact and Vision & Capability using the proprietary framework of the Everest Group PEAK Matrix. The Finance and Accounting Digital Augmentation Suite (F&A DAS) — Service Provider Landscape with Services PEAK Matrix™ Assessment can be accessed here.

About Accenture
Accenture is a leading global professional services company, providing a broad range of services and solutions in strategy, consulting, digital, technology and operations. Combining unmatched experience and specialized skills across more than 40 industries and all business functions — underpinned by the world's largest delivery network — Accenture works at the intersection of business and technology to help clients improve their performance and create sustainable value for their stakeholders. With 459,000 people serving clients in more than 120 countries, Accenture drives innovation to improve the way the world works and lives. Visit us at www.accenture.com.

# # #

Contact:

Mylissa Tsai
Accenture
+1 917 452 9729
mylissa.tsai@accenture.com

Copyright © 2018 Accenture. All rights reserved. Accenture, its logo, and High Performance Delivered are trademarks of Accenture.