December 18, 2018
Accenture Positioned as GDPR Services Leader According to Everest Group

NEW YORK; Dec. 18, 2018 – Accenture (NYSE: ACN) is named a 'Leader' in the inaugural Everest Group PEAK Matrix™ for GDPR (General Data Protection Regulation) Services 2018. The market assessment report spotlights the role played by IT service providers in helping enterprises manage GDPR enablement, and measures eight IT service providers on a range of parameters covering vision and strategy, service suite, innovation and investments, delivery footprint, and market adoption, portfolio mix, and value delivered to clients.
Accenture is assessed as a 'Leader' in both key parameters covered in the report — vision and capability, and market impact in GDPR services — ahead of all other IT service providers evaluated. The report notes that "Accenture's positioning of GDPR as a strategic change to drive data-led competitive advantage is resonating well with clients," and highlights Accenture's strong product portfolio, broad partner ecosystem and investments in a structured methodology for GDPR implementation as key strengths. Also highlighted are Accenture's investments in talent development, proprietary solutions around personal data discovery and data management, and ability to co-innovate with organizations in the GDPR ecosystem.

Sanjeev Vohra, group technology officer and global lead — Data Business Group, Accenture Technology, said, "GDPR is an opportunity to rethink the way enterprises handle customer, employee and citizen data. We are enabling enterprises to embrace GDPR and create better customer experiences and unlock new opportunities to monetize data, while building a secure, ethical and trustworthy foundation for sustained growth. We are not just helping clients navigate through this complex journey of GDPR compliance, but are also empowering them to use GDPR as a competitive advantage."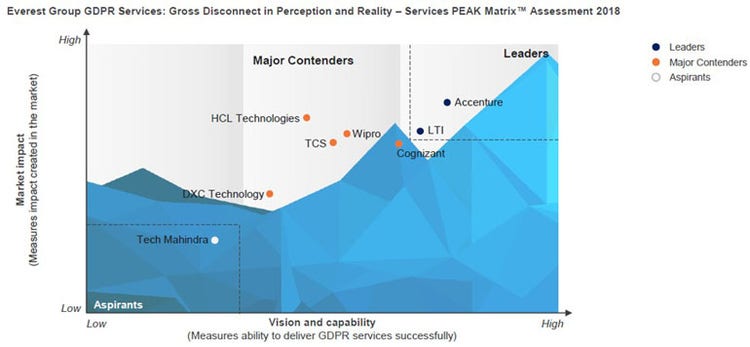 "Organizations realize GDPR compliance is an ongoing process. However, most enterprises are missing the big picture of leveraging GDPR to earn the trust of their customers or fundamentally enhancing their compliance posture. Accenture has a strong vision and investments in this space and is focused not only on achieving compliance for clients but leveraging secured data-led strategies to drive competitive advantage," stated Yugal Joshi, Vice President, Everest Group.

Kelly Bissell, senior managing director of Accenture Security, added, "In a world where data owners are under constant threat of cyberattack, it is important to make sure every point in an organization's value chain or ecosystem is protected, and that all aspects of hardware and software that handle sensitive data have adequate safeguards in place. We are honored to be recognized as a leader in the Everest Group GDPR Services report. This top placement underscores our commitment to helping clients build a secure, efficient, digitally enabled future."

The Everest Group GDPR Services: Gross Disconnect in Perception and Reality — Services PEAK Matrix™ Assessment 2018 presents a detailed profile of eight IT service providers and an assessment of their delivery capabilities, domain investments, vertical focus, type of GDPR services, and partnerships. Everest Group's PEAK Matrix is a composite index of a range of distinct metrics related to a service provider's scale, scope, investments, delivery footprint, and resultant market success in the context of a given services function.

To view the Everest Group GDPR Services: Gross Disconnect in Perception and Reality — Services PEAK Matrix™ Assessment 2018, click here.

About Accenture
Accenture is a leading global professional services company, providing a broad range of services and solutions in strategy, consulting, digital, technology and operations. Combining unmatched experience and specialized skills across more than 40 industries and all business functions — underpinned by the world's largest delivery network — Accenture works at the intersection of business and technology to help clients improve their performance and create sustainable value for their stakeholders. With 459,000 people serving clients in more than 120 countries, Accenture drives innovation to improve the way the world works and lives. Visit us at www.accenture.com.

# # #

Contact:

Kiran Bala
Accenture
+91 9886771250
kiran.bala@accenture.com

Copyright © 2018 Accenture. All rights reserved. Accenture and its logo are trademarks of Accenture.