September 19, 2018
Accenture Positioned as 'Best in Class' for Oracle SaaS Implementation and Integration Services in Europe by Pierre Audoin Consultants
NEW YORK; September 19, 2018 – Accenture (NYSE: ACN) has been positioned as "Best in Class" in Pierre Audoin Consultants (PAC)'s inaugural analysis of software-as-a-service (SaaS) implementation providers in Europe. Accenture is ranked ahead of all providers included in the "Oracle SaaS Implementation and Integration Services in Europe 2018" report.
The report assessed competence and relative market strength of service providers for top SaaS platforms across Europe. Accenture, which has a business group dedicated to delivering solutions built on Oracle Cloud capabilities, was lauded for its consulting resources, scope of solutions, project experience and vendor awards.

According to PAC, the total market spend on SaaS subscriptions for France, Germany and the UK – the largest European markets for SaaS-related consulting and integration services – is estimated at 16.5 billion EUR. This accounts for 18 percent of total spend on software products and solutions and is projected to nearly double by 2021.

"Organizations are increasingly relying on SaaS as a critical aspect of their journey to the cloud," said Karsten Leclerque, Global Head of Cloud & Infrastructure Services Practice, PAC Germany. "Accenture's more than 54,000 Oracle-skilled associates worldwide have demonstrated an unparalleled ability to accelerate clients' digital transformations by implementing Oracle SaaS solutions."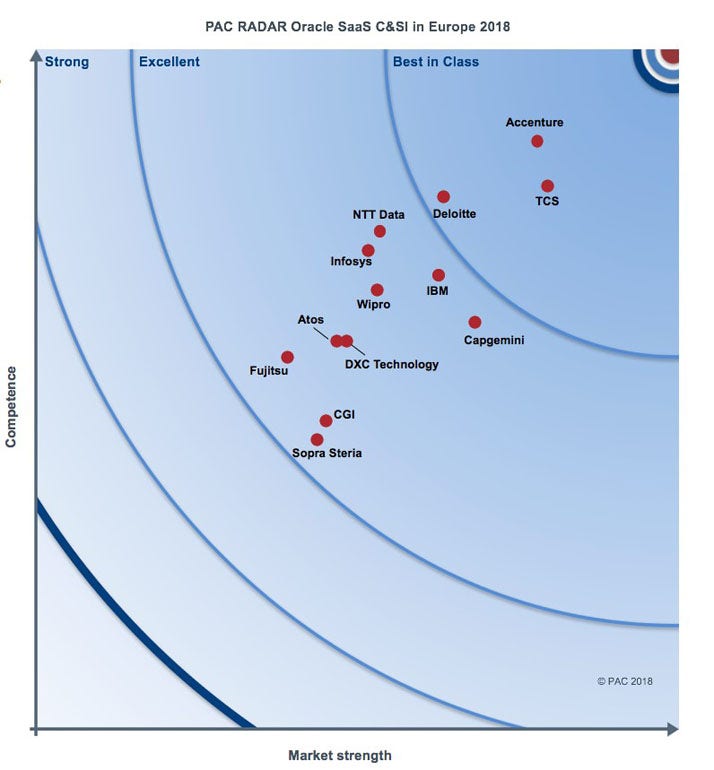 "We are very pleased to have been recognized as the overall leader in PAC's assessment of Oracle Cloud Applications implementation and integration providers across Europe," said Terri Strauss, senior managing director of Oracle business for Accenture. "We've taken our longstanding relationship with Oracle to the next level by combining our broad industry expertise with Oracle's robust cloud offerings to help clients realize the full potential of the intelligent enterprise. Our designation in this report is a testament to the success of our collaboration, and our deep commitment to delivering value for clients."

Accenture has been one of Oracle's leading systems integration partners globally 12 years in a row, with more than 54,000 Oracle-skilled consultants around the world who help accelerate digital transformation by implementing Oracle-based business solutions and new business processes that develop and evolve as their digital business grows. Accenture has teamed with Oracle for more than two decades and is a Global Cloud Elite and Platinum level member of the Oracle PartnerNetwork. Accenture is also certified as an Oracle Cloud Excellence Implementer. For more information on the Accenture and Oracle relationship, please visit www.accenture.com/oracle.

The report is available here.

About Accenture
Accenture is a leading global professional services company, providing a broad range of services and solutions in strategy, consulting, digital, technology and operations. Combining unmatched experience and specialized skills across more than 40 industries and all business functions – underpinned by the world's largest delivery network – Accenture works at the intersection of business and technology to help clients improve their performance and create sustainable value for their stakeholders. With 449,000 people serving clients in more than 120 countries, Accenture drives innovation to improve the way the world works and lives. Visit us at www.accenture.com.

# # #
Contact:

Christina McDonald
Accenture
+1 415 537 7997
christina.mcdonald@accenture.com