March 20, 2018
Accenture Positioned as a Leader in Inaugural IDC MarketScape on Worldwide Procurement as a Service Report

NEW YORK; March 20, 2018 – Accenture (NYSE: ACN) has been positioned as a leader in capabilities and strategies in the inaugural IDC MarketScape: "Worldwide Procurement as a Service 2018 Vendor Assessment" (doc #US42630617, February 2018) report. According to the IDC MarketScape, capabilities focuses on our current capabilities, and strategies focuses on high-level decisions and underlying assumptions about offerings, customer segments, and business and go-to market plans for the next three to five years.
According to the report, Accenture is recognized for its comprehensive procurement business process services offerings, assisting clients throughout the entire source-to-pay process for both direct and indirect goods and services.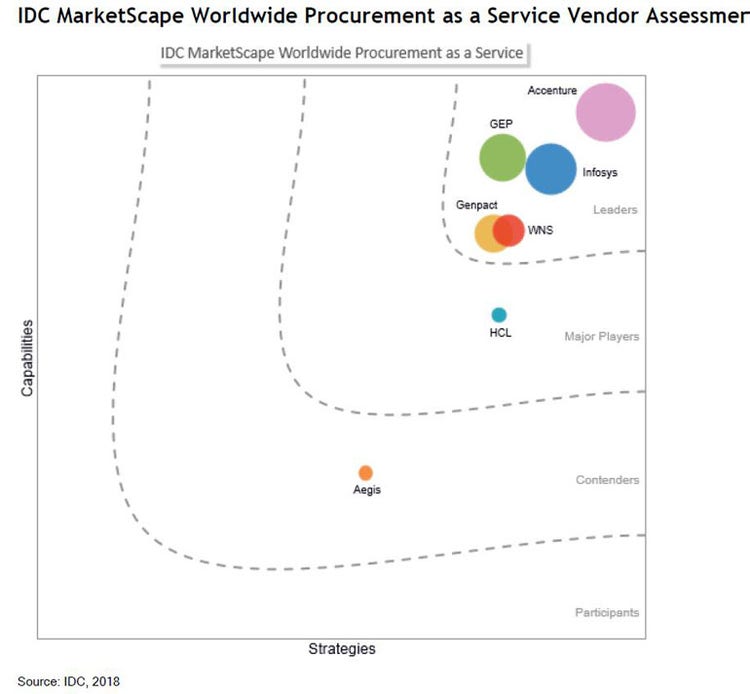 Accenture positioned as a leader in capabilities and strategies in the inaugural IDC MarketScape:
"Worldwide Procurement as a Service 2018 Vendor Assessment"

The report cited several of Accenture's strengths including managing $168 billion in spend on behalf of clients (outpacing others in terms of spend managed), its proprietary and industry-specific and cloud/platform-based solutions, and its ability to implement and embed robotics process automation with elements of cognitive and artificial intelligence.

Accenture's Procurement as a Service areas of strength include:
Proprietary and industry-specific cloud/platform-based solutions including Radix (and its associated suite of tools) which is designed to work cross-industry and is the primary data capture tool fueling market intelligence and distributing real-time market intel from more than 23,400 projects managed annually as well as external data,
More than 18 years of experience in offering procurement-managed services, with category expertise and best practices developed over four decades, and
Value to clients who called out "the company's keen ability to provide benchmark data, knowledge, and industry expertise as a key strength and deciding factor in choosing to work with the provider."
"Our clients tell us we excel because we improve stakeholder engagement, thus increasing our ability to improve their operations and grow their businesses geographically with strong presence in specific markets," said Keith Hausmann, managing director of procurement business process services at Accenture. "Being recognized as a leader in procurement as a service confirms that clients and the industry see the value of our expertise. Most importantly, we remain focused on helping clients reinvent procurement from source-to-settle so they can move first in the market and accelerate their results."

The report evaluated Accenture and six other vendors with an international presence within the procurement-as-a-service space.

"Accenture offers a strong mix of talent and industry resources in procurement services, particularly in niche areas where clients have less expertise," said Alison Close, research manager of finance and accounting, BPaaS and analytic services at IDC. "Accenture's clients noted the day-to-day presence of the Accenture teams, including the co-located tower leads and client delivery leads, was key to the relationship. Their on-demand availability of talent, especially onshore resources, and access to strong marketing leads and talent in more niche areas where clients have less expertise (e.g., real estate, technology, storage, and professional services) also contributed to Accenture's strong caliber of resources, according to their clients."

The IDC MarketScape: Worldwide Procurement as a Service 2018 Vendor Assessment can be found here.

About Accenture:
Accenture is a leading global professional services company, providing a broad range of services and solutions in strategy, consulting, digital, technology and operations. Combining unmatched experience and specialized skills across more than 40 industries and all business functions – underpinned by the world's largest delivery network – Accenture works at the intersection of business and technology to help clients improve their performance and create sustainable value for their stakeholders. With more than 435,000 people serving clients in more than 120 countries, Accenture drives innovation to improve the way the world works and lives. Visit us at www.accenture.com.

About IDC MarketScape
About IDC MarketScape: IDC MarketScape vendor analysis model is designed to provide an overview of the competitive fitness of ICT (information and communications technology) suppliers in a given market. The research methodology utilizes a rigorous scoring methodology based on both qualitative and quantitative criteria that results in a single graphical illustration of each vendor's position within a given market. IDC MarketScape provides a clear framework in which the product and service offerings, capabilities and strategies, and current and future market success factors of IT and telecommunications vendors can be meaningfully compared. The framework also provides technology buyers with a 360-degree assessment of the strengths and weaknesses of current and prospective vendors.

# # #

Contact:

Mylissa Tsai
Accenture
+1 917 452 9729
mylissa.tsai@accenture.com

Copyright © 2018 Accenture. All rights reserved. Accenture, its logo, and High Performance Delivered are trademarks of Accenture.