May 15, 2018
Accenture Positioned as a Leader in IDC's MarketScape Worldwide Cloud Professional Services 2018 Vendor Assessment for Fourth Consecutive Report

NEW YORK; May 15, 2018 – Accenture (NYSE: ACN) has been recognized as a Leader by IDC in cloud professional services globally for the fourth consecutive time, according to the recently published "IDC MarketScape: Worldwide Cloud Professional Services 2018 Vendor Assessment" (IDC #US42545318, April 2018) report.
Accenture received high marks from buyers for its growth strategy execution, pricing flexibility and global presence. The company also assessed well for its functional/industry offering strategy, alignment of its pricing model with future market direction (i.e., willingness to engage in business-outcome based deals), and its employee strategy.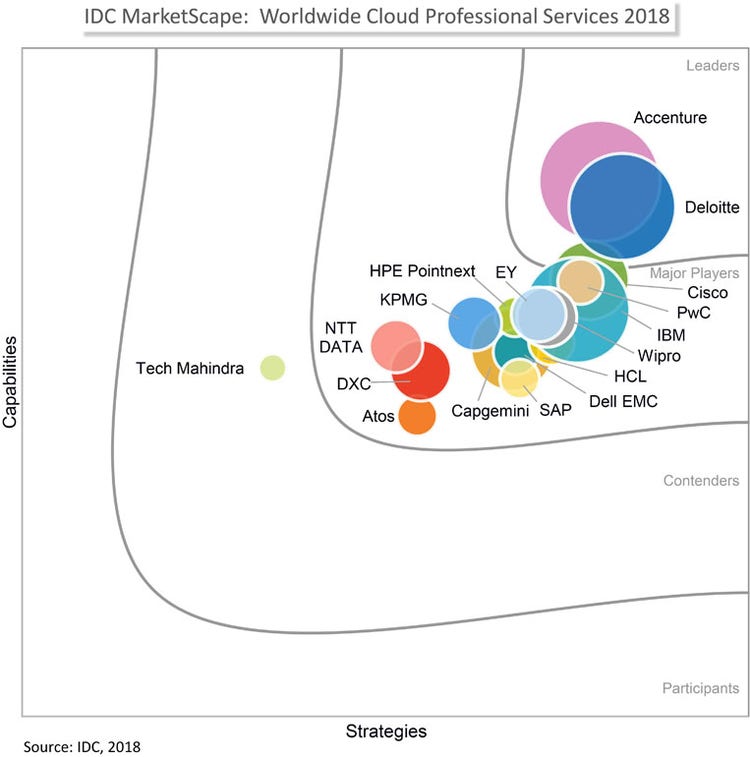 The report also highlighted Accenture's "heavy investment to mature its capabilities, while its strategy continues to focus on scaling and integrating its existing services, as well as developing new services, to adapt to buyers' preferences around industry-specific or horizontal cloud stacks."

IDC recognized Accenture as an early mover implementing cloud services for its customers, starting almost 10 years ago, and that Accenture continues to benefit from it today.

"Consider Accenture when you are looking for end-to-end cloud solutions that include not only innovative strategy and design but also the enablement of underlying cloud technology," said Gard Little, research director of Global Services Markets and Trends at IDC. "Accenture's strong domain knowledge, industry cloud offers, and breadth of technology services that span from consulting to managed services can fulfill cloud technology implementation needs at a global scale."

Jack Sepple, senior managing director of Accenture Cloud and group technology officer for Accenture Operations, added, "For nearly a decade, Accenture has invested in the right people, process and technology to deliver unmatched cloud expertise. IDC's recognition validates that our investments are aligned with what clients need in their journey to cloud plan. Most importantly, Accenture is primed to help clients leverage the cloud for intelligent operations in order to compete today and well into the future."

Paul Daugherty, chief technology & innovation officer at Accenture, noted, "Our Cloud First agenda is rooted in helping our clients embrace the full potential of the cloud to meet emerging business and technology challenges while accelerating digital transformation. Our placement in this report is a testament to our industry leading cloud capabilities and the work we do every day to drive value across the enterprise."

The report evaluated vendors using a comprehensive framework, incorporating feedback from more than 100 cloud professional services buyers. Each vendor was placed in one of four categories based on current marketplace success and anticipated ascendancy: Leaders, Major Players, Contenders and Participants.

IDC's MarketScape Worldwide Cloud Professional Services 2018 Vendor Assessment can be accessed here.

About IDC MarketScape
IDC MarketScape vendor analysis model is designed to provide an overview of the competitive fitness of ICT (information and communications technology) suppliers in a given market. The research methodology utilizes a rigorous scoring methodology based on both qualitative and quantitative criteria that results in a single graphical illustration of each vendor's position within a given market. IDC MarketScape provides a clear framework in which the product and service offerings, capabilities and strategies, and current and future market success factors of IT and telecommunications vendors can be meaningfully compared. The framework also provides technology buyers with a 360 degree assessment of the strengths and weaknesses of current and prospective vendors.

About Accenture
Accenture is a leading global professional services company, providing a broad range of services and solutions in strategy, consulting, digital, technology and operations. Combining unmatched experience and specialized skills across more than 40 industries and all business functions – underpinned by the world's largest delivery network – Accenture works at the intersection of business and technology to help clients improve their performance and create sustainable value for their stakeholders. With approximately 442,000 people serving clients in more than 120 countries, Accenture drives innovation to improve the way the world works and lives. Visit us at www.accenture.com.

# # #

Contacts:

Mylissa Tsai
Accenture
+1 917 452 9729
mylissa.tsai@accenture.com

Hannah Unkefer
Accenture Media Relations
+1 415 537 4848
hannah.unkefer@accenture.com

Copyright © 2018 Accenture. All rights reserved. Accenture, its logo, and High Performance Delivered are trademarks of Accenture.