June 25, 2018
Accenture Positioned as a Leader and Star Performer in Everest Group Analytics Business Process Services PEAK MatrixTM Assessment 2018

NEW YORK; June 25, 2018 – Accenture (NYSE: ACN) has been positioned as a Leader and Star Performer in the Everest Group Analytics Business Process Services (BPS) – Service Provider Landscape with Services PEAK™ Matrix Assessment 2018. This is the second year that Accenture has been recognized as a Star Performer based on year-over-year growth.
Ahead of all competitors, Accenture leads in market impact as well as vision & capability , which measures ability to deliver services successfully. The report highlights Accenture's significant investment in developing advanced technologies, a rich pool of talent, vast delivery footprint, and strategic partnerships with top institutes. Accenture differentiates itself by focusing on superior customer experiences and business outcomes.

According to the report, Accenture "is a leading player in the global analytics BPS market in terms of market share as a major player across most geographies; and the company has achieved phenomenal growth over the last year by including a higher component of value-added advanced analytics work in its engagements."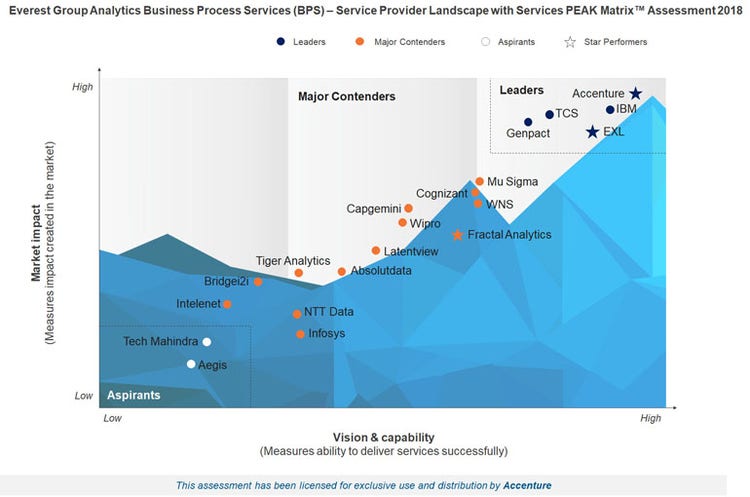 Ahead of all competitors, Accenture leads in market impact as well as vision & capability
Rajesh Ranjan, a partner at Everest Group, said, "Accenture has secured high growth in the past year and has built a strong analytics BPS value proposition. Clients appreciate Accenture's willingness to partner with them on a meaningful level to solve their business challenges; and its focus on technology innovation, talent and partnerships differentiates the company from its competitors."

Accenture strengths highlighted in the report include its:
significant investment in advanced analytics tools & solutions and technologies, including artificial intelligence, automation and machine learning;
partnerships with start-ups to develop innovative analytics solutions and reduce time-to-market; and
compelling partnership approach to helping clients address their business goals.
Debbie Polishook, group chief executive of Accenture Operations, said, "For more than a decade, Accenture has invested in the right people, processes and technology to deliver business process expertise. Everest Group's recognition reflects the value we bring to customers as they embark on their digital transformation journeys. Our investments in data, applied intelligence and exceptional talent are helping our clients become more agile, flexible and responsive to ever-changing customer and market needs, ultimately helping them achieve superior business outcomes."

The report examines 20 analytics BPS service providers, evaluating their market impact and vision & capability using the proprietary framework of the Everest Group PEAK Matrix. The Everest Group's Analytics Business Process Service Provider Landscape with Services PEAK Matrix™ Assessment 2018 can be accessed here.

About Accenture
Accenture is a leading global professional services company, providing a broad range of services and solutions in strategy, consulting, digital, technology and operations. Combining unmatched experience and specialized skills across more than 40 industries and all business functions – underpinned by the world's largest delivery network – Accenture works at the intersection of business and technology to help clients improve their performance and create sustainable value for their stakeholders. With approximately 442,000 people serving clients in more than 120 countries, Accenture drives innovation to improve the way the world works and lives. Visit us at www.accenture.com.

# # #

Contact:

Mylissa Tsai
Accenture
+1 917 452 9729
mylissa.tsai@accenture.com

Copyright © 2018 Accenture. All rights reserved. Accenture, its logo, and High Performance Delivered are trademarks of Accenture.