November 27, 2018
Accenture Opens Canada Innovation Hub in Toronto to Help Clients Reimagine Their Businesses for the Digital Economy

TORONTO; Nov. 27, 2018 – Accenture (NYSE: ACN) today opened its new Canada innovation hub in the heart of Toronto's business and technology district to help clients grow, compete and transform in the digital economy.
As part of its investment in Canada, Accenture is also adding 800 new, highly skilled technology jobs by the end of 2020 and expanding its apprenticeship program. The apprenticeship program — designed to foster inclusive innovation — gives under-represented communities the opportunity to participate in digital-economy jobs.

THE CANADIAN PRESS

"It is great to see that job creators like Accenture are getting the message that Ontario is open for business," said Todd Smith, Ontario's Minister of Economic Development, Job Creation and Trade. "Our government is committed to creating an environment where job creators can continue to grow and thrive. I congratulate Accenture on this great announcement and thank them for investing in Ontario."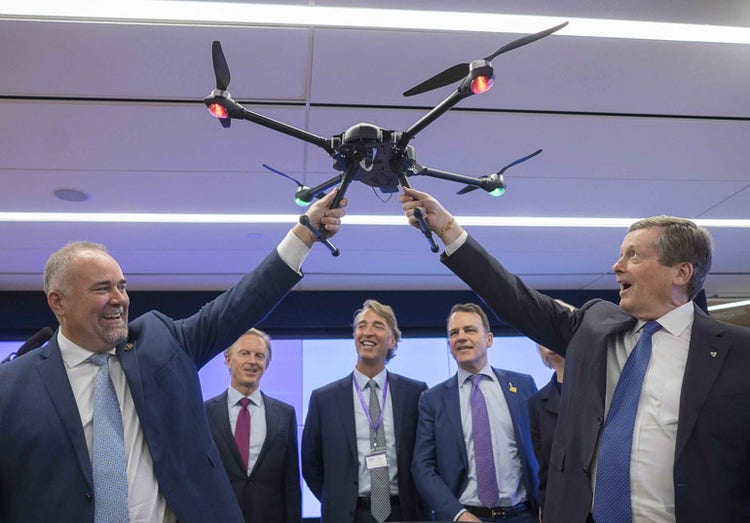 Ontario Minister of Economic Development, Job Creation and Trade Todd Smith, front left, and Toronto Mayor John Tory hold Accenture's industrial asset inspection drone as (L-R) Accenture's Canada President Bill Morris, incoming President Jeffrey Russell, and CMHC CEO Evan Siddall look on at the launch of Accenture's Canada Innovation Hub in Toronto, Ont. on Tuesday, November 27, 2018.

The new hub is designed for clients to work side-by-side with their Accenture teams to co-innovate by ideating, rapidly prototyping and then scaling new products and services. Accenture starts with humans at the heart of every challenge, engaging local and global teams of experts and ecosystem partners to leverage the power of innovative and emerging technologies such as artificial intelligence, blockchain and virtual agents to solve clients' most significant challenges.
Accenture's North American President & CEO, Julie Sweet cuts the ribbon to open the company's Canada Innovation Hub in Toronto, with (L-R): Managing Director Iliana Oris Valiente, Toronto Mayor John Tory, incoming Canada President Jeffrey Russell, Ontario Minister of Economic Development, Job Creation and Trade Todd Smith, Accenture's Canada President Bill Morris, and CMHC CEO Evan Siddall on Tuesday, November 27, 2018. THE CANADIAN PRESS IMAGES/J.P. Moczulski

"Our experience working with global clients across more than 40 industries has shown that continuous innovation is an imperative to succeed in the fast-changing digital economy," said Julie Sweet, Accenture's chief executive officer — North America. "With our network of innovation hubs, we are bringing innovation to our clients' doorsteps, enabling them to harness the power of emerging technologies to transform their businesses."

Accenture's innovation hub in Toronto is part of a network of 10 hubs in North America, which are connected to more than 100 Accenture locations around the world that seamlessly bring the best of Accenture's global investments and insights to clients on the ground.

Located in the heart of Toronto's business district in the iconic Scotia Plaza, the new innovation hub has an open floor plan designed for collaboration and ideation. Among Accenture's almost 5,000 people in Canada who are driving innovation for clients, there are more than 300 designers, data scientists and innovators in the hub.

"Our Canada innovation hub gives our clients the leading edge to evolve in today's global digital economy," said Jeffrey Russell, incoming president of Accenture in Canada. "Our hub will bring the very best of our innovation talent together to lead our Canadian clients toward becoming the disrupters, not the disrupted."

Mayor John Tory added, "It's an exciting time for technology growth in Toronto. The number of companies that have invested in the City is a reflection of the access to high quality labour force, a committed business community and a government that embraces new opportunities. The Accenture Innovation Hub represents a new collaborative approach to business and technology. I'm proud to see this hub open in the heart of our city."

About Accenture
Accenture is a leading global professional services company, providing a broad range of services and solutions in strategy, consulting, digital, technology and operations. Combining unmatched experience and specialized skills across more than 40 industries and all business functions — underpinned by the world's largest delivery network — Accenture works at the intersection of business and technology to help clients improve their performance and create sustainable value for their stakeholders. With 459,000 people serving clients in more than 120 countries, Accenture drives innovation to improve the way the world works and lives. Visit us at www.accenture.com.

# # #

Contact:

Theresa Ebden
Accenture
+1 416 358 6741
theresa.ebden@accenture.com