May 30, 2018
Accenture Named to Winner's Circle by HfS Research as Innovation Leader in Smart Analytics


Accenture cited as leading the industry in artificial intelligence-driven analytics

NEW YORK; May 30, 2018 – Accenture (NYSE: ACN) has been named to the Winner's Circle of HfS Research's Smart Analytics Blueprint report. The company was positioned as the overall leader in Innovation and cited for applying artificial intelligence with its advanced analytics capabilities.
Reetika Fleming, research director at HfS Resarch and author of the report, said, "Smart analytics are the use of cognitive and machine learning techniques to improve the impact of enterprise analytics services. Accenture emerged as an industry thought leader with the infusion of various AI techniques across the data and analytics landscape. Its investments in talent, research, and partnerships stand out as pillars for future growth in AI-driven analytics."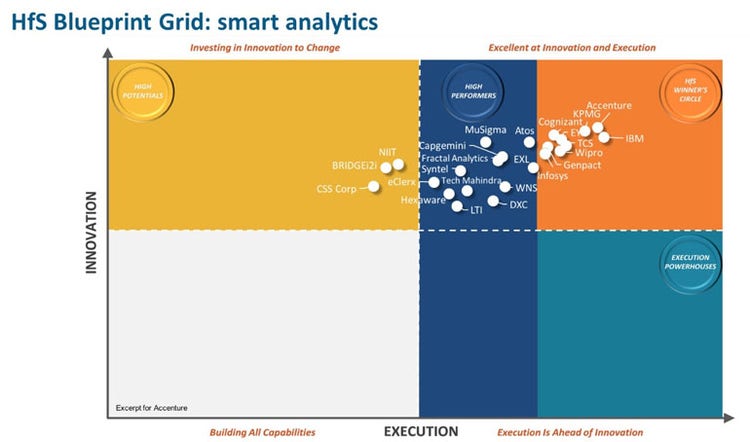 Accenture has been named to the Winner's Circle of HfS Research's Smart Analytics Blueprint report
HfS Research identified the following key Accenture strength in smart analytics:
"Thought leadership across the data and analytics landscape. Accenture enjoys a high brand recall and mindshare with analytics clients, who view the service provider as being on the 'cutting edge' of industry advancement for machine learning with its Applied Intelligence group.
Analytics consulting and strategy. Accenture's consulting stands out as a key strength, helping clients define their analytics strategy and think about data more holistically.
Alignment of solutions around Accenture Insights Platform. The solution is available in the cloud and on-premise, with as-a-service offerings and a comprehensive framework for integration, from data ingestion to insight discovery and visualization.
Global practice with wide range of capabilities. Overall service execution is a key strength for Accenture. In particular, clients point out that the service provider has developed a truly global data and analytics practice, and when local teams need any kind of help, Accenture is able to pull together remote expertise swiftly. It is able to 'think locally with global resources.'"1

Narendra Mulani, chief analytics officer, Accenture Applied Intelligence, said, "Accenture Applied Intelligence is bringing together the best in advanced analytics, artificial intelligence and highly skilled talent to embed new intelligence at the core of our clients' business. Being named to the Winner's Circle in HfS' Smart Analytics Blueprint Report is important recognition that validates our AI-driven approach to solving our clients' business challenges and helping create new opportunities for growth."

HfS Research evaluated 24 providers for their services across the data-to-insight lifecycle, including analytics consulting, data management, reporting and visualization, and advanced analytics.

About Accenture
Accenture is a leading global professional services company, providing a broad range of services and solutions in strategy, consulting, digital, technology and operations. Combining unmatched experience and specialized skills across more than 40 industries and all business functions – underpinned by the world's largest delivery network – Accenture works at the intersection of business and technology to help clients improve their performance and create sustainable value for their stakeholders. With approximately 442,000 people serving clients in more than 120 countries, Accenture drives innovation to improve the way the world works and lives. Visit us at www.accenture.com.

Accenture Applied Intelligence, part of Accenture Digital, applies artificial intelligence and human ingenuity at the core of business to help clients solve their most complex business problems. By deploying AI responsibly and combining it with our deep industry and analytics expertise, we enable the digital transformation of organizations, extend human capabilities, and make intelligent products and services a reality. Follow @AccentureAI and visit accenture.com/appliedintelligence.

1 HfS Blueprint Report: Smart Analytics; May 2018; Author: Reetika Fleming

# # #

Contact:

Jens R. Derksen
Accenture
+49 175 57 61393
jens.derksen@accenture.com

Copyright © 2018 Accenture. All rights reserved. Accenture, its logo, and High Performance Delivered are trademarks of Accenture.

This document makes descriptive reference to trademarks that may be owned by others. The use of such trademarks herein is not an assertion of ownership of such trademarks by Accenture and is not intended to represent or imply the existence of an association between Accenture and the lawful owners of such trademarks.