March 05, 2018
Accenture Named to 'Winner's Circle' by HfS Research as Innovation Leader in Healthcare Business Operations

NEW YORK; March 5, 2018 – Accenture (NYSE: ACN) has been named to the 'Winner's Circle' of HfS Research's Healthcare Business Operations Blueprint Report. Accenture was ranked as the overall leader in innovation with strong delivery, use of intelligent automation, and design thinking capabilities to help clients.
"Accenture is leading in this offering because of a new way of thinking in health administration and health management. Accenture is a collaborative and innovative partner that uses talent and digital technology in a more integrated way. Accenture has made recognizable investments in future capabilities, has strong client feedback, and consistently drives new insights and models," said Phil Fersht, founder and CEO at HfS Research.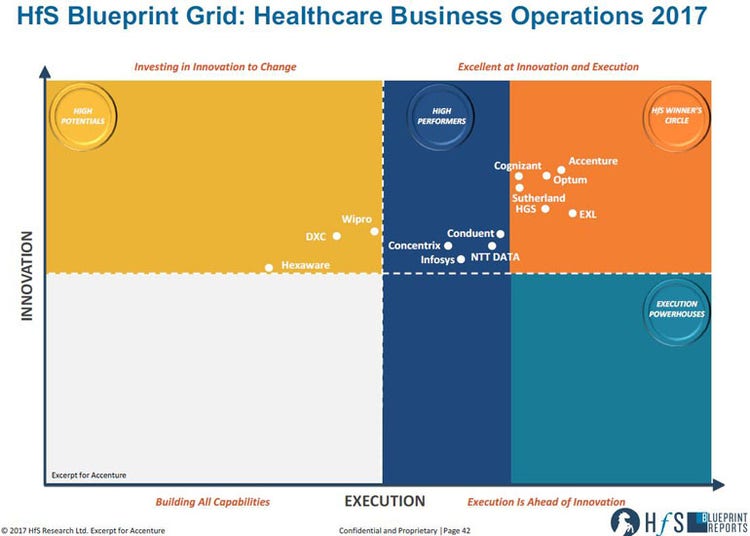 Additional Accenture strengths that HfS highlighted in the report include:
Vision of "Intelligent Health Operations": Accenture's vision for the future of health business process services is to work with clients to use artificial intelligence powered straight-through processing in a Business Process as a Service (BPaaS) model to impact outcomes. Accenture has focused on how to define what it is and how to make it real with clients – at the root of it is creating secure, actionable, and accessible data for insights.
Quality Service Delivery and Leadership: In the area of insight-driven workflow for smooth, quality service delivery, clients often consider Accenture a model for their internal standards. Clients also appreciate the transparency into operations and ad hoc reports via the Accenture Operations Navigator. Accenture receives the highest marks when consulting and operations are involved and leveraging capability from across the service provider.
Intelligent Automation: HfS has heard from clients that Accenture absorbs additional work without adding staff by using process improvement, training, planning, and automation. Demos shared with business context give clients a real sense of applicability and show how machine learning and other AI works.
Innovation: Accenture taps into the design thinking capability of defining and addressing problems of end users; it's part of standard training along with automation, analytics, AI, cloud, and security. A client shared the story of a solution designed to enable providers to automatically upload records and also track requests and incentive payment, allowing operations leaders to pull trusted data as needed. Clients share "buzzwords" with Accenture and the service provider comes back with suggestions on how to address it, demos, and prioritization.
"We are honored to be recognized as a leader in healthcare business operations," said Theresa Gaffney R.N., global healthcare business process services lead at Accenture. "The recognition reflects our depth, scale and expertise in driving better business outcomes for healthcare clients by focusing on collaborative relationships and investing in the right combination of talent and digital technologies, to help boost the intelligence engine of our clients' businesses and future-ready their organization."

The report, which assessed 13 providers, reviews overall performance in execution and innovation for health administration and health management. The As a Service Winners are service providers that are in collaborative engagements with clients, share a clear and compelling vision for the future of healthcare business operations and are making recognizable investments in future capabilities in talent and technology to continue to increase the value over time. These providers are also leading in incorporating analytics and/or BPaaS to deliver insight driven services.

To read more about HfS Research's 2017 Healthcare Business Operations Blueprint, visit link.

About Accenture
Accenture is a leading global professional services company, providing a broad range of services and solutions in strategy, consulting, digital, technology and operations. Combining unmatched experience and specialized skills across more than 40 industries and all business functions – underpinned by the world's largest delivery network – Accenture works at the intersection of business and technology to help clients improve their performance and create sustainable value for their stakeholders. With more than 435,000 people serving clients in more than 120 countries, Accenture drives innovation to improve the way the world works and lives. Visit us at www.accenture.com.
# # #

Contacts:

Jenn Francis
Accenture
+1 630 338 6426
jennifer.francis@accenture.com

Mylissa Tsai
Accenture
+1 917 452 9729
mylissa.tsai@accenture.com

Copyright © 2018 Accenture. All rights reserved. Accenture, its logo, and High Performance Delivered are trademarks of Accenture.