October 08, 2018
Accenture Named Overall Leader in Everest Group PEAK Matrix™ Report for Open Banking IT Services

NEW YORK; Oct. 8, 2018 – Accenture (NYSE: ACN) has been positioned as highest "Leader" in the new Everest Group PEAK Matrix™ on Open Banking services. The report, Open Banking IT Services: Orchestrating Experiences in the Platform Economy – Services PEAK Matrix™ Assessment 2018, placed Accenture above all other competitors, commending it for its depth and breadth of talent and technology partnerships across the Open Banking value chain.
The Everest Group's PEAK Matrix™ is a framework to assess the relative market success and overall capability of service providers. For this report, Everest Group evaluated 19 leading service providers for their open banking IT capabilities based on various criteria, including market adoption, portfolio mix, vision and strategy, innovation and value delivered.

Accenture received the highest scores in multiple categories including "market impact," "value delivered," "vision and capability" and "innovation and investments." The report noted that Accenture has established itself as a "partner in supporting enterprises throughout the open banking adoption journey from strategy to implementation," and that its "focus on driving open banking initiatives beyond compliance mandates resonates well with clients."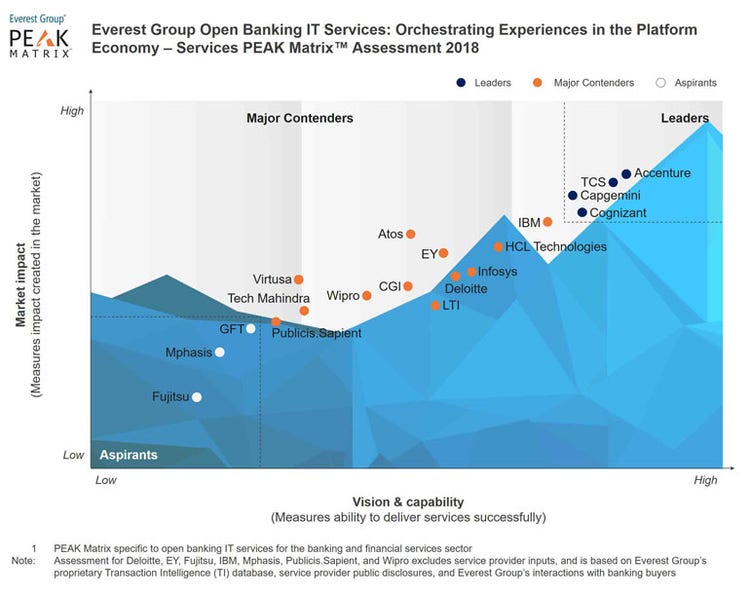 "Open Banking is the next frontier in financial services innovation and we look forward to continuing to work with our clients to meet the challenges of this rapid market evolution," said Alan McIntyre, a senior managing director at Accenture and head of its Banking practice. "Open Banking enables banks to provide the seamless digital experience customers want, generate new revenue and offer new products. Leveraging our deep industry experience, strong technology capabilities and vast geographical presence, we are engaged with clients globally to scale and meet the demand for Open Banking services."

Read more about the Everest Group Open Banking IT Services: Orchestrating Experiences in the Platform Economy – Services PEAK Matrix™ Assessment 2018 here.

About Accenture
Accenture is a leading global professional services company, providing a broad range of services and solutions in strategy, consulting, digital, technology and operations. Combining unmatched experience and specialized skills across more than 40 industries and all business functions – underpinned by the world's largest delivery network – Accenture works at the intersection of business and technology to help clients improve their performance and create sustainable value for their stakeholders. With 459,000 people serving clients in more than 120 countries, Accenture drives innovation to improve the way the world works and lives. Visit us at www.accenture.com.
# # #


Contact:

Melissa Volin
Accenture
+1 267 216 1815
melissa.volin@accenture.com