January 17, 2018
Accenture Named Overall Leader in Everest Group PEAK Matrix™ Report for Application Modernization Services

NEW YORK; Jan. 17, 2018 – Accenture (NYSE: ACN) has been positioned as the overall 'Leader' in the inaugural Everest Group PEAK Matrix for Application Modernization Services. The report placed Accenture ahead of all other competitors in the category of Market Impact, commending its leading market adoption capabilities, portfolio diversity and the overall satisfaction of its clients. It also noted Accenture's "best-in-class" vision and strategy and innovation and investments.
For this report, Everest Group evaluated 15 leading application modernization service providers based on various criteria, including characterization and approach to application modernization, which it defines as the migration of an existing environment to a new one so as to significantly improve user experience and value. The report commented on Accenture's "proactive approach and extensive technical knowledge" in identifying modernization opportunities for clients.

"At Accenture, we see application modernization as a key part of the digital transformation that helps clients strip out unnecessary operating costs, reduce capital spend and allow IT staff to focus on creating value for the business," said Bhaskar Ghosh, group chief executive, Accenture Technology Services. "We are honored to be recognized by Everest Group as a Leader in this endeavor, and we look forward to continuing to set goals that transform organizations by making them more automated and intelligent."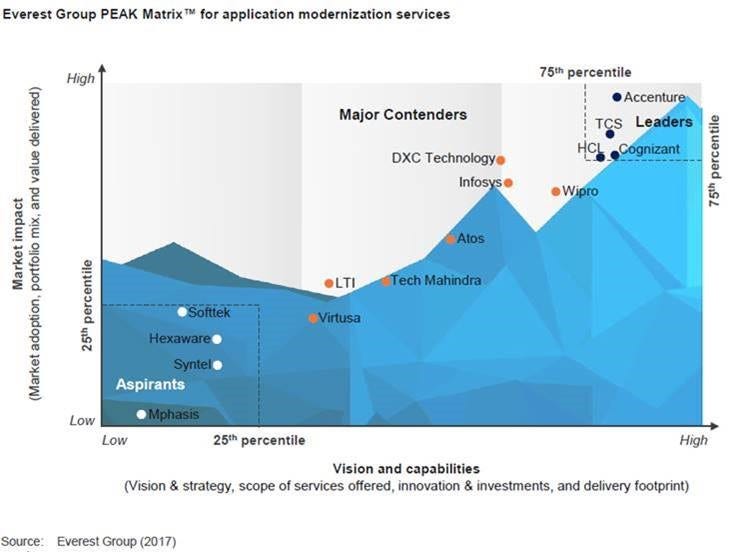 The report highlighted four of Accenture's key proprietary solutions:
Accenture Software Remediation Tool: Identifies elements within source code that can be identified and remediated, and ultimately decreases the time required for development by 50%.
Accenture Systemic Diagnostic: Provides an X-ray of clients' systems for value assessment, generates automated details of business processes, customization, and evolution of changes, volumetric analysis reports and details templates for additional data capture. This system improves the efficiency of planning and design by up to 30%.
Accenture myWizard: This cloud-based platform with a modernization virtual agenda helps delivery teams integrate the most appropriate modernization strategy into their processes.
Accenture Cloud Migration: This process establishes dedicated resources and tools to focus on running proofs-of-concepts, demos and performing workload migrations to drive application modernization. Migration efforts are reduced by 30% using this system.
Adam Burden, global lead for Advanced Technology & Architecture at Accenture, added: "Application modernization is all about helping organizations accelerate their digital agenda while extending the useful life of their systems and doing it in a way that is least disruptive to the business. We've invested extensively in solutions such as Accenture myWizard, which has more than 45 patents and uses cloud and artificial intelligence innovations to bring our application modernization methods to the leading edge."

"As part of their digital agenda, enterprises are not only adopting emerging technologies but are also modernizing their legacy systems. Accenture has positioned itself well to enable this modernization, leveraging its consulting heritage to identify opportunities for clients and recommend & implement relevant solutions. Its proactive approach for client engagement and its investments in developing technical and domain expertise are resonating well with clients," said Yugal Joshi, Practice Director of Application Services at Everest Group.

Everest Group's PEAK Matrix is a comparative assessment report that evaluates a vendor's market impact by comparing it to its vision and capabilities in a given market. The report is based on Everest Group's annual RFI process for 2017, assessments of a variety of application modernization service providers, client reference checks, and an in-depth analysis of the application modernization services market. Accenture was also recently named a Leader for Automation in Application Development and Testing by Everest Group.

About Accenture.
Accenture is a leading global professional services company, providing a broad range of services and solutions in strategy, consulting, digital, technology and operations. Combining unmatched experience and specialized skills across more than 40 industries and all business functions – underpinned by the world's largest delivery network – Accenture works at the intersection of business and technology to help clients improve their performance and create sustainable value for their stakeholders. With approximately 435,000 people serving clients in more than 120 countries, Accenture drives innovation to improve the way the world works and lives. Visit us at www.accenture.com.

# # #

Contact:

Julie Bennink
Accenture
+1 312 693 7301
julie.l.bennink@accenture.com