March 19, 2018
Accenture Named Leader in 2017 Everest Group IoT Services Peak Matrix


Report highlights Accenture's vision for Industry X.0

NEW YORK, March 19, 2018 – Accenture (NYSE: ACN) has been named a 'Leader' in the Everest Group IoT Services PEAK Matrix™ Assessment and Market Trends report for the second consecutive year.
According to the report, Leaders are service providers that deliver strategic value from the Internet of Things (IoT) and have led clients through large scale IoT transformation journeys.

Accenture received high marks in key criteria including value delivered, innovation and investments, and portfolio mix. The report also highlights two Accenture client projects:
Biesse: Accenture helped the machinery manufacturer build an Industrial IoT platform. It serves as the foundation of the manufacturer's new digital service platform enabling, for example, connected customer services around predictive maintenance and remote diagnostic.
Freeport-McMoRan: For the natural resources company, Accenture implemented the Accenture Connected Mine solution. It combines mobile, cloud and analytics and provides alerts based on real-time mine data to reduce machine downtime and inventory costs.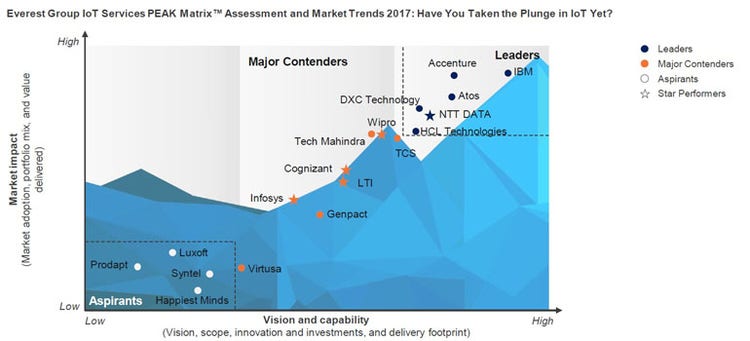 Accenture was named a 'Leader' in Everest Group's latest report which evaluates
18 services providers on their holistic approach to IoT services

Everest Group's assessment of Accenture's IoT services and capabilities:
Accenture was named best-in-class for its vision and strategy, delivery footprint, and market adoption.
The report highlights several Accenture solutions which enable clients' digital transformation. These include Connected Platform-as-a-Service (CPaaS), Accenture's open IoT platform, and Accenture Insights Platform (AIP), a cloud-based, end-to-end analytics solution.
The analysts recognized the fact that "multiple acquisitions have enhanced the depth and breadth of Accenture's IoT capabilities and added specialized industry expertise."
IoT – an integral part of Industry X.0
Accenture's IoT capabilities and team are part of its newly formed Industry X.0 practice. As stated in the report, "Accenture's vision is to support Industry X.0, driven by smart, connected digital technologies, products and services. The objective is to deliver hyper-personalized experiences, achieve new levels of efficiency, enable clients to unlock new sources of growth, and improve operational efficiency."

Craig McNeil, managing director, Accenture Industry X.0, and global IoT lead, said, "Industry X.0 is the digital reinvention of industry, when businesses use advanced digital technologies to transform their core operations, their worker and customer experiences and ultimately their business models. IoT technology and services play a pivotal role in this. "Industry X.0 and IoT remain significant areas of investment for Accenture as we partner with our clients to unlock efficiencies and drive out new sources of revenue, at scale."

Yugal Joshi, Vice President, Everest Group's IT Services research, said, "As enterprises invest in solving complex business problems by converging AI, blockchain, and analytics capabilities with IoT, it has become an increasingly strategic priority for them. Accenture has leveraged its consulting strength and technical competencies to support customers in attaining enterprise objectives, such as improving customer experience and identifying new revenue streams. Additionally, multiple acquisitions and investments in IP have enhanced the depth and breadth of its capabilities, equipping it to lead customers through large-scale transformation journey."

The 2017 Everest Group IoT Services PEAK Matrix™ Assessment and Market Trends report evaluated 18 services providers on their holistic approach to IoT Services including vertical solutions, advanced technologies, partnership ecosystem and commitment to innovation.

About Accenture
Accenture is a leading global professional services company, providing a broad range of services and solutions in strategy, consulting, digital, technology and operations. Combining unmatched experience and specialized skills across more than 40 industries and all business functions – underpinned by the world's largest delivery network – Accenture works at the intersection of business and technology to help clients improve their performance and create sustainable value for their stakeholders. With approximately 435,000 people serving clients in more than 120 countries, Accenture drives innovation to improve the way the world works and lives. Visit us at www.accenture.com.

Accenture Industry X.0 helps businesses master the digital reinvention of industry when they use advanced digital technologies to transform core operations and unlock new revenue streams and business models. We support every aspect of our clients' multi-phase transformation including workforce, customer experience, R&D, engineering, manufacturing, business support and ecosystems. Visit www.accenture.com/industry-x0.

# # #

Contact:

Jens R. Derksen
Accenture
+49 175 57 61393
jens.derksen@accenture.com

Copyright © 2018 Accenture. All rights reserved. Accenture, its logo, and High Performance Delivered are trademarks of Accenture.

This document makes descriptive reference to trademarks that may be owned by others. The use of such trademarks herein is not an assertion of ownership of such trademarks by Accenture and is not intended to represent or imply the existence of an association between Accenture and the lawful owners of such trademarks.