June 26, 2018
Accenture Named a Leader in IDC MarketScape on Business Analytics Services Providers

NEW YORK; June 26, 2018 – Accenture (NYSE: ACN) has been positioned as a Leader in the IDC MarketScape: Worldwide Business Analytics Consulting and Systems Integration Services 2018 Vendor Assessment.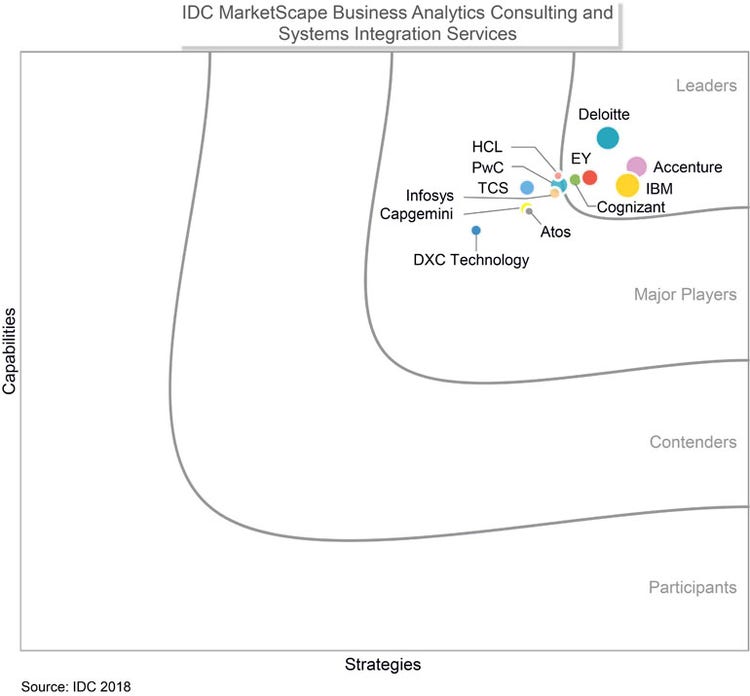 Accenture has been named a Leader in IDC MarketScape on Business Analytics Services Providers
Narendra Mulani, chief analytics officer, Accenture Applied Intelligence, said, "We continue to receive recognition for combining the best in artificial intelligence and data science with deep industry and technology expertise. It's all coming together in Accenture Applied Intelligence, which has a unique value proposition for our clients: we help them solve their most complex business problems through actionable insights, automation – and applying AI to complement and augment human capability. Companies can achieve the largest boosts in performance when people and machines take advantage of each other's strengths."
The report recognizes Accenture's ability to provide "end-to-end life cycle of business analytic services," its marketing strategy, and its "trust-worthy and high-quality resources," and highlights its Applied Intelligence practice, which "helps clients use analytics and artificial intelligence to drive actionable insights at scale."1

Furthermore, IDC notes that Accenture "applies sophisticated algorithms, data engineering, and visualization to extract business insights and help clients turn those insights into actions that drive tangible outcomes – to improve their performance and disrupt their markets. With deep industry and technical experience, Accenture Applied Intelligence provides services and solutions that include, but are not limited to, analytics-as-a-service through the Accenture Insights Platform, continuous intelligent security, machine learning, and IoT analytics."2

Ali Zaidi, Research Director, IT Consulting and Systems Integration Services at IDC, said, "The combination of industry knowledge, business process expertise, analytics technology implementation, and ability to understand customers' business needs makes Accenture a strategic partner for enterprises looking for analytics-based solutions."

The report, which reflects IDC's analysis as well as perception of clients, evaluated Accenture and 11 other business analytics consulting and systems integration services providers.

It is the third recognition that Accenture has received for its data and analytics services in 2018, following 'Leader' positions in reports from other firms on Data and Analytics Services and Smart Analytics.

About Accenture
Accenture is a leading global professional services company, providing a broad range of services and solutions in strategy, consulting, digital, technology and operations. Combining unmatched experience and specialized skills across more than 40 industries and all business functions – underpinned by the world's largest delivery network – Accenture works at the intersection of business and technology to help clients improve their performance and create sustainable value for their stakeholders. With approximately 442,000 people serving clients in more than 120 countries, Accenture drives innovation to improve the way the world works and lives. Visit us at www.accenture.com.

Accenture Applied Intelligence, part of Accenture Digital, applies artificial intelligence and human ingenuity at the core of business to help clients solve their most complex business problems. By deploying AI responsibly and combining it with our deep industry and analytics expertise, we enable the digital transformation of organizations, extend human capabilities, and make intelligent products and services a reality. Follow @AccentureAI and visit accenture.com/appliedintelligence.

About IDC MarketScape
IDC MarketScape vendor analysis model is designed to provide an overview of the competitive fitness of ICT (information and communications technology) suppliers in a given market. The research methodology utilizes a rigorous scoring methodology based on both qualitative and quantitative criteria that results in a single graphical illustration of each vendor's position within a given market. IDC MarketScape provides a clear framework in which the product and service offerings, capabilities and strategies, and current and future market success factors of IT and telecommunications vendors can be meaningfully compared. The framework also provides technology buyers with a 360-degree assessment of the strengths and weaknesses of current and prospective vendors.

1 & 2 IDC MarketScape: Worldwide Business Analytics Consulting and Systems Integration Services 2018 Vendor Assessment; May 2018, Author: Ali Zaidi

# # #

Contact:

Jens R. Derksen
Accenture
+49 175 57 61393
jens.derksen@accenture.com

Copyright © 2018 Accenture. All rights reserved. Accenture, its logo, and High Performance Delivered are trademarks of Accenture.

This document makes descriptive reference to trademarks that may be owned by others. The use of such trademarks herein is not an assertion of ownership of such trademarks by Accenture and is not intended to represent or imply the existence of an association between Accenture and the lawful owners of such trademarks.