May 23, 2018
Accenture Interactive Programmatic Services Navigates Complexity of Digital Media Landscape
Bespoke offering from Accenture Interactive drives greater transparency and efficiency in programmatic media planning and buying

NEW YORK; May 23, 2018 – Accenture (NYSE: ACN) is increasing its focus and investment in the programmatic in-housing and media planning and buying arena with Accenture Interactive Programmatic Services. Accenture Interactive is helping clients navigate the complexity of the digital media landscape by empowering them to take control and ownership of their data and technology, providing them with greater transparency and enabling them to regain trust.
This enhanced capability is designed to help marketers achieve greater business outcomes, enable cost transparency, regain control and ownership of their data, and design audience-driven campaigns. Accenture Interactive can help design, build and staff in-house trading desk capabilities, or run full service global digital media campaigns for clients.

Accenture Interactive Programmatic Services includes three core services:
Programmatic Consulting and In-housing helps advertisers take back control of their media capabilities. This involves building long-term programmatic strategies, in-sourcing technology, reinventing operating models and delivering internal capabilities.
Media Strategy, Planning & Activation helps advertisers drive superior business outcomes by better serving their audiences, running transparent and scaled paid media campaigns across search, social, video, display and more.
Ad Tech Implementation & Support helps advertisers deliver flawless experiences at scale and speed with the power of our global network – operating business processes and providing infrastructure as-a-service.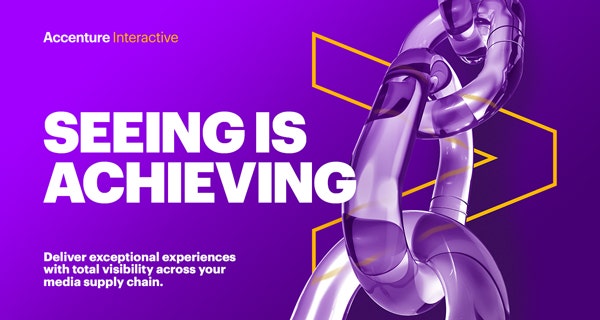 "As their experience agency, our clients have been asking us to help them drive greater efficiencies with their programmatic media spend, specifically digital media," said Brian Whipple, global CEO of Accenture Interactive. "Consistent with our mission to create, build and run the best customer experiences on the planet, we are enhancing Accenture Interactive Programmatic Services to complement our full suite of experience services. We are already focused on all the pieces that are related to media placement so it was a natural extension for us to help our clients deliver more hyper-relevant customer experiences through digital media."

According to research entitled "Programmatic In-housing: Benefits, Challenges and Key Steps to Building Internal Capability," released yesterday by the Interactive Advertising Bureau (IAB) and its Data Center of Excellence with the support of Accenture Interactive, 65 percent of companies that are buying media programmatically, have brought that capability in house. The report finds that marketers who purchase digital ads programmatically have either completely moved programmatic buying in-house (18%) or have partially begun the process of internalizing the function, with plans to continue further down the path (47%).

"Advertisers are reacting to the changing media landscape and they want to move beyond the status quo and take back control of their media capability," said Scott Tieman, global lead of programmatic services, Accenture Interactive. "We believe we can help our clients do things differently. Accenture Interactive has an offering that is highly differentiated in the market and is built on a foundation of trust and transparency. We have the ability to leverage Accenture's global footprint and capabilities to integrate strategy, creative, data, technology and analytics together to drive superior results – a clear advantage for our clients."

Accenture Interactive is collaborating with Accenture Operations to help drive efficiencies and transparency in media investment for some of the world's most recognized brands across industries, including HP, Radisson Hotel Group and Melia Hotels.

"We are very proud and looking forward to working with Accenture Interactive as our global digital media agency of record," said Remy Merckx, Vice President Digital at Radisson Hotel Group. "As part of its five-year operating plan and a vision to become one of the top three hotel companies in the world, under the leadership of Federico J. González, Radisson Hotel Group needed a partner on a global scale to better manage its marketing and customer engagement activities aimed at creating memorable moments for our guests. Accenture Interactive has a proven track record to help businesses like us increase their ROI by instilling greater efficiencies and transparency into the programmatic media and marketing spend. We look forward to our journey together."
Brand marketers, are you ready to bring #programmatic media buying in-house? Introducing @AccentureACTIVE Programmatic Services!


About Accenture
Accenture is a leading global professional services company, providing a broad range of services and solutions in strategy, consulting, digital, technology and operations. Combining unmatched experience and specialized skills across more than 40 industries and all business functions – underpinned by the world's largest delivery network – Accenture works at the intersection of business and technology to help clients improve their performance and create sustainable value for their stakeholders. With approximately 442,000 people serving clients in more than 120 countries, Accenture drives innovation to improve the way the world works and lives. Visit us at www.accenture.com.

Accenture Interactive helps the world's leading brands transform their customer experiences across the entire customer journey. Through our connected offerings in design, marketing, content and commerce, we create new ways to win in today's experience-led economy. Accenture Interactive has been ranked the world's largest digital agency in the latest Ad Age Agency Report, for the third year in a row. To learn more, follow us @AccentureSong and visit www.accentureinteractive.com.

This document makes descriptive reference to trademarks that may be owned by others. The use of such trademarks herein is not an assertion of ownership of such trademarks by Accenture and is not intended to represent or imply the existence of an association between Accenture and the lawful owners of such trademarks.

This document is produced by consultants at Accenture as general guidance. It is not intended to provide specific advice on your circumstances. If you require advice or further details on any matters referred to, please contact your Accenture representative.
# # #
Contact:

Kelly Coffed
Accenture
+1 404 219 3100
kelly.coffed@accenture.com

Copyright © 2018 Accenture. All rights reserved. Accenture, its logo, and High Performance Delivered are trademarks of Accenture.